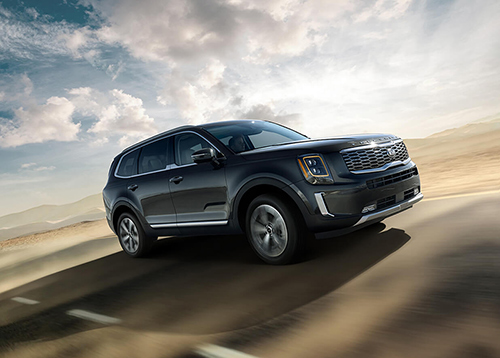 Kia Telluride a big eye opener in the three row SUV market
By Jim Bray
July 10, 2019

Kia's new big SUV, the Telluride, is a great vehicle and if you're looking for a large, three row model such as this, you really owe it to yourself to check it out.

This advice also applies to folks shopping in the luxury SUV market – vehicles such as the Lexus RX 350L, Acura MDX and the rest of the competition from Asia, Europe and North America. The Telluride doesn't pretend to be a "luxury crossover," and it doesn't sport the amount of niceties you can find in the "higher end" models – but it's plenty luxurious enough for me (and possibly someone else…) and drives as well as or better than the competitors I've been lucky enough to spend time in.

Click on the image to open a slideshow.

It reminds me of the Mazda CX-9 in this regard, except I may just like the Kia a bit better.

It's priced right, too, assuming any vehicle these days is. You can get into a loaded one for $53,995 Canadian – compared to $66,250 for a base RX 350L, $56,591.25 for a base MDX, $66,300 for the entry level Audi Q7. A CX-9 Signature Edition (the top end one) is about the same price as the Kia.

Sure, there's some apples-versus-oranges comparison in there, but my point is to showcase just how great a value the Telluride is (and the Mazda, too).

And if that's too dear, the Telluride starts at $44,995 for the base, EX AWD version.

Size matters…

It's a BIG vehicle, bigger than I like, but don't let that put you off: it drives as if it were smaller and if you opt for Sport mode it'll even put quite a smile on your face. This "joie de conduire" is helped by all-wheel drive on each model sold in Canada (the United States can opt for a front drive version), "Terrain" modes that program the Telluride for the conditions in which you're driving and a 3.8-litre V-6 that delivers 291 horses and 262 lb.-ft. of torque.

Yeah, no turbo four here: Kia has given the Telluride the motivation it needs, and I had no issues with the Telluride's acceleration during my week with it. No damn CVT here, either. Telluride gets a conventional eight speed automatic, except this one shifts so quickly and so well it reminded me of a dual clutch unit. Yet it ain't.

The suspension is straightforward: MacPherson struts up front with a multilink bum, and it can be varied from cushy to surprisingly tight. Steering feel is just fine for such a large beast, too, and the disc brakes perform as they should. You also get Electronic Stability Control, Hill Assist Control, and Trailer Stability Assist.

Kia says the Telluride is rated to tow up to 5,000 pounds.

While the Telluride does drive smaller than it seems it should, it gets even more cozy-feeling in sport mode, and that's where I kept it most of the time during my test drives. But even Comfort (a.k.a "wallow mode") was better than I expected. "Smart" is pretty good at balancing fun and frugality.

Kia says its all-wheel-drive system reads the drive mode you've chosen and acts accordingly. "Eco" and "Smart" modes send all the torque to the front wheels, while the "Comfort" and "Snow" settings deliver 80 per cent to the front wheels. "Sport" mode splits things 65-35 percent front/back and "Lock" treats all four wheels alike, which is  nice and inclusive.

The Telluride's interior is attractive and pleasant, and designed very well – other than the fake-looking wood of Kia's sample. Oh, it looks quite woodish, but it also looks as if it only aspires to that. Not a big deal unless you really want to help keep our forestry workers employed instead of our petroleum producers.

The seats are comfortable, though I couldn't get the driver's seat quite low enough for my short legs.

You get a nice view outside, thanks to a generous greenhouse and the panoramic sunroof Kia Canada's sample had, and from the driver's seat you can access all the vehicle's goodies with the sweep of an arm. The centre stack includes a straightforward touch screen as well as HVAC controls that are simple to figure out and use. And there are ceiling-mounted HVAC controls for the centre row seats as well as a reclining third row.

You'll probably only use the third row for kids, but don't write it off as a place for adults: I rode back there from the Banff townsite to Chateau Bray in Calgary and not only didn't die, but actually had enough bum, knee and leg room (not that I'm tall, though I am wide) in that surprisingly comfortable perch. This was with a child seat next to me and one in the centre row ahead.

Getting in and out of Steerage was one of the more pleasant experiences I've had with a three row SUV as well.

And thanks to the Telluride's size, you could probably give Roger Penske a run as a truck rental business owner with the third row folded down.

There's a neat "Driver Talk" feature that uses the audio system to let the masses huddled in the back hear clearly what the driver is saying. Sure, the kids still ignored us, but the system works well, though it works better at getting voices from the front to the back rather than vice versa (letting the kids be seen but not heard, like they should be!).

The test "car" had the up-market audio system, a 630-watt, 10-speaker Harman/Kardon system with Quantum Logic Surround Sound and Clari-Fi. It's very nice. Wireless charging is standard, and the Bluetooth system can connect two phones at once, something I wish all vehicles would do. There's even a "quiet mode" that lowers the volume to the second and third rows.

Each row gets two USB ports.

The standard 10.25-inch colour touchscreen also offers a rear-view camera and the rear cross traffic warning feature can apply the brakes if you ignore the warnings. You also get the usual assortment of "safety" nannies (blind spot, lane keeping, smart cruise control, etc.). You can choose to use them or not, which is as it should be.

One thing I hated was the Blind Spot View Monitor. This is an enhancement to regular blind spot monitoring and raises the ante on Honda's right-side view system by using cameras on both sides to give you a picture of the world beside/behind when you use the turn signal lights. The monitor is right in the centre of the instrument panel and I found that it dragged my attention from the road when the picture came on. I also found it to be a totally unnecessary feature if you actually pay attention to what's going on around you while you're driving, which may be a novel concept.

A minor quibble: the labels on the row of silver buttons on the centre stack was hard to read, though the white on black treatment on other buttons was clear and legible.

Another neat feature is the ability to drop the second-row seats from inside the rear hatch using buttons, which we found great when my wife bought a fully assembled shed at a garage sale. And you can open the hatch automatically, just by standing back there with the key fob on you. I learned this by osmosis, standing back there talking with a neighbour about the Telluride, then jumping about three feet in the air when the tailgate started coming toward me.

There's a wide assortment of storage spaces inside, and the second-row side windows of Kia's sample also had those nice retractable blinds that can help on hot and sunny days or when you're smuggling.

As you can tell, I really liked the Kia Telluride. It's bigger than I like, but it's a terrific vehicle that seems like a very good value as well. The high end one is equipped luxuriously enough that it should satisfy just about anyone's vehicular vanities, other than perhaps those stemming from its mainstream name (which isn't really fair), yet even the base model comes equipped well and is a robust and capable vehicle.

I think it's a real winner and I now have a new favourite vehicle in this market niche. Sorry, Mazda.

Copyright 2019 Jim Bray
TechnoFile.com




Jim Bray is a member of the Automobile Journalists Association of Canada. His columns are available through the TechnoFile Syndicate.