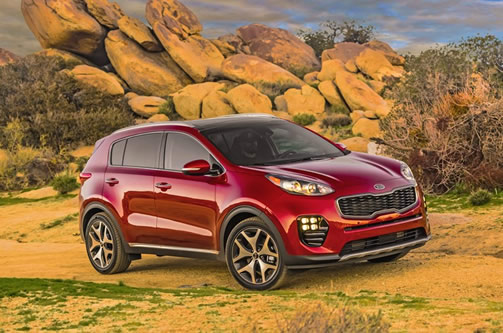 Kia Sportage a compelling small crossover
By Jim Bray
September 15, 2016
Chalk up another win for Kia. The South Korean carmaker's 2017 Sportage is a handsome and enjoyable vehicle that's full of modern technology and safety features. It's decent to drive, too.
And fortunately, it comes with a warranty - not that that's unique. But read on!
Click on the image to open a slideshow.
Available in three trim levels - LX, EX and SX Turbo, both in either front or all-wheel drive configurations (the SX is AWD only, though) - the SUV/Crossover starts at a reasonable $24,895 CAD for the FWD LX and climbs to $39,595 for the top line SX Turbo. The SX is the one Kia Canada sent for test purposes and other than a flutter in the two litre engine that would undoubtedly be fixed easily under warranty, I found it a really nice vehicle.
I like Kias a lot, though I've never owned one, but - full disclosure - I drive a vehicle designed by Hyundai/Kia's head of design, Peter Schreyer, and am a fan of the company's styling in recent years. Before moving to Kia, Schreyer worked for the Volkswagen group, designing a series of very attractive vehicles there (including my beloved 2005 Audi A4 Avant) and his team has elevated Kia's design to the point where they're (in my never humble opinion, anyway) some of the most attractive vehicles in their classes.
For 2017, the Sportage features a lot of upgrades, though they may not be particularly noticeable at first glance. Kia says the new Sportage offers a stiffer structure, advanced driver assistance systems, premium materials, and "engaging driving dynamics."
It's also the first Kia to offer the UVO3 "infotainment system" which features Android Auto, Apple CarPlay, a bunch of telematics services, and eight gigabytes of music storage, all included in the price.
The 2017 Sportage also claims significant suspension and steering improvements, and the optional intelligent AWD system of Kia's test sample was nice and stable and contributed to a small SUV/Crossover that handles very well. The SX also gets new "ice cube" LED fog lamps, HID head and taillights, satin exterior trim, metal-look skid plates and transverse trim, and 19 inch alloy wheels.
The all-wheel drive system features a 50/50 locking central differential (making it, perhaps, a "differential equation?") that "senses, anticipates and optimizes traction requirements for all road and weather conditions," according to Kia.
The Sportage has also been given a roomier, more luxurious cabin with soft-touch materials that look richer than they should at this end of the market. We found the rear seat a little tight for two adults and a child car seat, but it was no worse than other vehicles in this class that we've tried. The seats up front, which are power adjustable, are just fine.
How's this for a neat feature: the sample Sportage came with Kia's smart hatch, which ups the ante on other such vehicles that make you wave your leg below the rear bumper to raise the tailgate. Here, you just approach and stand behind the vehicle (as long as you have the key fob on you) and after a couple of seconds it beeps and opens wide - a great way to get armsful of groceries or whatever contraband you're carrying into the back easily.
The only thing you have to remember is to stand far enough back that the opening hatch doesn't hit you in the face! You'd probably figure this out after the first try, though…
Sportages are motivated by two engine choices, a 181 horsepower 2.4 litre inline four that's standard on the two lower trim levels and the SX Turbo's two litre 237/260 hp/torque turbo four. There's some turbo lag from the engine, but it isn't too onerous. IT's also a tad buzzy on startup, but it isn't a big deal.
Both power plants are mated to a decent six speed automatic transmission (the SX gets paddle shifters, too, which is as it should be - on all trim levels). Shifts are smooth and efficient.
Instrumentation is clear and clean, and the control stalks, buttons and knobs are laid out clearly and are easy to reach. I'd have liked the steering wheel to telescope a tad more, or I need to find an arm stretching machine, but it wasn't a big deal.
One thing that is a big deal, if you're into such things, is the Sportage's big and beautiful panoramic sunroof, which slides open enough that I'd warrant one could skydive into the front seat. I didn't try it, though.
Both the EX and SX Turbo models get leather upholstery, and the SX Turbo comes with a D-shaped, leather-wrapped and heated steering wheel, piano black trim on the center console, aluminum alloy pedals and real stitching on the dashboard. It all contributes to a luxurious feel that belies the Sportage's less than premium niche. It doesn't feel as high end as the Sorento's, but it's still pretty good.
Kia says this new Sportage has had its interior space increased as well as its cargo space, the latter going from 26.1 cubic feet to 30.7. Not a huge increase, but it seems roomy enough for most needs.  
Here's a list of some of the Sportage SX Turbo's other features:
19 inch Alloy Wheels
Dual Exhaust
Xenon HID Headlight
Directionally Adaptive Lights
LED Fog Lights
Blind spot Detection
Front & Rear Parking Sensors
Eight inch Integrated Navigation
Harman/Kardon Premium Audio
Wireless Phone Charger
Air-Cooled Front Seats
Leather Seats (Black)
The safety nanny ante is full on the Sportage, and if you're an old stick in the mud like me you can shut them off and they stay off. This includes stuff like Forward Collision Warning and Autonomous Emergency Braking with Pedestrian Detection. There's also Lane Departure Warning, Blind Spot Detection with Lane Change Assist and Rear Cross Traffic Alert. Of these, the Blind Spot and Rear Cross Traffic Alert are the least annoying and most helpful unless you're already asleep behind the wheel.
In all, the Kia Sportage is a very nice vehicle to drive and would probably be a good vehicle to live with.
Except for an engine problem in the review sample. I'd been informed when I picked it up that the previous reviewer had reported a loss of power issue, but my first couple of days with the Sportage didn't show that to be the case.
Then I piled my wife, kid and his family into the Sportage to sally forth on an adventure (well, brunch…) and when I stepped hard on the gas it was almost as if I'd exceeded the rev limiter and the fuel supply had cut off. Except I hadn't  hit the rev limiter; oh, I was goosing it, but nothing untoward and nothing I haven't done in literally a googolplex of review vehicles before.
We pulled over, shut off the vehicle, opened and closed its doors to reboot the Sportage completely and took off again. And all was well. But the problem recurred once more on that trip - again when I was accelerating fairly aggressively (mostly to see if I could make it happen again) and the check engine light came on.
We aborted our trip and came home and I ran my Blue Driver diagnostic on it and it came up with a "Fuel pressure regulator 1 Control Circuit low" message.
I would imagine this would be fixed easily by the dealer under warranty, but I would be remiss in not mentioning the experience.
Even with that issue I liked the Kia Sportage a lot - as I've said before, if the "mainstream" carmakers aren't looking over their shoulders yet at the South Korean competition they'd better start lest they get thumped like the Big Three did when the Japanese carmakers challenged - and ended - their dominance.
Copyright 2016 Jim Bray
TechnoFile.com