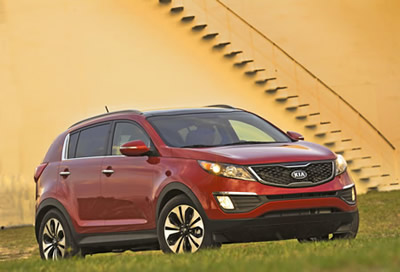 KIA Sportage Offers Power, Value
By Jim Bray
October 15, 2011
KIA's Sportage small SUV/CUV has taken a big leap forward with its current incarnation, going from being kind of the ugly stepsister in its niche to a handsome and competitive choice.
I never drove the old model, but after spending a week with the 2011 version, in the top line SX trim, I came away quite liking it quite a bit. I had a couple of minor quibbles, but overall, this is a very nice vehicle and competitive in its class.
There's no longer a V6 engine choice for 2011, but that isn't a bad thing: KIA has dropped in a turbocharged four instead, which is the engine that my sample unit had, and it's just fine. Well, mostly fine. It complained nearly as badly as my poor, middle-aged bones do when I get up in the morning – and under the same circumstances – when I first fired it up for the day, but once I was off and/or running in it the complaints ended and all was well.
Very well, in fact. The Theta II 2.0 liter Turbo GDI engine cranks out a healthy 260 horses @ 6000 and 269 torquey things from 1850-3000 rpm, which means there's plenty of grunt. It comes on smoothly, too, with little turbo lag.
The base engine is a 2.4 liter four cylinder unit KIA rates at 176 nags @ 6000 rpm and 168 lb-ft. of torque @ 4000 rpm. Since I didn't try the base engine I can't comment on its grunt, but it's competitive with other four cylinder power plants in this segment. It's hard to argue against taking advantage of the turbo's added performance, though, unless you're on a tighter budget or want to save a little on gas – though KIA's specs indicate you won't get much better mileage by avoiding the turbo version anyway, so you might as well go for the gusto if it's in your budget.
My full time all-wheel-drive Sportage SX (base models are fwd) also came equipped with a six-speed electronically-controlled automatic transmission with Sportmatic manual mode. It shifts well, smoothly and efficiently, though the Sportmatic isn't the most sporty I've used. No big deal, however; this isn't a sports car anyway, nor does it pretend to be, and the manual mode does offer a nice bit of extra control when you want or need it.
A six speed manual is available with the base model.
All Sportages come with projector type headlights, and they do a good job of illuminating the road ahead after dark. LED running lights help other people see you and, hopefully, avoid you like the plague.
Also installed as standard equipment are power-assisted four-wheel disc brakes with ABS, brake assist, a downhill brake control and hill start assist. You also get stability control with a defeat switch for those times you want to have fun in wet or snowy parking lots (or so I've heard), and even a tire pressure monitoring system.
The SX trim level gets a signature grille, dual exhaust, and special side sill moldings as exterior tweaks.
The Sportage' suspension is pretty straightforward: independent at both ends, with MacPherson struts and coil springs up front and a multi-link rear. Both ends get stabilizer bars as well. The SX is supposedly sport tuned, which undoubtedly means it's a little harder than the standard version. It still offers a comfortable ride, though, not too soft and not too harsh: Goldilocks would be quite pleased with it.
Steering is power assisted rack-and-pinion, offering light effort and the Sportage sports a decent turning circle as well.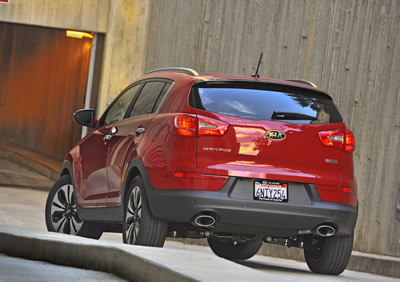 Handling is fine, though there was noticeable understeer on my sample. On the other hand, that may not be quite a fair assessment of its steering prowess, since I slid my bum into the Sportage immediately after spending a week in a Porsche 911, so it should come as no surprise to anyone that a sport ute might understeer compared with such a legendary sports car! In any case, the Sportage's understeer wasn't severe, just noticeable.
The driving position felt a bit weird  – more like a car than an SUV, but that didn't bother me; it just felt a bit "different." Thanks to the tilt/telescope wheel (though the base model doesn't offer telescoping) and power driver's seat of my sample, however, I could set things just about perfectly. I'd have liked the steering wheel to have been able to drop just a tad lower, but it wasn't as if I had to reach up to grab it.
The seats are very comfortable, and my SX Sportage's "bum repositories" came with leather surfaces (as did the shift knob and steering wheel), as well as heating and cooling capabilities for the folks up front.
In fact, other than the stark black plastic of the dashboard (which, to be fair, doesn't look in the least bit cheap), it's a pretty nice interior, with clearly labeled instruments that are placed well and which work as they should.
Being the top line trim level, my sample Sportage was equipped extremely well, with just about everything you could want short of a wet bar. That means it wore 18 inch wheels (16 inch wheels are standard)  – though I found their design a tad off-putting – and it also sported smart key/push button start/stop, which is always a musical treat because it lets you leave the key fob in your pocket.
Bluetooth is standard on all Sportages, thankfully, as are inputs for auxiliary and USB connection to the audio system, which not only offers decent sound but which also features easy touch screen operation. There are steering wheel-mounted audio, cruise and phone controls, an "EcoMinder" indicator (a.k.a. digital nagging on behalf of Gaia), power windows all around with driver's one-touch down. My sample had driver's window one touch up as well.
My test Sportage also had a wonderful panoramic sunroof that let the sun shine in over both rows of seats. It was also equipped with dual zone automatic climate control, a backup camera and navigation system, and SIRIUS satellite radio.
There's good storage in the rear, enhanced by 60/40 split/flat-folding (nearly flat, anyway) rear seats. Access to the rear seats is very good, thanks to large side doors.
Safety equipment includes dual front airbags, front seat-mounted side airbags, full-length side curtain airbags with rollover sensor, side impact protection and, of course, three-point seat belts front and rear.
The Sportage was only the third KIA I've driven as a review vehicle, though I rented a Forte while traveling earlier this year and liked it quite a bit as well. Each KIA I've experienced has been an impressive set of wheels, good vehicles priced very competitively. It doesn't hurt that each have been comfortable and attractive vehicles that drive well, too. If the company keeps this up, it should have a very bright future.
The KIA Sportage starts at $18,500 U.S./$23,645 Canadian. The SX AWD starts at $28,400 U.S./$36,995 Canadian.
Copyright 2011 Jim Bray
TechnoFile.com