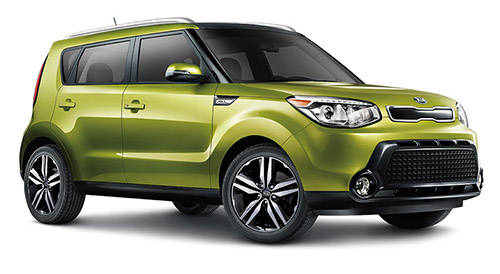 Kia sells its Soul in the name of profitability
By Jim Bray
May 29, 2014
It might sound a bit silly if you've never seen "My Mother the Car," but South Korean carmaker Kia really does have a soul in its product line, a little people hauler that offers a lot of fun, practicality and bang for the buck. (click the image to open a slideshow in a new window)
And that's good for the owners' soul! And pocketbook.
This is actually a nifty little vehicle, though I must admit up front that it left me mostly unimpressed when I first drove it at last year's Canadian Car of the Year TestFest. That initial experience was mighty short, however, kind of like the Soul's wheelbase. Fortunately, I just had a week behind the wheel of the Soul and Kia Canada's sample grew on me like a fungus. That's meant as a good thing, despite the fungus reference…
The front-drive Soul is a boxy little thing, kind of like Scion's xB or the silly-looking Nissan Cube, but not quite as boxy and displaying more, er, personality (you thought I was going to say soul, didn't you?). As such, it's kind of utilitarian, in that it's a rather mainstream "two box" (engine and passenger compartment) hatchback that offers a lot more room inside than you might expect. It's no minivan, but it's pretty good. It's kind of like a smaller Rio, except it only offers two rows of seats, which is probably fine for most people.
Kia Canada's sample Soul was the SX AT Luxury version, which contained just about everything you could ask for in a vehicle, yet still undercut the $30,000 mark by a grand or so. And you don't sacrifice anything for that reasonable price, except perhaps a bit of noise isolation and paddle shifters. And for its skill in crafting such a vehicle, the Automobile Journalists Association of Canada named the 2014 Soul best family car under $30k, a category in which it edged out its brother Rondo and smacked down the Fiat 500L.
At the time, I would've given the award to the Rondo, which just goes to show the influence I have, but on the other hand, Kia itself puts the Rondo in the SUV/CUV section on its website, so perhaps the AJAC folk got it right after all.
However you slice it, it's hard not to love the Soul. My week included mostly urban driving, but there was also a trip out to the Rocky Mountains that presented a nice opportunity to see how the little four banger that motivates the Soul would handle the ups and downs of the foothills. And it was fine! My only gripe about the direct injection two liter inline four - which features four valves per cylinder and variable valve timing and puts out 164/151 horsepower/torque - was that it's a tad buzzy, but it works well and the paddle-less six speed automatic transmission (which does have a manual mode via the shifter) is a nice match for it.
I left the Soul in cruise for quite a bit of the highway jaunt and, while there was some hunting and pecking for gears thanks to the foothills' rolling ups and downs, overall it was a very nice drive.
Base Souls, which Kia says start at only $18,660 "well equipped," come with a 1.6 liter engine rated at 130/188 horses/torque. It's probably adequate if you live in flatter areas, and it would probably handle the mountain passes okay as long as you don't mind some chugging up hills, but if it were me configuring a Soul for my garage, I'd  definitely opt for the two liter model. It may burn a bit more gas (not that I had any complaints about its mileage) but it'll also return more smiles per gallon, if that's important to you.
The base Soul also comes with a six speed manual transmission, which probably helps make best use out of the smaller engine's output; I'd have loved to try it with the bigger engine, but only the six speed "Sportmatic" gated (so it can't escape) automatic (coupled with the two liter engine) is available for any models but the base LX trim level.  
Souls are suspended via struts up front, with a torsion beam buttock.  The driving position feels quite high, though it isn't really, but it's comfortable (the sample had leather). And you can split/fold the rear seats 60/40 to increase storage space, which is nice because there isn't a huge amount of space under the nearly vertical hatch when the second row seatbacks are up, which seems a tad surprising for a vehicle that looks this utilitarian.  
The "low end" LX is, indeed, equipped well, but the XS with the luxury package, if it fits into your budget, packs a pile into the package. For $27,195, you get everything the "lower" models come with, plus stuff like a great panoramic sunroof I'd love to have tried for more than a couple of minutes but couldn't, thanks to global warming or climate disruption or whatever it's called this week. The front seats (the driver's is powered) are heated and cooled, and even the rear seats get heat. Headlights are of the Xenon HID persuasion, and there's a very well executed UVO ("Your Voice") multimedia thingy with navigation and great connectivity. It's quite neat and I look forward to playing with it more.
I had some trouble with the radio presets because, instead of offering tabbed screens like some carmakers do, you're supposed to scroll up and down as if the screen is on a tablet or smart phone. It's a nice idea, but in practice it took too much work from the driver: I'd either scroll when I didn't want to or not hit it right with my fingertip so it wouldn't scroll at all. This could be operator error, of course, but it required attention I'd rather have kept on the road.
That's a small point, though. The Infinity audio system sounds fine; Infinity is another long time audiophile manufacturer that has signed onto the task of helping raise the quality of original equipment car audio systems (and undoubtedly making a few bucks at the same time) and, as it should be, this system is a nice representative of the species, offering very involving sound. It cranked pretty nicely, too.
This list of extras might not sound like a lot of stuff considering it's the highest end model with full options, but that's because the lower EX model is chock full of goodies already, including air conditioning, the abovementioned UVO infotainment system that includes a rear view camera, power folding outside mirrors (so you can wiggle the Soul's ears, albeit slowly), an auto-dimming inside rear view mirror,  automatic projector headlights, push button start/stop and plenty of bovine epidermis spread around the interior. That model sells for about $23,760, which seems cheap considering what you get.
Kia seems to be selling a lot of Souls, because I see them everywhere. And I can see why it's so popular. It's decent to drive, equipped beautifully, and is a lot of vehicle for the dollar.
Still, I wonder what a real sport version would be like, with better handling and perhaps a turbo. Not that I'm selling Kia my soul to say that…
Copyright 2014 Jim Bray
TechnoFile.com