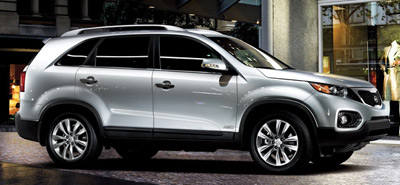 Kia Sorento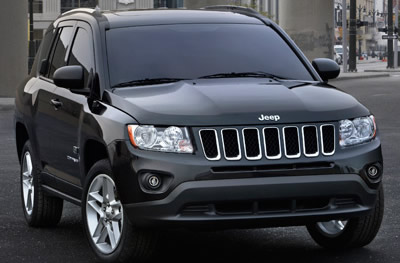 Jeep Compass
Kia Sorento and Jeep Compass – Crossovers from Companies Heading in Different Directions
By Jim Bray
April 22, 2011
One company's on the rise, one's trying desperately to make a comeback. And a pair of their current SUV offerings are illustrative of both points.  
Let's start with the upside: the Kia Sorento. Supposedly all-new for 2011, it features a new unibody structure that's longer, lower and wider than before, as well as sporting what the company describes as "European-inspired styling." You can get it with seven-passenger seating, too.
It's a handsome beast, except perhaps for its grille, and on the whole I enjoyed driving it. I don't think it's quite up to the snuff of competitors such as the Toyota RAV, but it tips the financial scale at a bit less and that may take some of the sting out of it.
My test Sorento was the V6 version – a 2.4 liter four cylinder model with 175 horsepower is available as well – and its 3.5 liter V6 is rated at 276 horsepower, which is competitive in this segment and is actually more than you can get in the V6 RAV4. Needless to say, acceleration is all you'll need under most circumstances.
So is the handling. My test Sorento came with the optional full-time AWD system with a lockable center differential that helps on the type of slippery and icy surface over which I had to drive the vehicle. The suspension – MacPherson struts with coil springs up front and a Multi-Link bum – is a tad bouncy, but nothing really untoward.
The power-assisted, rack-and-pinion steering imparts good feel and works well.
The "Dual-diagonal, split-circuit, power-assisted braking system with Electronic Brake Distribution (EBD)" features discs all around (vented up front), with four wheel, four channel, four sensor ABS as standard. Pedal feel is more than a tad mushy, but the stopping power is fine.
Four cylinder Sorentos come standard with a six speed manual transmission, or you can order the six speed Steptronic gated automatic that's standard on the V6. It shifts well, though in manual mode they're a tad, well, leisurely.
Inside the Sorento is a pretty nice place to do business, and my test unit was equipped better than I had expected, featuring such welcome touches as push button start/stop, automatic headlights and Bluetooth for hands-free phone operation – all stuff that should be standard everywhere but which, unfortunately, isn't.
The instrument panel and center stack are laid out well, though I'm not a fan of red illumination. One thing that rubbed me the wrong way was rear wiper and washer controls that consist of two buttons on the left side of the dashboard, one button for the wiper and one for wipe/wash. You might get used to it over time, but I had to take my eyes off the road to poke around for them. Most companies include the rear wiper/washer on the same stalk as the front wiper, and it works better in my never humble opinion.
On the other hand, the front washer is great, hosing the windshield glass down with a nice, wide spray.
Another nice touch is the controller for the outside rear view mirrors. The switch to choose which mirror you're adjusting is right inside the knob that controls the mirrors, so you can operate the whole shebang easily by feel.
The audio system is merely okay. The sound is adequate but it runs out of steam quickly when you try to crank it.
The cloth seats in my test Sorento were heated, adjustable easily – manually – and quite comfortable. Only the driver's window features one touch up/down operation, but my test vehicle did have parking sensors and handy air vents on the B pillars for the rear seat passengers.
It was fairly cold when I test drove the Sorento and I noticed its engine made a funny noise when I started it up, sounding almost as if it's a diesel (which of course it isn't) – or maybe it was just complaining about having to go to work in the cold. I can identify with that!
In all, I liked the Sorento. It's the first Kia I've had a chance to review so far, and I'm quite impressed. For a company that's supposedly a more entry level Hyundai, they seem to be under promising and over delivering. And there's certainly nothing wrong with that.
The Kia Sorento starts at about $21,000 U.S./$24,000 Canadian for the four cylinder front wheel drive model. The V6 starts at around $26,000/$29,000 Canadian.
Magnetic Personality?
Which brings me to the Jeep Compass. While the Sorento feels ready for prime time, the Compass feels more like time has passed it by. If this Compass is pointing to the direction in which Chrysler (of which Jeep is a part) is heading, I pity the folk at Fiat who helped (assisted by billions of dollars taken forcefully from taxpayers whether they wanted to participate or not) bail them out.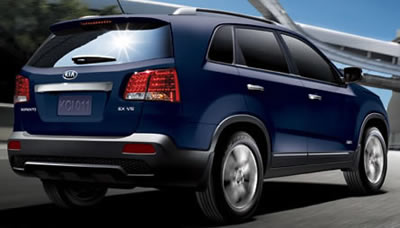 Kia Sorento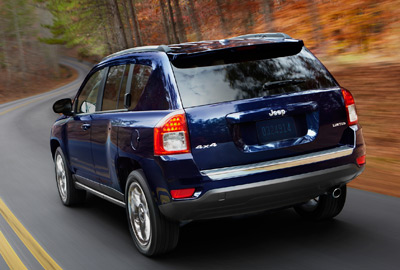 Jeep Compass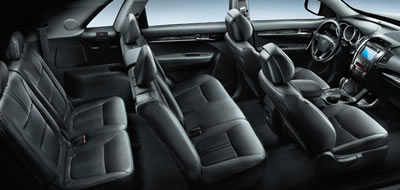 Kia Sorento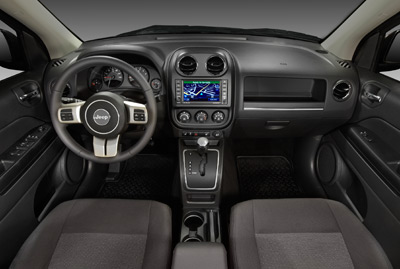 Jeep Compass
Now, to be fair, I drove the new Jeep Grand Cherokee a few months ago and I liked it a lot, but the difference between it and the Compass is day and night – not to mention tens of thousands of dollars.
Anyway, Jeep says the 2011 Compass has been updated outside by having been given an "Updated shape" that looks a lot like the old shape. It has a new front end, though, which the company says is inspired by the 2011 Grand Cherokee (both of which look surprisingly like Jeeps), while inside it has what Jeep calls a "Premium soft-touch interior" that includes a redesigned steering wheel and gauges, all of which, they say, you'll recognize by "The reverent gestures you'll get from those around you."
Right. A Bugatti Veyron might bring reverent gestures, but a Compass?  I somehow doubt it.
Again, to be fair, I see oodles of Compasses on the road and I know a woman who bought one a few years ago and thought it was okay. But she told me the reason she bought the Compass was because it was cheap and had four wheel drive and they had offered her a great financing deal. The anticipation of reverent gestures never entered into her buying criteria, apparently.
Anyway, for 2011, the Compass has two available off roading systems: Freedom Drive I, which offers on-the-fly 4WD, and Freedom Drive II, which features a 19:1 crawl ratio Jeep says gives it more pulling power – as well as Hill Start Assist and Hill Descent Control and a Trail Rating for "The five categories of off road conditions: traction, ground clearance, maneuverability, articulation and water fording."
My sample Jeep was a Canadian-spec Compass North 4x4, in an attractive Deep Cherry Red Crystal Pearl Coat color with Dark Slate Gray/Light Pebble Beige interior. Its 2.4 liter DOHC 16 valve inline four cylinder engine oozes a competitive 172 horses onto the road through a continuously variable transmission whose whining I hated.
The engine didn't impress me when I fired it up during some cold weather, either. For the first while after I'd start it up, it would sound almost as if the engine were about 50 years old, emitting a kind of a buzzy wheezing that reminded me of a tractor. "Yeah, that'll keep the bankruptcy court at bay," I thought.
Jeep says the engine gets 12 per cent better gas mileage than last year's version, so that's something if you can bear to drive the Compass enough to take advantage of it.
As for the transmission, it appears that there are CVT's and there are CVT's – some actually drive well and are quiet and unobtrusive. This isn't one of them. Enough said about that.
A five speed manual is available.
The vehicle, indeed the whole driving experience, feels cheap, as if the engineers were looking for ways to save money rather than trying to cram as much value into it as possible. I suppose this is understandable when you're trying desperately to keep your head above water, but it also helps explain the success of companies such as Kia.
Once again, to be fair, the Compass has some nice stuff included, such as Bluetooth for hands-free phone use and its decent audio system even plays DVD-Audio discs for the handful of us who have such albums. And it's ready and willing to take you off road, which could be important if such capabilities are on your list of vehicular needs.
And like the Sorento, its windshield washers offer an excellent hosing, which would probably come in handy off road as well.
I really liked the Compass's HVAC controls, which feature big knobs that are easy to use by feel or when you're wearing gloves. The rest of the controls are typical Chrysler, with audio controls mounted paddle-like behind the steering wheel (where they actually work quite well) and my test Compass had SIRIUS Satellite radio activated.
The driving position's good, but the steering wheel only tilts, with no telescope option, and I found the "premium cloth" seats a little narrow and hard for my prodigious posterior. 
The Compass starts at a reasonable $19,295 U.S./$16,495 Canadian for the basic front wheel drive model. The 4x4 models start at just shy of 21 grand U.S. and 19 grand in Canada.
Not bad pricing, actually. But check out the competition before you sign on the bottom line.
Copyright 2011 Jim Bray
TechnoFile.com