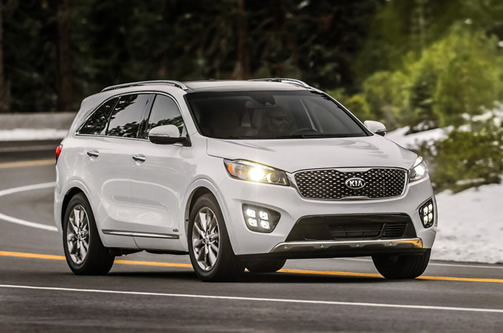 Kia Sorento a fine ride that outdoes some higher end SUV's
By Jim Bray
March 16, 2017
Though there's only been some minor tweaking done to the Kia Sorento for 2017, that isn't cause for any concern.
In fact, the undoubted rationale for maintaining the status quo is that the SUV/Crossover was already a darn fine vehicle, with lots of equipment stuffed into it, and even without a major overhaul it's still highly competitive in the crowded market niche of mid-sized utility vehicles.
Click on the image to open a slideshow.
This is the vehicle, after all, that drove away with the Best SUV/CUV ($35K - $60K) award after competing at the 2016 Canadian Car of the Year TestFest. It beat out the BMW X1, Ford Edge, Honda Pilot, Hyundai Tucson (conventional and Fuel Cell Electric), and the exquisite Lexus NX 200t (F SPORT) for the honours so, unless the collected auto journalists that voted on the category were collectively delusional - and I would never accuse them of that! - it's quite the vehicle.
When I reviewed last year's model, I noted that I liked it better than some supposedly higher end units such as the Acura MDX and Lexus RX 350 - though I'd be hard pressed if I had to decide between the Sorento and the new Mazda CX-9 - and I still find very little about which to whine other than the red illumination of some of the interior controls (it's hard to read). That would hardly be a deal breaker, of course, and is mere picking of nits in the grand scheme of things.
Kia Canada's sample 2017 Sorento was the top-line SX+ V6 with black Nappa leather and was priced at $47,095 CAD. That's definitely getting up there on the fiscal scale, but you can get into a Sorento (FWD, four cylinder engine, no third row of seats and fewer toys) for $27,695. That's pretty darn affordable in this niche.
The sample was pretty well state-of-the-art when it came to features and safety stuff, including Kia's Duramax all-wheel drive system the company says "proactively transfers torque for better traction during acceleration, cornering or in low traction scenarios." I drove the Sorento during lousy winter weather and it performed beautifully both in town and tooling around rural areas.
The six speed transmission shifts well, though sometimes seemed a tad reluctant to downshift when pressed into passing duties (hardly a huge problem, though) and the 3.3 litre V6 - rated by Kia at 290/253 horsepower/torque - delivers its delights well.
The exterior and the interior of the Sorento continues Kia's current trend toward designing handsome vehicles that are also built and equipped well.
How well are they built? Well, according to J. D. Power's new vehicle quality rating for 2017, Kia came in at number one. Number one! Clearly, the south Koreans are working very hard and their sales show it.
The top-line trim level's cabin is quite luxurious, probably as luxurious as most people would want or need, with soft touch materials and nice leather in the sample. The instrument panel is straightforward and everything the driver needs is nicely at hand.
They even get their interfaces right. I've complained, undoubtedly ad nauseam, about car makers who seem unable or unwilling to design their interior interfaces - the LCD screens, audio and HVAC controls, etc. - to be easy and intuitive. But Kia is one of the better at this; rather than sprinkling innumerable buttons and the like around their centre stacks and/or inflicting knob-or-mouse-like controllers that require lots of eye-time away from the road ahead, they have a straightforward combination of the LCD aided by buttons that are nearby. And the screen is close enough that shorter drivers such as me can actually reach it without using a selfie stick.
Even the Sorento's audio system is up to snuff, at least their higher end one is. It's from Infinity, a long time high end speaker maker and comes as standard equipment on the top line model. And you get real knobs for the audio system rather than being limited to the redundant steering wheel controls or a virtual slide potentiometer on the LCD. This is hardly unique to Kia, but it's nice to see regardless.
I loved the Sorento's huge panoramic sunroof, too, though it was too cold to exploit it during my test session.
If it weren't for the darn red lettering on the centre stack (which you don't notice during the day anyway) the interior would be simply exquisite.
You also get a full suite of safety stuff on the SX+ model, including autonomous emergency braking, adaptive HID headlights, LED taillights, 360 degree camera, blind spot recognition, smart cruise control and a rear cross traffic alert.
I complain regularly about intrusive safety nannies, but have made peace with blind spot and rear cross traffic monitoring, which do come in quite handy. And you can shut off the nannies if you like, after which they stay off, which is how it should be.
Kia's automatic power tailgate feature is really cool. And rather than make you balance on one leg to open it (which, if you're a clumsy oaf like me, can be problematic - or merely embarrassing) it merely requires you to stand behind the Sorento for a few seconds (with the key fob in your pocket) before it opens on your behalf.

I've said for several years now that if the "established" car companies aren't taking the South Korean threat seriously yet then they'd better start, lest they be left behind like the Big Three domestic carmakers were when the Japanese started kicking their butts a few decades ago. There are many good examples of why this is true, from entry level Korean cars such as the Kia Rio and Hyundai Excel to higher end products such as the new Genesis luxury line from Hyundai. The 2017 Sorento is yet another example; as I said earlier, even though it doesn't pretend to be a luxury vehicle, it's plenty luxurious enough - at least in this trim level - and it's actually nicer than some of the supposedly higher end competitors.
That seems to be a winning combination, and judging by the number of Sorentos I see on the roads around here it seems to be working.
Copyright 2017 Jim Bray
TechnoFile.com