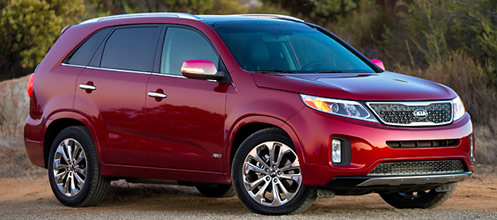 Kia tweaks the Sorento SUV
By Jim Bray
November 14, 2013
It may not look on the surface like it's undergone major changes, but Kia says its 2014 Sorento (click to open a slideshow in a new window) is over 80 percent new or redesigned significantly from the 2013 model. And that's a lot! The changes make the SUV/crossover an even more interesting choice than before - and the "old" Sorento was no slouch.
Besides a new engine, Kia says the new Sorento's interior has been redesigned substantially, a next-generation infotainment system offered, as well as Kia's first blind spot detection system - which in this instance uses sonar. There's also a new top-of-the-line SX Limited trim level, and the whole shebang rides on a supposedly all-new chassis.
Perhaps the biggest change is in the vehicle's heart: the new, optional V6 engine. For the 2014 model year, Kia has shrunk the engine  from 3.5 liters to 3.3, but upped the power and lowered the fuel economy in the process (an interesting feat!). There's also a 2.4 liter four cylinder engine, but Kia Canada's sample Sorento came with the six, which is more satisfying if you don't mind the extra weight and fuel use compared to the four.
It's a good engine, and its 290 horsepower are more than adequate. Power comes on smoothly and the engine noise is muted fairly well. Power gets to the wheels (all of them, in the case of the sample; other models offer front wheel drive) via a six speed automatic transmission with manual mode that works well (no paddles, alas), though it seems a tad reluctant to kick down a gear or two when you tromp the accelerator. It's hardly a deal breaker, but it's noticeable.
Sorentos feature an independent, MacPherson strut suspension up front, with coil springs and a stabilizer bar. The rear is also independent, a multi-link type with stabilizer bar and dual flow dampers. You won't mistake the vehicle for a Porsche Cayenne, but neither will it seem like the Titanic; Kia has actually done a pretty good job of balancing it for comfort and performance.
Brakes are discs all around, with ABS and the usual stuff added for safety. There's also a stability control system and the usual bevy of airbags and the like.
Also new for 2014 is electronic motor-driven power steering with "FlexSteer" which, as with some Hyundais, gives you selectable "Normal-Sport-Comfort" modes. Sport and comfort tighten and loosen the steering feel, respectively; Sport is the most interesting, but 'twould be best if Kia and its South Korean stablemate would offer more than just steering feel with the feature. It doesn't have to be a real, Porsche Active Suspension Management-compatible system, but tightening up the performance and suspension with the steering would be a heckuva lot more "sporty."
Perhaps to take away some of that sting, the sample Sorento had a heated steering wheel, which is a wonderful feature on chilly mornings - especially if you don't like wearing gloves while driving.
The 2014 Sorento also features the availability of a programmable power liftgate, 19 inch wheels (SX trim), integrated sliding sunshades for the second row passengers, heated/ventilated front seats, heated second row seats, and a great (redesigned) panoramic sunroof that looks as if it's big enough to parachute through. The panoramic roof also comes with a slick, one piece power-operated sunshade. 
Inside, there's a new instrument panel, which does a nice job of exploiting today's car technology without forgetting about ergonomics. On Kia's sample, the big central gauge cluster showed a digital speedometer flanked by an easy-to-read analog tachometer, and fuel level and engine temp gauges. The LCD can also display the usual trip and vehicle information, and if you have the nav system you can have its updates show up here as well.
The center stack is new, with rearranged buttons and stuff, and they're very easy to figure out and to use. The center stack also offers a new (and optional), eight inch touch screen display for navigation, traffic info, the premium (and very good) Infinity audio system - though the satellite radio had a bad habit of dropping out. The interruptions were brief, but annoyingly often.
Fortunately, there's Bluetooth hands-free connectivity for phone and tunes/apps, and Kia's sample also featured the company's next generation UVO infotainment and telematics eServices.
Kia's sample also featured smart key access and push button start/stop.
The driving position is fine and the seats are comfortable - unless you opt for the third row, which case the rear seats are sure to be best for the truncated.
The 2014 Kia Sorento starts at $28,360 Canadian (according to Kia Canada's website) for the front wheel drive, four cylinder version that's as Spartan as you can get (which isn't particularly Spartan in the grand scheme of things). Opt for more stuff and you can raise the price to the nearly $42,000 commanded by the top of the line SX model with third row seat.
This is a crowded market segment, with nearly every manufacturer offering something for nearly everyone. Choices include the Toyota RAV4, Hyundai Santa Fe, VW Tiguan, Nissan Rogue/Murano, Honda CR-V and many more. Kia fits right in here, though. It's a company that has come a long way in a relatively short period of time and, judging by the new Sorento and such other recent Kias as the Cadenza and Rondo, they're showing no signs of slowing down or dropping their quality.
And that, of course, is great!
Copyright 2013 Jim Bray
TechnoFile.com