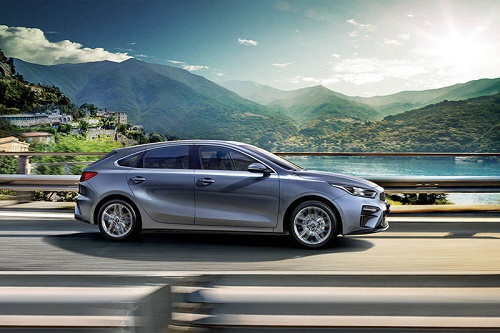 Kia's airport-based new model introduction a runway success
By Jim Bray
March 21, 2019
Abbotsford, B.C. - You could say Kia, the South Korean automaker, is positively soaring these days.
The company's Stinger halo car was named Canadian Car of the Year recently thanks to voters in the Automobile Journalists Association of Canada's annual contest (a group which also named the 2019 Forte as "best small car"), while the brand has also been honoured by such groups as J. D. Power – sometimes eclipsing such perennial honourees as Lexus.
Click on the image to open a slideshow.
Maybe that upward trajectory for the company was part of the reason they invited some car writers and others to a special "luxury brunch" in a hangar at the Abbotsford, B.C., airport on Thursday, March 14. I was one of the lucky guests they invited for the quick event, at which we were shown some of the marque's newest models, including the Stinger GT that impressed me so much when I drove it late last summer.
Among the new vehicles are the boxy but statuesque new big SUV/Crossover the Telluride, an all-electric Niro, the new Soul and – my personal favourite because it's the kind of car I would buy were I looking for a brand-new vehicle – the Forte 5 GT. Information was scarce when it came to pricing and availability, but the Kia reps on hand hinted that not only are these vehicles pending sooner rather than later (this year), but that their pricing should be in line with the company's history of offering a lot of content for a very competitive price.
Possibly the most popular of these soon-to-be-available models is the big Telluride, a three-row unit that'll seat up to eight (though the pre-production version we saw only seated seven, thanks to what will be optional Captain's chairs in the second row). Kia claims "comfortable seating for up to eight occupants (includes the driver)", so I guess if you're expecting autonomous driving you're out of luck on the Telluride's initial release.
Specs include a 3.8-litre GDI V6 that delivers 291 horsepower and 262 lb.-ft. of torque, an eight-speed automatic transmission and standard all wheel drive, an independent suspension and tow rating of 5,000 pounds. One of our Kia hosts, Michael Kopke (Director of Marketing, Kia Canada Inc.), noted that "the all-new 2020 Kia Telluride will deliver everything families need for their Canadian adventures – big or small" and features "all the comfort, technology and performance to make the trip a real pleasure." It's bigger than I like, but probably right in line with folks' expectations of a full-sized SUV.
It's a darn fine-looking unit, too, and promises to be robust in its performance as well. I look forward to trying one and, yes, that's a hint to the folks at Kia and it also includes the other vehicles in the company's inventory because I like Kias and wold like to try 'em all.
I figure it'll be priced in the approximately 60 grand range, right where such other "higher end but not supposed luxury" models such as the Mazda CX-9 live.  
All the vehicles we saw appear to be built very well and with interiors that are ergonomically thought out well, too. By that, I mean that Kia looks like it will continue its practice of using touch screen LCD's on its centre stacks rather than forcing you to learn some arcane twisty knob-like (or, worse, a trackpad) interface. Works for me, as long as the screen is close enough for my stubby little tentacles – which appears from my extremely limited viewing experience to be the case.
Fiddling while Rome burns…
I'd be a "lyre" if I didn't admit to really stretching to make a bad Nero pun, but there it is. And obviously, I'm using it was a way to segue into the all-electric Niro we saw in the hangar (yep, we were a bunch of hangars on) – another handsome vehicle (Kia has been on a roll since hiring design guru Peter Schreyer away from the Volkswagen group several years ago) and one that promises decent range from its electric power train. If I remember correctly, the Kia krew estimated 385 kilometres on a charge, which (as long as it charges quickly enough) should make it practical for more than just commuting.
That's assuming it will also work efficiently during our cold Candian/northern U.S. winters, but that's more of an issue of physics than of Kia specifically and also affects other electric car makers as well.
Kia also estimates the Niro EV will feature the equivalent of "up to" 201 horsepower and 291 ft.-lb. of torque, which sounds like (all things being equal) the vehicle will be quite a bit of fun to drive. And to help solving that pesky power problem, the Niro EV will come with DC fast-charge as standard equipment, which means you can achieve a range of approximately 135 km in 30 minutes using a 50kW charger – or 193 km in 30 minutes using a 100kW charger.
The Niro EV will also offer shift-by-wire transmission control, 17-inch alloy wheels, Steering wheel-mounted regenerative braking paddles (not to be confused with actual paddle shifters, since there's no transmission in the EV), heated front seats and steering wheel (I've really grown to love a heated steering wheel), leather seats, an eight-inch display audio multimedia interface and Harman Kardon premium audio system. It also promises Blind spot detection with rear cross-traffic alert (RCTA) (rear cross traffic is a great feature in parking lots!), forward collision-avoidance assist, advanced smart cruise control and lane keeping assist with driver attention alert.
In other words, it's equipped about as well as you could expect these days – and quite similarly to the other Kias outlined here.
I've lampooned electric cars in the past because they couldn't go very far and took forever to recharge (I once noted that the Banff Springs Hotel, about an hour and a half west of my home in Calgary, offered EV chargers way back when there weren't any EV's that would actually get there), but those days appear to be on their way out, if not over. I've only driven a few EV's since then and, depending on the car (an electric Smart, for example, is still crap – but not because it's electric) I've loved the instant torque.
My real contempt for EV's was and is political: because of the "you're going to save the world" lies (you may not ooze emissions from a tailpipe, but you're adding to whatever comes out of your friendly neighbourhood electricity generation plant) and the fact that unfair (but unsurprising) government rebates force your neighbours and family to help purchase your EV's whether they want to or not.
This applies to all EV's – including Kia's upcoming new Soul EV (I drove the old one a couple of years ago and it was pretty cool, though I've never been a fan of the thing's styling).
Soul – no sacrifice…
Speaking of the Soul, and apologizing for the lame (er, physically challenged) Santana hat tip, the new one looks pretty cool even though I'm still not a fan of its exterior. From the number of Souls I see on the road, however, I seem to be in the minority (and isn't that just typical?) when it comes to the Soul's styling.
The all-new Soul is set to arrive this Spring and though we didn't find out a lot about it, Kia's marketing says you'll be able to "make a statement without saying a word," something more of us should do. Kia also says "the all-new 2020 Soul combines style and versatility in a fun-to-drive package." So, it should be a logical upgrade to an already-popular little crossover thingy.
Kia does say it'll have a two-litre engine and five trim levels plus an electric version. As for the interior, they also say that "available sound mood lighting emits soft light from the centre door panels and a unique 3D pattern surface on the upper door panels, with the ability to synchronize to the beat of the music playing through the Soul's audio system." Not only that, but "sound mood lighting features a rainbow of customizable colours."
Sounds like the old-fashioned colour organs some of us inflicted on our living rooms back in the 1970's. Hope it isn't distracting!
Will the Forte5 "trump" the competition this fall?
As mentioned, I was particularly interested in the Forte5, which is the hatchback version of the popular compact Forte sedan. I'm a wagon/hatchback fan (I own an earlier Peter Schreyer wagon, in fact, from his days working for Audi) and I've always liked the Forte5.  Now, it appears to be getting some DNA from its Hyundai half brother, the Elantra GT Sport, and will be available in a GT trim level that's not only very attractive but which also looks like it's going to be a blast to drive. In fact Kia says it's meant to be "the performance-focused 'bad boy' within the Forte family."
Besides cosmetic stuff like black high glossy exterior trim elements such as the lower air intake, side-view mirrors, lower side sill garnish and a black grille with cool red accents, the GT comes with a 1.6 litre turbo four cylinder engine that gets its power to the road via a seven speed dual clutch transmission (the stuff of Porsche's marvelous PDK, though we'll have to see how it compares), and a multi-link rear suspension with tuned springs and dampers.
The "regular" Forte/Forte5 will come with a two litre four mated to Kia's new "intelligent variable transmission" (IVT, also available on the Soul), which sounds like a CVT and I really hope that isn't the case because most of them suck the joy from the art of driving. But if I were a betting man…
"We're confident that this new Kia Forte5 delivers on what Canadians want – a sporty and dynamic Hatchback that is great to look at, fun to drive, safe and connects to their unique lives," noted Michael Kopke. "With the recent launch of the Forte sedan, Kia has shown Canadians a compact car that is not a compromise to their needs and wants - and the Forte5 will bring this spirit to the hatchback market."
Naturally, the Forte 5 will also feature today's nannies and, with luck, you'll be able to shut them off if you prefer to actually pay attention to your driving skills and, with even more luck, they'll stay shut off.
Dunno about performance or pricing, but given Kia's history they should be at least very competitive – I guess about $30K-ish for the Forte5.
I'm champing at the bit to drive the Forte5 GT and hope it'll turn out to be Kia's response to such great rides as the Mazda3 (watch for my upcoming review of the fabulous, brand new 3).
About the only thing about Kia's generally terrific interiors that rubs me the wrong way is the red illumination on some of the instrumentation – a nitpick at best and hardly a deal breaker, especially since my beloved wagon also has red and I haven't tossed it into a landfill yet. It isn't really a big deal, but I find the red hard to read.
So, there you have a quick look at some upcoming and undoubted goodness from South Korea. I've said it before and I'll say it again: if the other mainstream manufacturers, especially the Japanese and North American, aren't looking over their shoulders at Kia (and Hyundai), it would behoove them to start, because these guys are coming on quickly and furiously and appear poised to do to the competition what the Japanese did a few decades ago when they kicked the rest of the industry's collective butt.
Isn't the free market great?
Copyright 2019 Jim Bray
TechnoFile.com
Jim Bray is a member of the Automobile Journalists Association of Canada. His columns are available through the TechnoFile Syndicate.