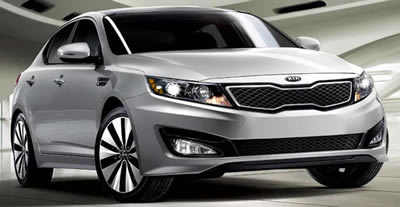 Kia Optima a Real Deal
By Jim Bray
July 1, 2011
Kia definitely seems to be throwing down the gauntlet, and if they keep making cars like the new Optima, other manufacturers had better be looking over their shoulders.
The Optima really knocked my socks off when I drove it for a week recently; it not only looks great, it drives well and has just about every technological toy and/or tool you can imagine, short possibly of the ability to drive itself. Maybe they're holding that back for 2012…
All new for 2011, the Optima is Kia's top of the line sedan. It's billed as midsize, but it's longer, wider and lower than its predecessor. Not only that, there's a whole lot of room inside; even rear seat passengers are treated to plentiful leg and knee room.
Optima's sleek and athletic exterior makes it one of the more attractive sedans on the market right now, though I could have done with wheels that were a little less "out there:" my test unit, a top-end SX Turbo model, came with wheels that looked like little UFO's. But that's about my only complaint about how this car looks – inside and outside – which is quite remarkable for the company that brought us the Amanti.
And if you don't like the "UFO" wheels, you can order optional "luxury" wheels.
Compare this car side by side to its major Korean competitor, the Hyundai Sonata and, to me, the Kia comes out on top. Okay, beauty is in the eye of the beholder, but to me the swoopy Sonata looks a mite pretentious, while the Optima is merely svelte and sexy, with kind of a "coupe-like" stance. Compare it to a major Japanese competitor such as the Honda Accord – considered by some to be the benchmark in this class – and despite its overall excellence, the Accord comes off looking like Cinderella's ugly stepsister.
Looks aren't everything, of course. What's under the skin is more important – which probably explains why Accords still sell truckloads of units, and deservedly so. Fortunately, Kia has really done a nice job here, too.
Powering the new Optima are three Theta II engines (one at a time, of course!), including a 200 horsepower 2.4-liter GDI four cylinder, a 274 hp 2.0-liter GDI turbo four and a 2.4-liter hybrid engine which combines about 166 horsepower from the gas part of its power source with 40 from the electric side.
My loaded test car wore the SX trim level and had the turbo, whose 274 horsepower were positively delicious, moving the car along smartly – with only a hint of turbo lag – and cruising at speeds that would have garnered a stern look from my wife if she could have seen the speedometer. Not that I was speeding, mind you…
That's another thing I liked about the Optima: the car rides along serenely at speed, with only a touch of wind noise from the passenger side as any indication of your velocity.
All Optima automatics feature what they call Sportmatic clutchless shifting, a nicely-shifting automatic with paddle shifters that work well and which bring some fun – and control – to the automatic experience. A six speed manual transmission is available only on the LX four-cylinder model.
The front wheel drive Optima is a pretty nimble car, with quick, power-assisted rack and pinion steering and an independent suspension that features struts up front and a multi-link rear, with coil springs and anti-roll bars at both ends. It's hardly a BMW M3, but for the market it's aimed at it's a darn fine drive.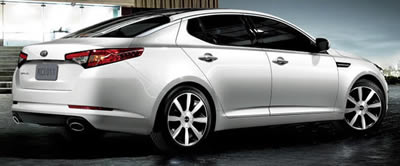 The brakes are up to snuff, too, featuring power-assisted discs on each of the car's 18 inch wheels, with ABS of course. Pedal feel is fine. You also get traction control, tire pressure monitoring and hill start assist control to help keep you from rolling back when you're starting on a steep hill.
The headlights on the SX trim level are of the self-leveling HID variety, with LED taillights. The lights also have an automatic setting, as every car today should to prevent people saddled with government-imposed daytime running lights from driving around at night with their rear ends (or the car's, at least) darkened.
Inside is where things get really interesting. I couldn't think of anything my sample would have really needed that it didn't have, and it had lots of stuff I didn't expect for the price.
Start with leather, and heated/cooled front seats that are power-operated, with driver's side memory settings. Add a beautiful, panoramic sunroof, smart key with push button start/stop and you start to get the idea. But it doesn't end there.
Nope. My SX Turbo (which also had the premium and technology packages installed) had an Infinity, eight speaker, 530 watt audio system that sounds very good (though just a tad bassy on its default settings), streams via Bluetooth (naturally, the Bluetooth works with your smart phone as well) and features all the I/O's and sources you'd expect, including SIRIUS Satellite radio. It had a navigation system, too, and there are redundant controls for the audio and cruise control on the tilt/telescoping steering wheel.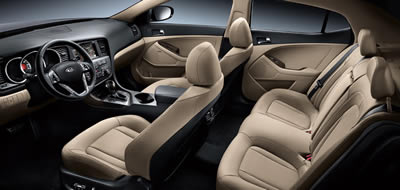 The LCD touch screen, which of course also works to display the view from the backup camera, is a little busy, but it's easy to figure out and works well. Most Optimas also feature dual-zone automatic air conditioning either as standard equipment or as an option.
The seats are comfortable and, as mentioned above, the rear seat room is surprisingly generous. I felt as if I could have stood up in the rear compartment, though at my height that might not be much of a test. It seemed pretty good for a car whose "coupe-reminiscent" roofline swoops rearward like the Optima's does, though.
Oh, yeah, you can get the rear seats heated, too, on all but the LX trim level.
The materials and fit and finish appear to be first rate.
Safety equipment includes the stuff one expects nowadays, including abundant airbags and safety belts, front active headrests and the like.
Kia says the Optima offers "consumer-friendly fuel economy," with the 2.4 liter four cylinder posting 24/35 (city/highway) mpg with the manual transmission and 24/34 mpg with the automatic. The 2.0-liter turbo GDI claims performance of 22/34 mpg with the automatic transmission (no manual is available with the turbo).
Not only isn't there much lag, there isn't much torque steer when you tromp on the fun pedal, either.
I've only driven a couple of Kia's, all of which are current models (the Forte and Sorento), so I have no history with the company by which to judge its evolution or the durability of its offerings. That said, however, my next door neighbor has driven Kias for several years (they now have two) and is very pleased with them.
My impression of the Optima from the moment I set eyes on this 2011 model was "Holy Cow! That's a Kia? Wow!" I had the opportunity to take some family and friends for jaunts in it and they were just as impressed with the car's capabilities, comfort, and performance as I was.
And, of course, there's the price. According to Kia's U.S. and Canadian websites, the 2011 Optima starts at just under $20,000 U.S./$24,000 Canadian. My fully loaded SX turbo tipped the scales at around $32,000 U.S./$35,400 Canadian. To me that's a heckuva deal considering what you get.
In fact, though it's the beginning of summer as I write this, the Kia Optima may be on its way to becoming one of my choices for most interesting cars of the year. It's that good.
Copyright 2011, Jim Bray
TechnoFile.com