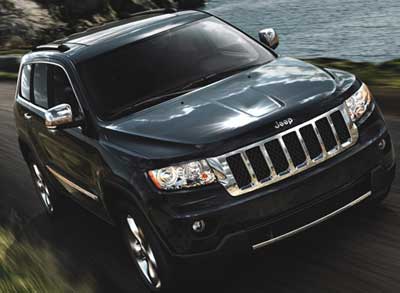 Jeep's Grand New Cherokee
By Jim Bray
December 8, 2010
While it might have been a government-bailed out basket case only a year or so ago, if the new Jeep Grand Cherokee is any indication of Chrysler's direction there may be hope for the company after all.
That's because the Grand Cherokee is a very nice SUV, equipped extremely well for the money, and yet with the Jeep off-roading heritage apparently intact.
I know little about off-roading, but I've driven my share of SUV's on the roads in my area and elsewhere. I also got a bit of seat time in the Grand Cherokee and its new or newly redesigned immediate competitors at the Canadian Car of the Year TestFest at the end of October. The Jeep came in second in that comparison test, "edged" out by Ford's new Edge in a very close vote.
It might have won if off road capability were a larger priority in the voting, though, because it beat all comers handily in that regard, except for the Toyota 4Runner which beat the Jeep by a mere tenth of a percentage point in that category.
So what we have with the Jeep Grand Cherokee, perhaps, is the best blend of off-road performance and overall on-road comfort and competence in SUV's in this niche.
Not bad for a company suffering a near death experience.
My sample Grand Cherokee Limited 4x4 came with an "Inferno Red Crystal Pearl Coat" exterior that was quite arresting. It was so arresting, in fact, that within about five minutes of my having picked it up, I was in a conversation with the local constabulary, who had admired its ruddy exterior so much that they just had to pull me over to talk to me about it. Okay, they also wanted to discuss the speed I was travelling...  
Unfortunately, even though my sample Jeep was "just" a V6 version, it managed to get well beyond the legal highway speed before I noticed. I hated it for that.
Jeep says the engine is the first application of its all-new 3.6 liter Pentastar V6, a flexible-fuel power plant with dual overhead cams and a high-pressure die-cast aluminum cylinder block. It includes variable-valve timing and is rated at 290 horsepower and 260 lb.-ft. of torque at 4,800 rpm. Company blurbs say the engine improves the vehicle's fuel economy up to 11 percent compared to the previous V6-equipped Grand Cherokee.
I thought it could have used just a tad more oomph off the line – it's no hemi, not surprisingly – but it's probably all you'd need under 95 per cent of circumstances. And it wasn't as if I couldn't get it going quickly enough to get me in trouble…
Power gets to the road via a five speed automatic transmission that shifts very smoothly and which offers a manual mode that requires you to row the lever left and right, rather than backward and forward like pretty well everyone else except Chrysler products. It felt really counter-intuitive to me, but I imagine you'd get used to it quickly enough.
Jeep says the V6 Grand Cherokee can tow up to 5,000 pounds and delivers a range of approximately 500 miles on one tank of gas.
You also get an adjustable Quadra-Lift air suspension with Selec-Terrain. Jeeps says Quadra-Lift offers five height settings for optimum ride performance: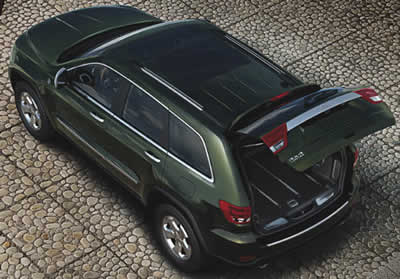 Normal Ride Height (NRH): 8.1 inches of clearance for improved fuel economy and improved aerodynamics during on-road driving
Off-road 1: Lifts the vehicle an additional 1.3 inches for getting over obstacles
Off-road 2: Provides an additional 2.6 inches of height for 10.7 inches of ground clearance in all. You might need a step ladder to get into it, though.
Park Mode: Lowers the vehicle 1.5 inches from NRH for easy ingress/egress and roof rack loading.
Aero Mode: Lowers the vehicle .6 inches from NRH. It's controlled by the speed of the vehicle and supposedly adjusts for optimal performance and fuel economy
The Selec-Terrain traction control system lets you choose the off-road setting that works best for whatever you're doing. It coordinates up to 12 different powertrain, braking and suspension systems electronically, including the throttle control, transmission shift, transfer case, traction control and electronic stability control (ESC).
You operate it via a control dial on the center console that offers you five driving settings, according to Jeep:
Sand/Mud: Traction control and Quadra-Lift operate with sensitive response to wheel spin, and torque is tuned for optimal performance
Sport: Provides enhanced on-road "fun-to-drive" capability
Auto: Automatically adapts to any on- or off-road situation
Snow: Vehicle traction adjusts for ultimate performance over snow-covered roads
Rock: Quadra-Lift air suspension system raises to maximum height (10.7 inches) and the transfer case, differentials, and throttle coordinate to provide low-speed control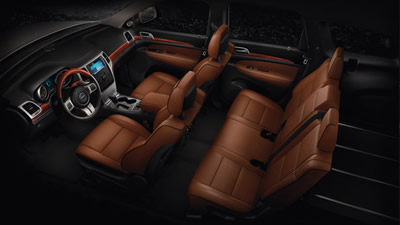 This thing has more settings than my surround sound system!
Naturally, I liked the Sport mode most, but I left it in auto most of the time anyway because it worked fine and required less thought. Both the Jeep and I were content with how it rode. I didn't have the vehicle during any snow or mud – just lovely autumn weather – and so didn't have a chance to put it through its "less than optimal road" paces, but I can't imagine that it would fall down there.
And the lovely autumn weather helped me appreciate the Grand Cherokee's great sunroof. It's a huge, two panel type the front of which slides back to open the roof over the front seat passengers. Middle row passengers have a big glass panel over them as well, which is nice and bright and airy.
Interior features are, well, fully featured for the price. I was surprised to find real wood on the interior, with heated and ventilated leather front seats that include power adjustment and memory. I would've liked to see the driver's seat cushion drop just a smidgen more under my thighs, to make my stubby little legs a bit more comfortable, but it wasn't a big deal.
Other than that high thigh, the driving position is great, thanks also to a tilt/telescope steering wheel that's also heated – a very nice touch – and which of course offers an abundance of redundant audio controls.
Instrumentation is attractive, laid out well, and the audio system includes SIRIUS Satellite radio and a "media center" audio system that plays DVD-Audio discs and has a hard drive on which you can dump your tunes. Sound quality is very good; my only real gripe is that the LCD screen (which also acts for navigation and the rear backup camera) is awfully busy.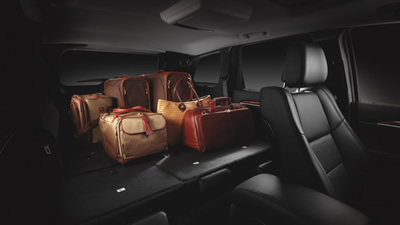 On the other hand, the voice recognition works well.
The Jeep also offers smart key access, which  lets you leave the key in your pocket and/or purse, and it's power tailgate's glass can open separately from the tailgate at large.
Speaking of glass, the Jeep's greenhouse is very good, with nice big windows all around. On the other hand, the big outside mirrors are mounted so they tend to hide the view where pedestrians might be. This could be important to some.
The second row of seats is heated, splits 60/40 and folds flat for hauling stuff.
Jeep also says they've crammed the Grand Cherokee with "More than 45 safety and security features including electronic stability control (standard), side-curtain and seat-mounted side air bags (standard), active head restraints (standard), Blind-spot Monitoring (BSM)/Rear Cross Path (RCP) detection system, adaptive cruise control (ACC) and Forward Collision Warning (FCW).
So go ahead and mow something down! You'll be fine!
I was surprised to find that I liked the Grand Cherokee more than I thought I would going into the review. It's comfortable, very well equipped , and appears to have all the off-road credibility one could want short of having a winch as standard equipment.  
 
The Jeep Grand Cherokee Limited 4x4 starts at $39,215 U.S./$46,995 Canadian.
Copyright 2010 Jim Bray
TechnoFile.com