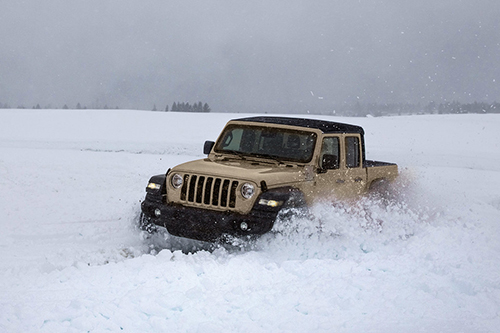 Jeep Gladiator a serious off-road fun machine
By Jim Bray
December 5, 2019
Do you want a pickup truck you can drive every day and it'll act just like its big brother full size models? Or are you a serious off-roader looking to haul stuff into the outback and have a blast of a time communing with nature while you do it?
Well, friends (and anyone else reading this), I have two possible solutions for you over the next few weeks, one a reborn "classic conventional small truck" and one a classic and capable off roader that just happens to have a bed in back instead of a conventional SUV bum.
I speak, well, write, of the Jeep Gladiator and the Ford Ranger, two reasonably compact pickup trucks with very different personalities. Either could fit your bill, depending upon what your bill might be.
Click on the image to open a slideshow.
Either of these vehicles will take you off road and do a fine job, but if you're really into the outdoors adventures, you might lean toward the flexible and configurable Jeep Gladiator.
A caveat up front: these opinions are coming from a non-truck person who probably isn't the best to be reviewing trucks, but who drives them when offered because that's part of the gig. That doesn't mean I'm one of those "I don't like trucks so you shouldn't like them" types – to each his/her/its own. Just take my comments with a grain of salt, knowing that this isn't my area of supposed expertise.
This week I'll take a look at the Jeep and in my next car column a couple of weeks from now, I'll turn my warped focus to the Ranger.
Jeep: Fording every stream?
The Ranger is undoubtedly a perfectly capable off-road performer, but the Jeep takes that capability and elevates it with a decidedly calculated fun factor. It's almost the "reptile" of this particular niche, too, because it's not only a capable truck, it's also one that can shed its skin to a certain extent.
Fortunately, it doesn't appear to have a poisonous bite!
The Gladiator is supposedly based on the Wrangler, which is a good place for a serious off-roader to start. It features a four-door cab with a box for hauling your stuff, serious off-road tires, prodigious suspension parts and, of course, it's a 4x4.
Gladiators start at $47,245 CAD (Jeep Canada's Overland sample had a base price of $51,245, however, and there's a Rubicon model that starts at just shy of 55 grand), and are powered by a 3.6 litre "Pentastar" V6 (I think that means they're built by werewolves) that puts out 285 horses and 260 lb.-ft. of torque. That power gets to the wheels via an eight-speed automatic transmission that shifts well and seems like a good match here.
The Gladiator is longer than its Wrangler cousin, with a longer wheelbase as well, and this helps create lots of interior space. It also features skid plates for the gas tank and transfer case, and a part time 4x4 system whose settings can be changed via a big lever near the shifter. That lever works fine once you get used to it, but right off the bat I had a heckuva time getting the darn lever to move at all. Once I figured out its "nuances" I had no issues with it at all, however.
Steering is trucklike – you think? – as is the suspension feel. And as you'd expect in such a vehicle, its lousy weather performance is very good indeed. I had the Gladiator during some, shall we say, less than optimal driving conditions and it never left me feeling insecure or in danger of sliding somewhere I didn't want it to slide.
Thanks to the late-year conditions I didn't try to "flay" the vehicle by taking off its removable body panels but, if you want to, you can take off stuff like the doors and the roof, to make that Serengeti adventure into the Lions' pride lands even more exciting.
Its high stance made the Gladiator difficult for me to get into and out of, even with its running boards, but since I'm shorter than the average bear your mileage will probably vary.
The Gladiator's interior is all Jeep/Fiat Chrysler and that means you get a reasonably straightforward cabin with controls and features that will be familiar to aficionados of the brands. There's stuff like push button start/stop, a rear back up/parking system (I love these things!), leather-wrapped steering wheel with secondary audio/etc. controls Bluetooth, etc. And of course, that's just the beginning.
Jeep's sample also came with (optional) leather-trimmed bucket seats, though they definitely aren't powered (in fact, the seat back's angle is controlled by a little strap rather than handles or buttons – reminding me of some "ultra-sporty" Porsches where they give you a strap as a door handle. I didn't like it on the Porsche and I don't like it here, but as usual no one consults me.
There's plenty of storage space inside, and the interior features include a Uconnect LCD screen atop the centre stack. How big the screen is depends on how you order the Gladiator; Jeep's sample came with a larger, 8.4 inch screen and I was glad of that because even that size is really busy. It isn't fuzzy design or anything like that, it's just that there's so much information offered on it that the text and the "virtual buttons" tend to get small and that makes it not only harder to read, but harder to touch buttons when you're moving. I can't imagine messing around with the seven-inch version using my stubby fingers.

Jeep's Overland sample came with nearly 15 grand worth of options, including Billet Silver Metallic paint ($245), a thousand dollars worth of leather, trailer tow package ($500), the Cold Weather Group (heated steering wheel, heated front seats and remote start - $895), LED Lighting ($895), the upgraded Uconnect (with five years of satellite radio – a really nice touch), auto dimming rear view mirror, 8.4 inch screen etc. - $1,395) and the $845 SafetyTec group that consists of rear park assist with cross traffic warning as well as blind spot monitoring.
There was also the "Auxiliary Switch Group," which for another $295 also gives you a 700-amp maintenance-free battery. $725 bought the Mopar hardtop headliner, the $995 Trail Rail Cargo Management system (an in-bed 115 volt electrical outlet and lockable rear under seat removable storage), a neat roll-up tonneau cover ($495) and the eight speed automatic tranny ($1595 extra compared with the standard six speed stick I wish it had come with).
That isn't it yet! The sample also featured Trac-Lok anti-spin differential rear axle ($525), remote proximity keyless entry ($300 but, like the rear camera/parking/cross traffic, it should be standard), and even a wireless Bluetooth speaker ($395, which seems like a lot). All in, with federal a/c and destination charges, the sample came in at $64,085. That's a lot of lucre, but it's also a lot of stuff.
One thing I noticed about the Gladiator was that it elicited more ooohs and aaahs than the Ranger did – and the Ranger was no slouch in this department on its own. Just about everywhere I went people would ask me about it.  As an Albertan, I definitely live in "Truck Central," because I don't even get that much attention when I've had expensive Porsches, BMW's and the like.
With those vehicles, the attention I get is from the police…
It appears, then, that Jeep has come up with a real winner in the Jeep Gladiator (isn't that how the cannibal felt after dining on the missionary?). I'd be curious to try one again in the summer, when it can shed its skin and romp around in its play clothes, but it certainly performed well on the cold and slippery streets around here, making it a fun, all-weather utility machine as well.
And isn't that what being a Jeep is supposed to be all about?
Copyright 2019 Jim Bray
TechnoFile.com
Jim Bray is a member of the Automobile Journalists Association of Canada. His columns are available through the TechnoFile Syndicate.