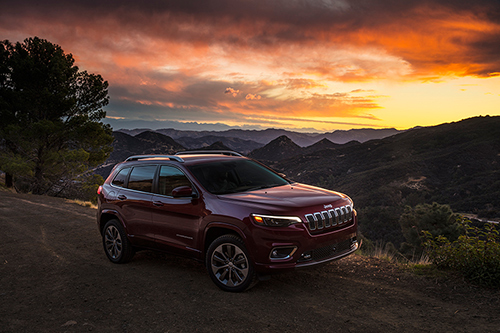 Jeep Cherokee – a classic off roader still relevant in the present
By Jim Bray
July 4, 2019
Most people, it seems to be the consensus, never take their SUV/Crossovers off the road, preferring them as more "garden variety" family and stuff haulers for their duties on asphalt wherever it may be found.
Nothing wrong with that, of course; after all, we're supposed to embrace diversity, right? Most people probably never haul building materials or furniture in their pickup trucks, either, yet they're the top selling vehicles on this continent. And it's nobody's business what someone else drives.
Click on the image to open a slideshow.
Some people do choose to go into the great open spaces with their SUV/Crossovers, too, and that's just fine. But these folks need something a tad more, shall we say, robust in their off-asphalt capabilities, something that will take them up the side of Mount Everest one trip, then to the side of the drive through window at Harvey's the next.
Fortunately, the relatively free market allows for such diversity of vehicle and there are plenty from which to choose. There are vehicles from Japan (i.e., the Toyota 4Runner and Nissan Pathfinder) and Germany (such as the Mercedes-Benz G class) and England (do the names "Land Rover" and "Range Rover" sound familiar?).
And for those who choose to drive vehicles whose companies call North American home (well, mostly, since the subject of this column is kind of Italian in ownership) there is probably no name more familiar than Jeep. Jeep hearkens back to World War II and the Willys GP (General Purpose) that was the "car" of the military.
Since then, Jeep has danced with several partners, including the long-dead American Motors and, for the past many years, by Chrysler. Chrysler also went through a couple of dance partners (Daimler Chrysler and, now, Fiat Chrysler), but through all of that the name Jeep has remained consistent while other brands have fallen by the wayside.
There must be a reason for this, for why Jeep is still an honoured and popular name among the car – er, vehicle – buying public. Are they the best? Are they the cheapest? Are people just buying the name?
Not having driven all of the field, I cannot offer a reasonable opinion on whether they're the best (yeah, I know: since when do I offer reasonable opinions anyway?), but I do know that, from my recent week in a 2019 Jeep Cherokee (isn't that name cultural appropriation? Where are the protests?) that it's a pretty compelling vehicle, though definitely not without its shortcomings.
Which makes it pretty much like every other vehicle.
For 2019, the Cherokee has new front and rear end styling, a new engine choice, and numerous other updates aimed at keeping it current, stuff like capless fuel tank, new wheel designs, a sculpted centre console that has been moved back a bit, customizable instrument panel display, etc.
The new engine is a two-litre turbo four – like, it seems, just about every other vehicle these days – and it offers more torque than the V6 choice (295 versus 239), though less horsepower (only one: 270 horses vs. 271 for the V6). There's also a non-turbo four-cylinder engine available, the 2.4 litre "Tigershark" engine with its rating of 180/170 hp/torque.  As much as I like a V6, the turbo four seems like the obvious choice, except for towing, and that's what Jeep Canada's sample came with. It doesn't offer "roll your eyes back into their sockets" exhilaration, er, acceleration, but I doubt most of its owners will use it to drag race, at least in its stock configuration. In the meantime, it's quick enough for the task at hand.
Regardless of which engine you choose, power gets to the ground through a nine-speed automatic transmission that for the life of me feels more like a CVT than a real automatic. Maybe it's due to a noisy engine or something, but when I tromped on the gas in the sample Cherokee, it would whine and howl as if it had the world's cheapest CVT. It shifts like a real automatic, though.
The turbo does seem to offer plenty of lag, and there's a jerkiness when you stomp the gas, but once you're going the Jeep drives just fine, with a nice suspension that toes the tight/comfy line well. It handles well, too.
Further pushing its off-road capacity are the choice of three "active drive" 4x4 systems offering a locking rear differential and high and low range operation. The top line version also comes with hill descent control and selectable drive modes for varying road (and off road) conditions. There are also front wheel drive versions available, for those who don't plan on conquering the great outdoors or who want potentially better gas mileage.
Speaking of whining, I heard quite a bit of it from passengers when they noticed the HVAC fan emits a kind of whistling noise when it's activated and that helped add to a feel of cheapness in the construction. Still, it worked fine.
The seats are comfortable and offer good support, and there's reasonable room for five. Controls are typical Chrysler (for instance, those things behind the steering wheel that feel like paddles aren't: they're for the audio system), and other than the paddle confusion (which won't confuse Chrysler/Jeep aficionados) they're laid out well and work just fine.
The LCD screen is laid out very well and is simple to figure out. Alas, it's pretty small and there's so much stuff on it that it comes off as very busy and I had trouble stabbing at some of the virtual controls on it with my short and stubby fingers. It works well, though, and you can order a larger screen if you want. You also get Apple CarPlay and Android Auto this year.
Jeep also offers the usual safety features, from the normal collection of belts, bags and bolsters to such stuff as a rear camera with cross traffic alert (a really handy feature when you're backing out of a parking spot). A technology package is available as well, which adds Adaptive Cruise Control with Stop and Go, Advanced Brake Assist, Automatic high-beams, Forward Collision Warning with Active Braking, Lane Departure Warning with Lane Keep Assist, Parallel and Perpendicular Park Assist, Rain-sensing windshield wipers and side distance warning.

The cornucopia of Cherokees starts with the Sport at $27,021 (CAD, FWD), continues through the North, Altitude, Limited, TrailHawk, High Altitude, Trailhawk Elite and Overland. The top end Overland starts at $36,969, and can be optioned up from there.
The Jeep Cherokee is a pleasant enough vehicle, but there were enough whines and moans and sighs – let alone fairly leisurely performance even from the top-end turbo four – to make me wonder if it's the best that it could be.
Maybe that's why caramakers offer various updates to nearly every one of their vehicles nearly every year, even between generations…
Copyright 2019 Jim Bray
TechnoFile.com
Jim Bray is a member of the Automobile Journalists Association of Canada. His columns are available through the TechnoFile Syndicate.