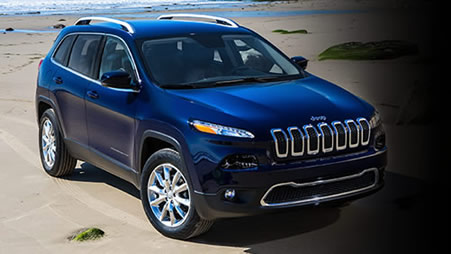 2014 Jeep Cherokee: 'Modern aerodynamics meet Jeep heritage'
By Jim Bray
January 16, 2014
The grille is new but recognizable, as is the overall look of the exterior. And under the new skin beats an interesting new heart that could make this newly-Italian Jeep dear to fans' hearts.
And, boy, is it ever perfect for those times when winter winds blow and snows fill the streets! (Click the image for a slideshow)
The new version of the popular SUV rides on a new platform for 2014, one that apparently came from parent company Fiat, and its transmission even gets an extra gear - nine speeds in total. Talk about giving their customers the gears!
This new Cherokee feels very secure on the road, as it should - but as is the trend in small SUV's these days it also drives more like a tall car than a small truck. Steering, as much as could be judged with about 85 feet of unplowed roads on the Calgary streets during my test, is crisp and the vehicle feels very comfortable, not wallowy and with good brake performance (even in my multitude of snowy stops the ABS was activated only rarely).  It's quite the vehicle.
I'm not the only one who was impressed by this new Cherokee, either; the vehicle won its category at the 2014 Canadian Car of the Year awards, besting other SUV- CUV's under $35,000 from GM, Mitsubishi,  Subaru and Toyota. I didn't have a chance to drive the Cherokee at that TestFest, and was surprised  when it bested the new Forester (traditionally my favorite Subaru) and the extremely popular RAV4. But it did. And now that I've spent a week with Jeep's Cherokee Limited 4x4 version, I can see why.  
One of the innovations is Jeep's new  nine speed automatic transmission, which comes as standard equipment. It's very good, mostly, shifting quickly and unobtrusively, though I found it could be a tad jerky the odd time. This is the first nine speed tranny I've come across (six is more common, though seven and eight speeds are also becoming increasingly popular) and it undoubtedly points the way toward the 300 speed transmissions of the near future.  
Okay, I made that last bit up. But we shouldn't be surprised to see increasing gears on upcoming automatics, since they can offer a good compromise between efficiency and driving involvement. 
Cherokees, the base versions of which start at a reasonable $23,495, also come standard with a new 2.4 liter inline four cylinder "Tigershark" MultiAir engine that puts out 184 horsepower and 171 lb.-ft. of torque. That's probably adequate, but Jeep Canada's sample had the new 3.2 liter Pentastar V6 engine that put out a much more interesting 271 horsepower and 239 lb.-ft. of torque.  And that's plenty of poop for most people.
Customers can choose from three "Active Drive" versions: Active Drive I with one-speed power transfer unit (PTU), Active Drive II with two-speed PTU and low range, and Active Drive Lock with two-speed PTU, low range and locking rear differential. The test vehicle had the second version, its option package (9-Spd 4WD Automatic Transmission - $1,250) also sporting hill descent control and an off road suspension that was surprisingly "non-jarring and floaty" in our driving sessions. Jeep says all three systems feature "a rear-axle disconnect – an industry first – resulting in reduced energy loss when 4x4 capability isn't needed – improving fuel efficiency."
The sample came with four driving modes: auto (which takes the thinking out of when the vehicle should go into four wheel drive mode), Sport (which, among other things, limits the traction control's influence and allows for "a target front/rear torque split of up to 40/60 per cent"),  snow (which we used often; it launches the Cherokee in second gear, invokes full time four wheel drive, and allows for a "target front/rear torque split of up to 60/40 per cent). It worked great!
There's also a sand/mud setting we had no use for but which, if it works as well as snow mode, will probably come in very handy.
Owners who choose the Active Drive Lock option also get a "rock" setting, which only works in low range mode and is meant for mounting obstacles. Or maybe it's for fans of heavy metal music…
The interior is attractive, comfortable and efficient. Seats are comfortable and offer good support; I couldn't quite find a perfect driving position, but it was close enough. Jeep's sample came with an Indigo Blue/Brown theme and included heated, power-adjustable leather front seats. The rear seats are good for two, okay for three in a pinch, and they split/fold, recline and slide to increase hauling space and/or legroom (depending on which way you slide it).
Testing the vehicle under severe cold and snowy conditions really made me appreciate some of the Jeep's optional features, such as a heated steering wheel and seat heaters that magically fired up with the vehicle's ignition. The sample also had seat coolers that mocked the frigid temperatures. And since Jeep's sample also had a remote start feature, I could fire the Jeep up from the comfort of Chateau Bray and let it - as well as its seats and steering wheel - warm up, minimizing the time I had to spend outside in the cold. I learned to love this!
Interior storage spaces abound, and the high tech interior of Jeep's sample also featured just about all the nannies you can imagine, including forward collision and lane departure warnings, adaptive cruise control, blind spot and cross path detection and parallel and perpendicular parking assist. It also had automatic high beam control and rain sensitive wipers, a powered tailgate, driver seat/exterior mirror memory and HID headlights.
And, as is becoming common now, the sample Cherokee sported a wonderful panoramic sunroof, a $1500 option that would probably be fantastic at temperatures above zero. Needless to say, we kept it shut.
The U-Connect system features Bluetooth for phone and audio streaming, and an 8.4 inch LCD screen that looks really busy but is laid out well and easy to figure out. Jeep's sample also had an upgraded audio system with nine powered speakers and a subwoofer, and it really rocks when you want it to. It also had a navigation system and voice recognition, the latter of which worked quite well.
The sample Jeep also rode on 18 inch polished aluminum wheels.
It's a pretty compelling package in all. And with a base price of $32,195, it's a pretty good deal. Jeep's optioned up sample came in at $43,070, which included the Technology group, Luxury Group, Trailer Tow Group, and more. Even with all this extra stuff the price still seems reasonable.
I never expected to like this Cherokee nearly as much as I did, so kudos to Jeep, Chrysler and/or Fiat - whoever's responsible for this excellent entry into a crowded field - for a job done well.
Copyright 2014 Jim Bray
TechnoFile.com