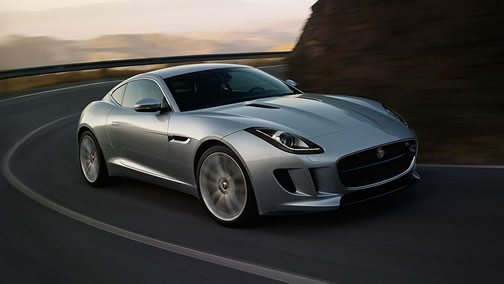 Jaguar knocks it out of the park with F-Type Coupe
By Jim Bray
September 4, 2014
Welcome home, Jaguar! Your new F-Type coupe is a real tour de force, a luxury sports car to lust after and a legitimate competitor to mighty Porsche. (Click here or on the image to open a slideshow in a new tab or window)
Comparing the Jag to a Porsche isn't exactly an apples-to-apples thing, considering the former is more a luxury car that's sporty as opposed to the latter's penchant for making sports cars that are luxurious (and yes, there's a difference), but I would be remiss in not putting the two marques side by side since Jag - via some of its initial advertising for the F-Type - is aiming the car directly at people who might otherwise look to the 911.
It's about time, too. It's been decades since Jaguar built the iconic E-Type, another gorgeous sports car - one, in fact, that's considered by many as the most beautiful and sexy sports car ever made. E-Types are prized highly today and I have a feeling the F-Type is going to be highly prized today as well - and tomorrow. It's not only a gorgeous car, but its mien positions it as the spiritual successor to the E-Type, which probably explains its name.
Jaguar really needed a car like this. The company has gone through a few decades of tribulation and - like much of the British car industry - had built a reputation for building lovely vehicles that just didn't work well. Brit electrical systems were a hoary joke, their labor problems were legendary, and such issues led to most of the British car industry being sold off to foreign companies. Heck, I even heard that George Lucas was tempted to change his last name, thanks to the company whose electrical devices caused so much Brit angst back in the day. Okay, I made that part up.
Foreign companies that now own British car companies include Volkswagen (Bentley) and BMW (Rolls Royce, Mini) and they've done a lot to restore the reputation and quality of British cars (their profitability, too, I would assume, since they don't seem to be in a rush to divest). And judging by current Jags, it looks like Tata - the India-based owner of Jaguar - is doing the same to his famous but unfortunately neglected brand.
So it is that there are new Jaguar sedans now that, from my very brief sessions in them, are state-of-the-art when it comes to their technology. And love or hate the new sedans' styling (I'm not a fan), they're undoubtedly great cars. But this new F-Type, now that's a game changer. Sure, Jaguar had a sporty XK whose looks hearkened back to the E-Type but as nice as it is/was (it appears to be on the way out - and why not, now that the F-Type is here?) it didn't get my adrenaline flowing like this new car does. I drove one for a week last year and I loved it, but it didn't make me question my penchant for Porsches. The F-Type, especially in coupe form, does.
If you're reading this outdoors, you might best find shelter lest you become collateral damage from the lightning strike I'm tempting for questioning my Porschephilia.
Sweet lines…
Just take a look at the lines of the coupe. This may be the most beautiful, sexy car offered for sale today - anywhere. It is simply spectacular - so much so that it garnered more admiring looks than any car I've reviewed - including the mighty Porsche 911 Turbo S of a couple of years ago that was the previous "record holder." Maybe part of it's because the Jag is so new, but I suspect most of it is because it is so darn gorgeous to behold.
The convertible F-Type, released to much acclaim about a year ago, is a beautiful car in its own right, but this coupe - my goodness I love how it looks. That roofline extending back toward the car's bum is glorious, even more attractive than the old E-type coupe's roofline. That old car always worked better as a convertible, in my never humble opinion, but the F type works both ways. I'll take the coupe, though, any day. And if you couple its gorgeous hard top to the optional panoramic glass roof, you have a car to die for. Okay, the roof doesn't open, but I didn't care a whit, especially when we took the Jag into the Rocky mountains a couple of times. What a view!
Okay, enough drooling. Let's look at what this car has going for it under its spectacular skin.
The model that Jaguar Canada let me play with was the F-Type Coupe S, which is the middle of the line (base, S and R). It ups the ante over the base F-Type by about 12 grand sans options, tossing into the mix 40 extra horses for its supercharged 3.8 liter V6 (bringing it to 380), 19 inch "propeller alloy" wheels, a limited slip differential and lots more.
Power gets to the rear wheels - and only the rear wheels - via an eight speed "QuickShift" ZF automatic transmission with a real, live manual mode that works (it's fine in normal mode, but it's great in sport mode). And paddle shifters, of course (in "Ignis orange," no less). Put the car into performance mode and shifts are nearly as good as the Porsche PDK's - which means the thing's nearly psychic. I had some issues getting used to the electronic shift lever, but nothing embarrassing happened because of it.
Add that engine and transmission to the car's forged aluminum double wishbone suspension (with Adaptive Dynamics), and you have a car whose performance and handling is the stuff of (wet?) dreams.  There's even a "pretentiousness button" on the center console that tweaks the car's exhaust note to make it sound really special. It doesn't quite have the cat-like growl of the supercharged 550 horsepower V8 that was in the XK-R I drove, but it's close. Well, nearly.
A Porsche-like rear spoiler rises automatically at speeds over 110 km/h to keep the cat (Jaguar's sample was all black, so technically I suppose it was really a "Panther") on all four of its paws. And the door handles retract when they aren't needed, undoubtedly adding to the efficiency of the airflow as well. Heck, even if they don't, they're extremely cool and one of the major talking points of those who rubbernecked the F-Type while I was in its custody.
Headlights are xenon for both the low and high beams and "J-Blade" LED lights provide not only daytime running lights but cool accents that don't look excessively like weird eyelashes. Adaptive lighting is optional. The taillights are very cool as well, sweeping around to the rear from the side, and kept very slim and elegant by using LED's. To look at them you wouldn't think they'd be much good, but they are.
An optional Vision package, which my sample wore, gives you the adaptive front lights, as well as a rear view camera and parking sensors front and rear. Jaguar's sample also came with the Premium pack and the Performance pack ($3750 and $2500 respectively) that add stuff like performance seats and a configurable dynamic mode, smart key system, seat memory and more. It's not necessary, but I'd want it all in my F-Type. The sample also wore 20 inch wheels (and tires, fortunately!), a heated windshield, a dynamite Meridian sound package, extra leather and the climate package. All this took the F-type S's price from a reasonable $84,900 to a still cheap (to me, anyway) total of $101,500. Heck, that's only about five grand more than a stripped down, base model 911! It's also right in loaded Cayman territory.
The Jaguar is easier for an old fart like me to get into and out of than a comparable Porsche (911 or Cayman/Boxster), which was nice - not that I mind taking a few groans for the team - and once you're there you're seated in extreme comfort in which you can drive all day without fatigue.  
The cabin is driver-focused,  handsome and classy, laid out well and very efficient - and its LCD screen has one of the best interfaces I've used. Many kudos to Jaguar for that! On the other hand, the sample F-Type also had the usual nanny crap, like blind spot monitors and the like, that rewards inattentive drivers by making skill increasingly irrelevant. This isn't a Jaguar thing, of course, but the direction in which the nanny staters are herding us.
All this beauty and technology is great, but it would be wasted if the car didn't provide a wonderful driving experience. Fortunately, it is; this is a car I could drive forever, not just for long trips but every day. The power is just fine and, as much as I loved the V8 of the XK-R, I could be very happy with this six. Acceleration is delicious and it's easy to pass slower traffic - of which there's plenty!
The real test will come next: how do the cars hold together over the long term? Jaguar has a reputation to overcome, for better or for worse, and in general today's cars are better than ever - so the competition is stiff. Speaking of which, there was a small but noticeable rattle towards right rear of the cabin whose source I couldn't find, and I swear there were a couple of weird electronic flutters I couldn't put my finger on (the ghost of Lucas, in an homage to days gone by?), because they were there and gone so quickly I couldn't be sure they happened. That said, that's about all I can quibble about with this marvelous automobile.
Is it 911 caliber? It depends on the 911 or F-Type model, undoubtedly, but anywhere the Jag might fall down in performance compared to the Porsche it makes up for with its elegant persona and features for which you'd pay thousands of dollars more on a 911. For example, Porsche's Canadian website says the 911 Carrera S, probably the model closest to the T-Type S, starts at $112,800. Add stuff like 20 inch sport wheels, power sport seats, Bose audio package, park assist with butt camera, the fabulous PDK transmission, dynamic chassis with PASM, and other options I selected to make this as apples-to-apples as possible, and the price leaps up to $140,055. You could buy a nice family sedan for the money you save with the Jaguar and have nothing to apologize for.  
I wonder if my wife will buy that rationalization…
Which would I buy? As of this writing, I can't decide. The Porsches (911, Cayman and Boxster) probably have it over the Jaguar for pure sports car entertainment, but it's not as if you'll be roughing it with the Brit/Indian as opposed to the Teutonic trio. It's kind of like Messerschmitt versus Spitfire, or maybe German beer versus English tea: they're all great in their own right, but very different.
And there's nothing wrong with that. Personally, I'm delighted the F-Type is here and hope Jaguar sells oodles of them. It's a spectacular rebirth of an old classic.
Copyright 2014 Jim Bray
TechnoFile.com