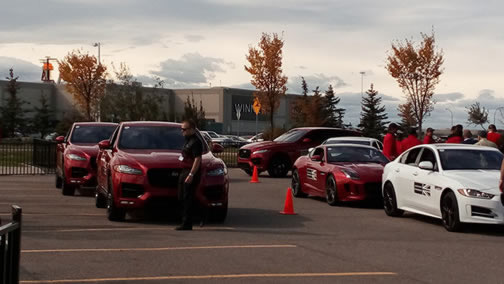 Jaguar brings a different kind of Pride parade to its vehicular road show
By Jim Bray
September 22, 2016
Jaguars, as in the big cats, are apparently solitary animals for the most part, but when you bring them together in a group it's referred to as a "pride," just like with lions.
Click on the image to open a slideshow.
And I'd be lion if I told you I didn't have a really great time at Jaguar Land Rover Canada's Art of Performance tour, which stopped in Calgary over the September 17 weekend. In fact, my buttocks had to be "pride" from the seat of an F-Type before I'd leave.
The Art of Performance tour is billed by the company on its website thusly: "Thrill your senses. Introducing the all new XE, XF and F-Pace, our new generation of vehicles at the Art of Performance Tour." And that's what it turned out to be, a two and a half hour first impression of the marque's newest vehicles, with a bit of "fake off road" Range Rover performance thrown in for good measure.
The event was held on a parking lot at a mall just north of the city, where Jaguar folk had laid out three courses for us to drive. The first that I and the friend I dragged along with me experienced was a kind of slalom event using high tech cones. We'd get into an XE, which was the car I wanted to see the most and, following the lead of the cones - you drive between the ones that have green lights illuminated on top of them, with the blue-topped ones indicating where you were to go next (which turned green once you went through the "currently green" ones, at which time another set of blue ones fired up to indicate your route).
It made for a snaky and circuitous course on which you tried to go right through the middle between the cones - apexing actually lowered your final score, as I discovered to my embarrassment - getting a quick feel for the XE's handling on the tight track. It was fun, but since we only got to try it once I didn't have a chance to go back and correct my apexing error and thereby, hopefully, increase my score. Oh well.
It was odd not apexing, because in the advanced driving courses I've had the good fortune to take they stress apexing because it's the most efficient way around a turn. Obviously, this event had a different focus.
From there, we went to the Land/Range Rover section. We didn't get to drive this part, probably because the organizers weren't absolute fools, but we got to "passenge" as one of their experts took us at a snail's pace over a couple of nifty pieces of apparatus that simulated some extreme off road conditions.
One of them was kind of like the world's slowest roller coaster: we'd crawl onto this track that looked superficially like those car carrier trailers you see on the highway. After inching upward on it, at an angle that made me glad I wasn't driving, we'd stop, then the apparatus would raise us up higher than it had any right to and we'd crawl back down again, forward, on another simulated hill that made me glad I wasn't driving.
The demonstration was to showcase Land/Range Rover's prodigious talents for driving anywhere on planet Earth, including a feature that's kind of like a cruise control for off road situations in which the vehicle will maintain a steady slow speed, even up and down hills, to ensure you don't do something really stupid. I could have used this during an off road adventure about 30 years ago in which we ended up spending the night in a big mud puddle, stuck fast…
The other part of this section showed us how the Range Rover Sport we were in could step gently over rocks (simulated in this case) without it or its passengers breaking a sweat, let alone a fingernail. It was pretty cool.
I was there for the Jags, though, and the final track setup was the most interesting. It was the longest of the three, a route laid out between those orange cones you see all the time in construction zones. It was kind of reminiscent of the handling course I've taken at AJAC's Canadian Car of the Year TestFest a few times - a couple of longer straight sections, a slalom, a chicane and a couple of tight turns. The course let you open up the car a bit - but only a bit, alas - as well as giving a nice, albeit all too quick, feel for its handling.
First, we did it in an XE, Jaguar's new small sedan that's poised to compete head to head with the Audi A4, BMW 3 series and Mercedes-Benz C Class, etc.. I probably had a maximum of five minutes in the XE, but if it turns out to be as nice as it was there (and doesn't rust or rattle itself to death like Jags of long ago - which evidence says it shouldn't), I predict Jaguar will have a real winner on its hands. I'm an A4 kind of guy, but think the new XE is nicer than the new A4 (though I haven't driven the Audi).
I love the XE's cabin - which is pretty well the standard Jaguar interior - though a tad disappointed that it has a conventional instrument panel rather than the cool LCD-based one that was on the XF-S I drove to the Indy 500 this year. Nothing wrong with the XE's, but the LCD one is cooler, more customizable and easier to read. Still, I love this XE and might be looking for a used one the next time I'm shopping for wheels. Too bad they apparently aren't planning a wagon version for North America.
From there we did the same course again but in an F-Type R, with its 550 horsepower supercharged V8 that was lovely, sounded fantastic, and was mostly wasted on the tight parking lot course. But what are you going to do when you're offered a chance to drive the most beautiful coupe sold on the planet today, say "thanks, but I'll wait until I can take it farther?"
What a car! I loved the F-Type when I had it for a short review a couple of years ago and that feeling hasn't abated at all. I've always lusted after the Porsche 911, especially the mighty Turbo S, but after some seat time in the Jaguar I'm being forced to revisit that: the F-Type is prettier (and that's a tall order!) and about $80,000 less!
Guess I'll need to dream about having both…
The day was capped by a couple of laps on the same course in Jaguar's new SUV/Crossover the F-Pace. Naturally, being a taller and larger vehicle it didn't have the handling prowess of the F-Type, or even the XE, but that's no different from saying a Cayenne doesn't hug the curves like a 911. Different beasts with different job descriptions.
The F-Pace looks great, features the same basic Jaguar interior layout I'm growing to love so much, and it handles like it - as a Sport ute - should. My friend, who was there to sample the F-Pace, came away as impressed as I. The F-Pace should also prove very competitive in its market niche.
Jaguar kind of languished in the car marketplace for many years, a victim of the same disease that caused most of the British carmakers to end up being taken over by foreign companies (BMW owns Rolls Royce, for example, Volkswagen has Bentley and Jaguar is owned currently by Tata, of India).
If the current line is as good as my impressions of them have been, then the company is back with a vengeance and that's a very good thing for this classic marque that's been missing from action for far too long.
Copyright 2016 Jim Bray
TechnoFile.com