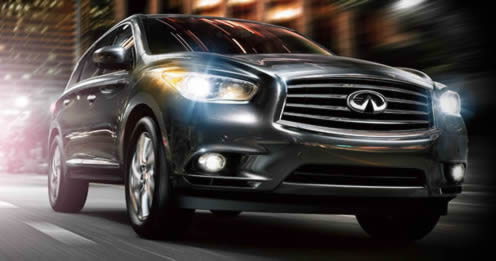 Infiniti JX 35 throws down a gauntlet, while Honda's Ridgeline soldiers on
By Jim Bray
November 8, 2012
The newest addition to Infiniti's stable is a big SUV/crossover thingy, and Infiniti would have you believe that it's the latest and greatest such vehicle ever to hit these shores.
Not that Infiniti is alone in hyping a new vehicle, of course, but in this case I wonder whether it's more hype than true innovation. This was a vehicle that, despite my affinity for things Infiniti, left me more or less cool to its charms.
And it does have plenty of charms. Don't get me wrong. But I came away from my week in the JX 35 thinking "meh. What else have they got?"
To be fair, I spoke briefly about the vehicle with a friend and associate who really liked it, so maybe it's just me. He tended to think of it more like it's a minivan than a so-called crossover, however, so perhaps that made the difference. I never made that connection, though.
Anyway, Infiniti bills the JX 35, which is quite a big, three row SUV/Crossover, as "Inspired Style, Performance, Roominess and Innovation," and says it will "shake up the status quo." We'll see.
It's certainly comfortable and roomy, and a decent looking entry into the market. Not a bad entry price, either: Infiniti Canada lists its base MSRP as $44,900, which isn't bad considering all the stuff you get.
Among that stuff is Infiniti's 3.5 liter V6 engine, which in this instance puts out a reasonable 265 horsepower @ 6,400 rpm and 248 lb-ft of torque @ 4,400 rpm. Infiniti says the engine's design includes "a variable induction control system to improve volumetric efficiency at low and middle speed ranges, while an efficient belt layout improves maintenance and fuel economy." Yep, JX jibber jabber!
Coupled to that engine, however, is a CVT – a continuously variable transmission. These are very popular in the world of Nissan, Infiniti's parent company (and among other carmakers as well) – and some of them are okay. A lot of them are loud and whiny, however, and can sap the fun to drive quotient from a vehicle. I found this to be the case with the JX, and that's where my angst started.
The engine's power is fine, but step on the gas and instead of leaping forward, it's as if the JX goes "Do I have to?" It feels as if it's being propelled by a rubber band. This is thanks mostly, I believe, to the CVT. And if you take advantage of the "eco pedal" setting (which, thankfully, you can defeat), the vehicle will actually fight your application of pressure on the gas pedal, as a way to save gas.
Yeah, put in a nice V6 and then make it refuse to perform. That makes sense. Why not just buy something with a four cylinder engine, or a hybrid, instead?
The CVT does offer a manual mode on the gear shift lever – not via paddles, unfortunately – and it does feel better that way. But it's still not the same as a conventional automatic transmission, many of which these days are excellent.
The JX' driving performance can be controlled to a certain extent via the Infiniti Drive Mode Selector, which means you can use a console-mounted rotary switch to choose between four drive modes: Standard, Sport, Eco and Snow. The system varies the response of the throttle and the shift schedules to optimize performance in whichever mode you choose.
I didn't try snow mode, there being no snow, but such things usually work well. "Sport" is the only setting that offers anything approaching "fun"; the rest either make it feel lethargic and/or heavy.
The suspension is fine, though, albeit luxury soft – which shouldn't surprise anyone considering this is a luxury vehicle. It uses the common independent strut configuration up front and a multi-link suspension in the rear, with stabilizer bars fore and aft.
Brakes are four wheel discs with ABS and the rest of the usual assistants, and they stop the vehicle well, and with good pedal feel.
Infiniti says the all wheel drive-only JX' Fuel economy – one of today's big bugaboos – is "expected to be rated at 8.5 L/100km Highway, 11.5 L/100km City and a real-world 10.2 L/00km Combined." That is actually pretty good for such a vehicle.
JX's run on standard 18 inch wheels, with 20 inch ones optional.
The interior is laid out and fitted very nicely, as a luxury vehicle should be. The third row is roomier than I expected, and Infiniti says you can access it even with a child seat in the second row. If you aren't hauling people, I'd recommend folding them down, however, because the tall headrests really cut into the driver's view rearward from the inside mirror.
My sample JX came with the premium package, which included stuff like an Infiniti Hard Drive Navigation System with 8-inch WVGA color touch-screen display, Voice Recognition, XM NavTraffic with Real-Time Traffic Information, and Zagat Survey Restaurant Guide, Streaming Audio and hands free phone via Bluetooth.
It also had a really fascinating "Around View" Monitor with Moving Object Detection and front and rear sonar sensors, and a 13 speaker premium Bose sound system with Acoustic Waveguide bass technology but not DVD-Audio capability (it'll play such discs in Dolby Digital, though, which is still pretty good).
That Around View monitor seems like magic. You can access a bird's eye view of the vehicle that works as if there's a camera hovering in space several feet above the JX; it even throws accurate shadows onto the virtual ground around you! Very cool, and very handy.
You can also partake of a "Driver Assistance Package," which contains a googolplex of nannies including Backup Collision Intervention, Intelligent Cruise Control, Intelligent Brake Assist with Forward Collision Warning, Blind Spot Warning system, Distance Control Assistance, Active Trace Control, the above-criticized Eco Pedal, a heated steering wheel and remote engine start.
These nannies drive me nuts, but you can shut most, if not all, of them off via the settings menus. Particularly annoying was when the vehicle would hoot that it thought I was about to slam into someone's rear end (usually a vehicle's!) when I wasn't. It needs to lighten up a bit.
I hate it when a car lectures you. I have a wife for that.
My lukewarm opinions of the JX notwithstanding, there's a lot of stuff to like here. It's just that this particular Infiniti seemed to rub me the wrong way.
Ridgeline stays true to its roots…
I also spent a week with Honda's Ridgeline, the company's innovative pickup truck that reminds me of the old El Caminos of days long gone by. It's a truck that's more carlike than most trucks, and includes such fantastic innovations as a trunk in the truck bed.
That trunk is very cool, indeed. Heck, I knew someone with a Ridgeline who used the trunk to haul a load of ice and beer to a tailgate party. Now that's innovation!
When it came out, the Ridgeline really appealed to me, seeming like a truck designed for people who don't like or need trucks much – which would be me. A great idea! Alas, the Ridgeline Sport of my Honda Canada tester's livery seems a tad long in the tooth now. Other trucks have caught up in offering "civilized" interiors, yet can also perform more robustly as trucks, an area in which the Ridgeline falls short (depending on what you expect from your truck). Perhaps it's time for a new generation of Ridgeline.
On the other hand, Honda says you can tow up to 5,000 pounds with the Ridgeline, and haul a half ton of payload, and while that may not be up to the snuff of some "real" trucks, it isn't chicken feed, either.
The V6 engine puts out 250 horsepower @ 5700 rpm and 247 lb-ft. of torque @ 4300 rpm, which was adequate for the fairly light stuff (beds, etc.) we hauled. It's mated to a five speed electronically controlled automatic transmission with Grade Logic Control for when you go up or down hills.  And of course the vehicle is all wheel drive.
There's a bit of new stuff offered for the 2012 model year, including a revised front end, better fuel economy, and the new Sport trim level.
Well, it's sporty if you think that exclusive black 18 inch alloy wheels, an exclusive black honeycomb grille, and black headlight and brake light housings are sporty. To me, sporty means stuff like a manual shift mode (or a manual transmission!), tighter suspension, more ponies under the hood, etc. These, alas, are not included. "Sport" here is pretty well cosmetic.
The cabin is roomy, though both my son and I bashed our knees on the dashboard getting in (and we aren't large – well, in height, anyway). And while its interior is efficient and everything in it works well, my Sport model didn't even come equipped with Bluetooth. In 2012!
The interior has two rows of seats, including a nicely folding 60/40 split rear bench you can use for hauling even more stuff. The multi-function console has a sliding armrest and lower tray.
There are eight tie-down locations in the bed, with four cargo area lights and a neat, dual-action tailgate that works like the "magic tailgates" of domestic station wagons of many years ago.  
The Honda Ridgeline starts at $34,990. The Sport trim level starts at $37,790 and the Touring model tips the money scale at $42,090. It's still a pretty compelling package, but it somehow didn't leave me feeling as warm toward it as I used to.
Maybe one of us is getting old.
Copyright 2012 Jim Bray
TechnoFile.com