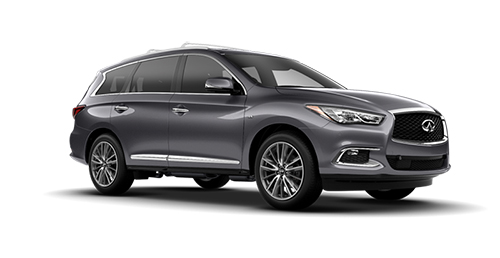 Infiniti QX60 tries gamely to keep up with the competition
By Jim Bray
November 14, 2019
Folks looking for a three-row luxury SUV have plenty of choices, so many in fact that, regardless of its many virtues, Infiniti's QX60 may be getting lost in the shuffle.  
That's because Nissan's 30-year-old luxury division has kind of been dwarfed by the roaring success of Lexus and, to a lesser extent, Acura over the three decades in which the "Big Japanese Three" went head to head with the best from around the world. It's too bad, because Infiniti has made some very nice vehicles over the years - though, alas, they've also made some pretty forgettable ones.
Click on the image to open a slideshow.
I give the QX60 three row SUV/Crossover as evidence of both the nice and the forgettable. There's nothing really wrong with it, and it's quite comfortable and decent to drive, but there's so much else out there that's either newer or nicer (this, of course, being my never humble opinion) that I'm not sure it's keeping up – though to be fair this QX60 has been out for a few years and is due for an upgrade.
I don't wish Infiniti ill at all and, in fact, I owned an original Q45, Infiniti's first flagship, bought well-used and mostly ignored by previous owners. I liked it a lot (once I got the timing chain guides replaced so the engine wouldn't tear itself apart) and kept it for several years, during which it served my family well.
Yet that car, which came out at the same time as Lexus' far more successful LS 400 sedan, never caught on the way the Lexus did, even though it was more of a driver's car than the big Lexus.
Since then, there've been great cars like the G35 and G37, and the larger M's, which were also "drivers' cars", but then Infiniti seemed to lose its direction (or was given new direction by its ultimate bosses at Renault). So, they threw away all their model designations and renamed everything Q something: the G37 became the Q50, for example, and something was lost in the transition.
I found the Q50 to be really annoying because of its intrusive nannies and other technologies that made the Q50 feel less like a driver's car and more like a vehicle that was trying to replace me with its own driving skills. And, whether that's a good thing or not, it really rubbed me the wrong way.
The last Infiniti I drove was the QX50, a smaller version of the subject of this review. It was fine but (like the EX it replaced) it was bland and forgettable.
Just like this QX60. Oh, there's nothing really wrong with it, but there are vehicles out there that I like a lot more – and not all of them wear luxury badges. Mazda's CX-9, for example, and the Hyundai/Kia Pallisade/Telluride twins, are "non-luxury" brands that are plenty luxurious (in their top trim levels) and are better to drive.
Starting at a reasonable $48,995 Canadian, the QX60 is powered by a 3.5 litre V6, which is a great place to start. It puts out 295 horses (and 270 lb.-ft. of torque), and it would probably be a lot of fun for a driver to exploit were the QX60 not saddled with a continuously variable transmission. Oh, Infiniti tries to make that gearless tranny act as if it's a "real" automatic, in that it'll pretend to shift when you press it and it offers a manual mode in which you can pretend to shift it yourself, but it won't fool the CVT-averse.
Still, Infiniti is certainly not the only company to leap down the CVT rabbit hole and, to be fair, the QX60 drives well despite being hobbled by its transmission. It's just that it could be better, more involving.
At least the CVT whine doesn't intrude into the cabin like it does in some "lesser" (non-luxe) vehicles.
All QX60's send the power to all four wheels, and this came in really handy when we got our first taste of winter here in Calgary, via about six inches of snow. Not only did the all-wheel drive vehicle handle the roads very well, but its snow mode helped to ensure I didn't do anything really stupid like tromp the gas pedal to the floor when I shouldn't have.
The downside of this snow mode is that it feels as if Infiniti has merely made the accelerator pedal harder to press, almost as if they've slipped a brick between the pedal and the floor to prevent you from "going for the gusto." Probably a good thing, but it doesn't feel as good as some of the competition's snow modes.
The QX60's suspension is straightforward: independent struts up front, and a multilink rear, with anti-roll bars fore and aft. Alas, it's set quite soft and even in Sport mode (which the vehicle handily remembers between driving sessions) it's a tad wallowy. Nothing like a 1960's American land barge, but a tad loose for my taste. Ditto for the steering.
Fortunately, most of the vehicle's stuff is up to date, with equipment like auto on/off bi-functional LED headlights and taillights, high beam assist and integrated front LED fog lights, , heated steering wheel, power tailgate, a nice second row sunroof with a retractable blind over it, rain-sensing wipers, etc. etc. etc.
Inside, all but the base model get handsome and comfortable leather seats (the base model gets "leatherette"), with power and heat/cool up front. There are also maple wood highlights, heat for the 60/40 split-folding, sliding second-row bench seat, and more. You also get all the usual nannies available today, and if you don't want to use them you can shut 'em off.
Yet there's no head's up display – which you can get on the "non-luxury" models I mentioned above, and no digital speedometer. The central LCD screen is a touch screen, which is as it should be, but it's a tad far away and that sent me to the knob-based interface just below it, which (fortunately) works fine as well.
The driving position is fine and the steering wheel, though a tad slim, feels good in the hands – and of course it also offers redundant controls for functions such as the audio system and cruise control.
Access to the third row is pretty good, thanks to the sliding/folding ability of the second row (which also reclines). I don't think it's as roomy back there as in some other three row vehicles, but it's certainly no worse than many of them, either. I managed to get in and out without throwing out my back, so that's something.
There's Bluetooth and voice recognition, though I had some issues with the car using my phone's contacts list and usually ended up just telling it what number to dial – so you'd better remember your most often used phone numbers! The audio system itself, however, is very good.
The QX60 is available in four versions in Canada. The base model is called "Pure AWD" but you can go farther up market with the "Essential AWD" model for $53,995, the "Sensory AWD" that starts at $58,195 and the top line ProActive AWD version for $61,695.
Compare that with the prices listed on some of the competition's websites: a three row Lexus RX 350L (starts at $59,050), Acura MDX (starts at 56,591.25), Audi Q7 (starts at $66,300) and you can see that the QX60 is pretty competitive. On the other hand, those other vehicles (in my never humble opinion) are all nicer.
The QX60 has been around in this incarnation for a few years now, so it may be scheduled for a replacement sooner rather than later. That would be good because, as it sits now, the QX60 is a good vehicle, but you can do better.
Copyright 2019 Jim Bray
TechnoFile.com
Jim Bray is a member of the Automobile Journalists Association of Canada. His columns are available through the TechnoFile Syndicate.