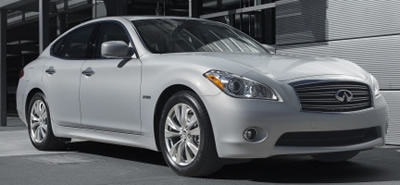 Infiniti Makes a Powerful Statement with its Hybrid M
By Jim Bray
January 7, 2012
Nissan's upscale division has taken the wraps off a hybrid version of its top of the line M series sedan, and it's a car that actually boasts more power than its "regular" V6 version.
The proves once again that it's no longer necessary to compromise driving enjoyment by opting for hybrid power. Sure, it adds a premium to the price and the gas you save may never make up for it, but if nothing else it offers drivers a way to get a modicum of more motivation without having to go all the way up to the V8-powered M56.
Not that the M56 isn't a peach. I drove one a year and a bit ago and loved it – other than some extremely annoying nanny systems that drove me absolutely nuts. Alas, they're in the M35h hybrid version, too, and that – and huge outside mirrors that created blind spots when cornering or could block my view of pedestrians crossing in front of the car – rubbed me the wrong way.
Your mileage may vary, of course – no petroleum-minded pun intended – you might find the mirrors and nannies perfectly fine. Fair enough.
The M hybrid goes head to head against Lexus' GS 450h, another electrically-enhanced luxury sedan from Japan that's a very compelling drive in its own right. I like the M better from a looks standpoint, and the driving experiences were quite similar – though the Lexus isn't as sporty to drive as the Infiniti, perhaps because the former uses a fun-sapping CVT transmission and the latter doesn't. The Lexus doesn't put as many "gee whiz" gadgets into your face, either – things such as lane departure systems that sit like an angel on your shoulder, second guessing your driving choices and even fighting your moves on the steering wheel.
Anyway, Infiniti bills the M hybrid as having "V8 Power and 4-Cylinder Fuel Economy," which is a pretty apt description. The electric motor acts almost like a little turbocharger, adding oomph when you tromp the accelerator – and after my week with the car I was very pleased with its performance at the pump. I didn't get the mileage the ad blurbs said I would (I never do), but considering the price of gasoline at the time, the heft of the hybrid sedan, and my driving style, I thought the M did just fine – surprisingly well, in fact.
Infiniti's hybrid system consists of a one-motor, two-clutch parallel system Infiniti says is capable of driving in pure electric mode at speeds up to about 60 mph. This doesn't mean you can scream away from a red light and do zero to 60 without spilling a drop of fuel. Rather, and it's very cool to witness it in action, the gas engine will shut down if you're merely cruising along, and as long as your touch on the gas pedal is very gentle, you can actually drive around on pure electrical power.
Step on the gas harder and the gas engine leaps into service (not quite as seamlessly as Infiniti would like, I daresay, though it's hardly jarring) and you can keep up with just about any traffic you could care to, within reason.
Under the hood is a 3.5 liter V6 gas engine that's paired with a 50kW electric motor, both of which get the power and torque to the pavement via electronic seven speed automatic transmission that shifts as smoothly as you'd want from a luxury sedan. Combined power is rated at a healthy 360 horsepower – as compared with the regular V6 M37's also generous 330 horses. It's not even too far from the M56 V8's 420 horsepower.
Such figures used to be V8 territory. Heck, I own an Infiniti – a first generation Q45, which was the brand's top line sedan when it first came out – and its 4.5 liter V8 was rated at 278 horses at the time, a figure considered very powerful back in 1990. You can get close to that horsepower figure from some turbocharged four cylinder engines, such as seen in the Mazdaspeed 3 or the Hyundai Sonata and Kia Optima turbo models.
So power is obviously not a problem with the M hybrid, which features rear wheel drive. Neither is luxury. This is a very nice car, equipped extremely well and very comfortable inside. It comes with practically everything you could want, though the battery pack does shrink the size of the trunk quite a bit. 
Steering feel is good for a luxury sedan, though not quite as sporty as some may like. It's an electro-hydraulic system with, Infiniti says, "On-demand" assistance that offers "The advantages of both types of steering – the natural and smooth feel of hydraulic power steering and the improved fuel efficiency of an electric system." I liked how it felt. Sure, it's no Porsche, but what is? For a luxury sedan with sporty pretensions, it's fine.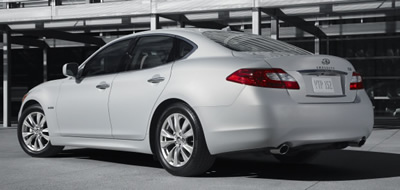 Infiniti says its "Electric Driven Intelligent Brake System" is also designed to suit the moods of sport sedan buyers, while simultaneously genuflecting to the Gaia gang. Brake feel is fine, not spongy like some regenerative systems.
The M35h shares the M37's independent double-wishbone design up front and multi-link independent system for the rear end. Stabilizer bars and double-piston shock absorbers (the latter of which Infiniti says have been "Specially tuned for use with the M35h") are featured all around, as well as disc brakes with ABS and the rest of the usual enhancements such as Brake Assist.
Perhaps to mitigate the influence of those gigantic, "pedestrian slapper" outside mirrors, the M35h features a new "Approaching Vehicle Sound for Pedestrians (VSP)," which uses a range of distinctive sounds to help alert other road users – such as pedestrians – that the car's there. The company says VSP automatically works from start-up to approximately 20 miles per hour. I guess if you're driving faster than that it's okay to mow 'em down if they stagger in front of your M.
As with the other M's, a little knob on the center console lets you choose from normal, sport or eco settings. Sport is obviously the most interesting, and I found that eco setting annoying because when you choose it and the M decides that you're pressing the gas too hard, it actually fights back against you! Fortunately, you don't have to choose that setting.
The M hybrid's instrumentation – other than its special hybrid display stuff – is like the other Ms', classy, readable, and well laid out. The center stack includes the analog clock that's become an Infiniti trademark, a control panel/cursor control knob combination thing that's easier to use than some, and the audio and HVAC controls.
The excellent Bose audio system includes speakers mounted on the tops of the front seat backs to give you a neat surround sound effect for such times as when you play DVD-Audio discs and there are auxiliary inputs for portable audio devices. There's also Bluetooth connectivity.
Infiniti also throws in a Blind Spot Warning (BSW) system and Blind Spot Intervention (BSI), which adds on to the regular blind spot warning lights by, Infiniti says, "Helping the driver return the vehicle back toward the centre of the lane of travel away from the vehicle in the blind spot area", which in practice means it jerks the wheel against your movement in an attempt to force you into compliance with its computer-judged trajectory.
The M hybrid also includes push button start/stop, a power sliding tinted glass moonroof with one-touch open/close, automatic High Intensity Discharge Xenon headlights, dual exhausts, and rain-sensing variable intermittent windshield wipers. The leather-equipped, heated and cooled 10 way power driver and front passenger seats (including memory for the driver's side) are very comfortable.
More conventional safety equipment abounds, including Infiniti Advanced Air Bag System (AABS) that includes dual-stage supplemental front air bags with seat belt sensors and occupant classification sensor (which sounds a tad judgmental) . There are also front seat-mounted side impact supplemental air bags and roof-mounted curtain side impact air bags for front and outboard rear-seat occupant head protection.
The Infiniti M35h is one of a new breed of hybrids that doesn't penalize your joy of driving in order to save you some gas – or to save the environment. While it and its ilk probably won't salve the souls of the super social engineers – the type of person who parks his or her Prius and then walks over to berate those driving vehicles they don't think should be allowed – it can reduce your gasoline use while offering even better performance than the "garden variety" V6 M.
All for a premium of only $6,000 U.S. (the difference is closer to 15 grand in Canada!) over the base M37, though that may not be a true "apples to apples" comparison due to equipment differences and options. You have to save a lot of gas to make that pay – if that's your rationale for getting a hybrid.
On the other hand, it's still cheaper than the V8 M56.
Copyright 2012 Jim Bray
TechnoFile.com