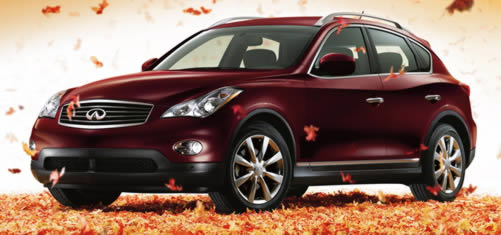 Click the image to open a slideshow
Infiniti EX 37: a nice, but somewhat forgettable SUV
By Jim Bray
June 27, 2013
It has plenty of power and toys, and lots of other things to love. Despite that, the Infiniti EX 37 turns out to be a fairly bland entry into the luxury small sports ute market.
Oh, it's still be an interesting choice, especially if you're a fan of the soon-to-be-dead G series on which it's based. And being a luxury-focused small SUV bristling with comfort and technology, it does offer a lot of stuff. But it doesn't offer as much of the "joie de conduire," for which Infiniti has prided itself on traditionally.
For 2013, the Infiniti EX gets a new, 3.7 liter V6 engine, up from the previous 3.5 liter unit of the EX 35, and it pumps out a very satisfying 325 horsepower @ 7,000 rpm and 267 lb.-ft. of torque at 4,800. Power gets to the road through a seven speed automatic transmission and Infiniti's Intelligent All-Wheel Drive system.
Power is generous indeed, but the transmission doesn't seem to make the best use of it, thanks to a tendency to eschew aggressive downshifts when you tromp on the gas pedal.  You can shift it manually, thank goodness, and take advantage of the Infiniti's healthy oomph that way, but how many owners will actually do that?
The exterior is very handsome – kind of like a tall, hatchback G sedan, and that's a very good place to start. Standard features include leather seats and an Intelligent Key push button start, and Infiniti Canada's sample also came with an optional driver's seat headrest coat hanger. This latter feature is kind of neat, though since most vehicles – including this one – also have hangers above the reawr doors, you might wonder why they bothered. But it's there – a fold out hanger that looks suspiciously like handlebars (so the kids can pretend they're driving!) on the back of the driver's headrest.
Infiniti also offers a good audio system and power up-folding (you fold them down manually) second row seats.
Also standard are eight-spoke 18 inch aluminum-alloy wheels and if you opt for the Deluxe Touring Package you can get 19 inchers.
Infinitis bristle with technology and the EX is no exception. The sample came with a Blind Spot Warning (BSW) system and a really cool "Around View" monitor, which uses four little cameras (front, side and rear) to give you a "top-down" view of the vehicle. It looks almost as if there's a little camera floating in space above the EX, and it helps when you're parking. It also looks very cool.
Other driving nannies, er, aids, include a typically intrusive and annoying Lane Departure Prevention system (LDP) that gives you grief if you stray over a painted line in the road without signaling your intentions – even if you did it on purpose (apexing a curve, perhaps?). There's also Intelligent Cruise Control, a Distance Control Assist (DCA) and Intelligent Brake Assist (IBA) with the now-becoming-common Forward Collision Warning that's designed to help keep you from rear-ending someone or mowing down pedestrians.
So much for the new "X" games…
Seats are very comfortable and the rear seat can hold three if necessary – but two sit there very comfortably. The cabin feels a tad narrow overall, but not overly so.
The driving position is good, helped by power seats and a tilt/telescoping steering column. Comfort is aided by automatic dual zone air conditioning. And of course the seats up front come with bun warmers.
The dashboard features a seven inch color display atop the center stack, with Infiniti's knob-like cursor controller to operate the trip computer and other stuff such as the audio system. It works well, but the interface is showing its age considering what some of the competition is doing.
Naturally, you get a Bluetooth hands-free phone system (but only if you order it optionally, for some strange reason), USB connection and a rear view monitor.  
The suspension is independent all the way around, and Infiniti uses aluminum components extensively to help keep the weight down. The front end gets struts and coil springs, with high-performance dual-flow pass shock absorbers and a stabilizer bar. The EX's posterior gets a multi-link design, also with high-performance dual-flow pass shock absorbers and a stabilizer bar.
Handling is very good, and the speed-sensitive power-assisted steering system feels quite good as well. Braking comes via power-assisted front and rear discs, and of course you also get ABS with Electronic Brake force Distribution and Brake Assist. Vehicle Dynamic Control (VDC) is also standard, as is traction control. 
 Other safety features include front-seat side-impact and side curtain airbags, front active head restraints, and an electronic stability system.
The EX 37 is available in four versions. The Luxury Package is standard, while the Journey package, besides the abovementioned Bluetooth, also brings you maple interior accents and a power sliding/tilting glass moonroof with one touch auto-open/close. The Premium Package ups the ante by adding a Bose Premium Audio System that has 11 speakers, two subwoofers, a two gigabyte Music Box Hard Drive system and the Around View Monitor (you also get front and rear sonar systems to keep you safe from marauding submarines). It also sports an advanced Climate Control System with Auto Recirculation (which sounds like it'll take the car around the block for you, though it won't) and 19 inch wheels.
Then there's the Navigation Package , which includes the Hard Drive Navigation System, voice control for the HVAC system, Audio and Navigation, Zagat Restaurant Guide, an in-dash single disc DVD Audio Drive (for those few folk who enjoy the high resolution DVD-A surround sound), a 9.3 gigabyte Music Box Hard Drive for music storage and playback, and Bluetooth Streaming Audio.
Opt for the Technology Package – which is what Infiniti's sample had – and you get the Distance Control Assist (DCA), Intelligent Brake Assist, Lane Departure Prevention System (LDP) with Lane Departure Warning System (LDW) Intelligent Cruise Control (ICC) and Blind Spot Warning (BSW).
That's a lot of stuff available and, really, it can help make the EX 37 an even more enjoyable ride. Yet there's still something missing that's hard to finger. The EX should be a fun SUV to drive and a joy to be in, but somehow it comes off as a tad bland, both in driving and in living with it.
Your mileage may vary, of course, so if you're looking for a vehicle in this class, it's worth your while to take the EX 37 out for a spin.
The Infiniti EX 37 starts at $39,900 Canadian. All the option packages add about 13 and a half grand to the total, which by then is starting to become serious coin for what you're getting.
Copyright 2013 Jim Bray
TechnoFile.com