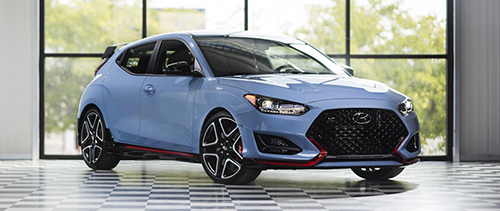 Hyundai Veloster: the long-dead Scoupe becomes a burning hot phoenix!
By Jim Bray
October 4, 2019
Remember the Hyundai Scoupe? It was a pretty bland little "sports coupe" Hyundai sold back in the late 1980's and 1990's. According to the sometimes-accurate Wikipedia, it was based on the old Excel (now the Accent, kind of) and oozed a mighty 81 horsepower out of its 1.5 litre Mitsubishi-sourced inline four. But it was an honest-to-goodness coupe!
Then, eventually, came the Veloster, Hyundai's strange little three-door sedan/coupe/hatchback. Calling it a sedan/coupe/hatchback may hint that the car seems to have a bit of a personality disorder, but if you can get around the weird side door configuration you might just have as much fun behind the wheel as you would in some other and better-known hot hatches.
Click on the image above to open a slideshow.
I'm talking about cars like the VW Golf GTI, which (with its higher end brother, the Golf R) is supposed to be the gold standard of hot hatches (though there are surely some Honda aficionados who'll want a pound of my flesh for saying so).
I love the GTI and have a very good friend who is currently undergoing a long-term love affair with his current generation version of the car – but after spending a week having the 2020 Veloster N put a broad smile on my face, I can say without equivocation that this new hot hatch is capable of competing with the more established hot hatches. It's also styled so that it's more likely to gain stares from passersby than the admittedly conservatively-styled Volkswagen or the just plain bizarre-looking Honda Civic R.
The Veloster N is cheaper than the GTI and the Civic R, too. According to VW Canada's website, a tricked out GTI will set you back $36,145 CAD, and Honda's website lists the R as starting at $43,471. The N (according to its sales slip) comes loaded for $34,999. Maybe that isn't a huge difference, but it's definitely not chicken feed, either. And above and beyond its performance, you get a lot of state-of-the-art stuff for that, including LED headlights, rev-matching on downshifts (in N mode), tweaked exhaust etc.
I can't believe I'm telling people to check out a Hyundai when I would traditionally aim them straight for a GTI. But the Veloster N is that good. Hyundai, indeed, is on a roll.
But what's with those doors? The Veloster, in any of its configurations, is a coupe on the driver's side and a sedan on the passenger's. I don't get that. Sure, having only one door on the driver's side means you can have a longer door that can help make getting in a little easier for old and fat oafs like me, but I daresay the car's target market may be a tad more spry than this particular reviewer. And while it's easier to get into the back seat (which is actually not too bad as far as roominess is concerned) from the passenger side, that same fat oaf had more trouble getting into the front passenger seat because the door is smaller.
That longer driver's side door also makes it open farther than the shorter ones on the passenger side, which could be a pain in the neck in tight parking lots. And if the driver wants to chuck something into the back seat from his side, it isn't as easy as it is from the passenger side.
This is one of the main reasons I'm more of a sedan/wagon guy than a "coupe dupe". It appears that Hyundai is trying to do the impossible: please everyone.
Anyway, weird doors aside, the Veloster's redesign for this generation is terrific. I always though the original generation was weird and dumpy-looking, with a high and rounded rump and porky sides. This new one, however, has not only been sent to the gym it has also gone under the plastic surgeon's knife because it now "sports" a more attractive and athletic exterior that's very close to stunning. And the interior is no slouch, either.
The heart of the Veloster N is a two-litre turbocharged four that cranks out a lovely 275 horses, with 260 lb.-ft. of torque. This addictive power goes through a slick six speed manual transmission that's also quite smooth, ending up at the front wheels. That power is plenty if you want to be pushed back into the delightfully bolstered sport seats, though.
A series of drive modes (Normal, Eco, Sport, N, Custom) gives you control over just how awesome you want the Veloster N to be, right up to N mode, which as mentioned even rev matches on downshifts to allow even the biggest downshifting oaf to do the job smoothly and without embarrassment.  As someone who can't "heel and toe" worth a damn, I found this to be quite rewarding.
While N mode is designed to give you the best optimal performance settings, you can also tailor the driving dynamics via Custom mode, which lets you select the steering weight, engine mapping, damper firmness, exhaust sound and stability control. Once you do that, you can store the selected settings as your custom profile, and when the boy racer in you comes to the surface you can recall them at the press of a button.
The Veloster N also gets an electronic limited slip differential and torque vectoring, which helps prevent that "hold on for dear life" feeling in some front drive cars when you tromp on the gas and it immediately heads for the ditch. The suspension is controlled electronically as well.
Hyundai says the Veloster N features a high-flow active sport exhaust with a variable actuator "to deliver an incredible soundtrack of crackles and pops with every shift," and I must admit the car does fart like a frat boy on the morning after a beer bender.  
N versions proclaim themselves proudly via some audacious red trim, as well as standard LED headlights and daytime running lights. There's an abundance of "N" badges, and 19-inch alloy wheels are standard. The car also gets unique, high performance brakes that, of course, come with ABS and the usual aids.
Inside, the N's gauge cluster includes sequential shift lights, to take one less thought process out of the driving experience. It tells you when the car thinks you should shift, to maximize performance. Some of these things try to get you to shift early, to save gasoline, but this one seems to be a bit more "fun-oriented."
The front seats are pretty much what you'd want in a car like this. Bolstered heavily on the sides, the N-exclusive seats, the manufacturer says, are designed ergonomically "to provide peak support and comfort for every drive, from your commute to the track." They are also heated, but not cooled.
The heated steering wheel, which of course also tilts and telescopes, feels great in the hands and offers the usual redundant controls for audio, cruise, Bluetooth, etc.
The centre stack's LCD measures eight inches diagonally and offers both Apple CarPlay and Android Auto, and the eight speaker Infinity audio system is a very nice one, though I preferred "the song of the N" when I was doing serious driving.
Living as I do in the foothills of the Rocky Mountains, I get to savour many exquisite driving roads that snake into and around the countryside. So, I chose my favourite, which offers some nice straight (fast!) sections as well as some delightful twists and turns and hills, and the Veloster N was nearly as much fun as I've had there in any other car.
Another reason to love the car is the lack of intrusive nannies. Sure, you get cruise control, but it isn't adaptive, and there's no blind spot monitoring, lane keeping assist, etc. I loved that!
You do get a rear-view camera, though, and that's great. Such things really should be standard on all vehicles today (and probably will be soon).  
Heck, even the trunk of the Veloster is bigger than I expected from such a little car.
The fact that all of this fun and goodness can be yours for a starting price of $34,995 Canadian, and there aren't a lot of options you can add, is really something.
So is the Veloster N a clear case of "move over, GTI and Civic Type R?"
That's a tough one. I love both the VW and the Hyundai and would happily purchase either were I in the market. I'll take the Honda out of the mix because, while it's a fine car that's plenty of fun to drive, it suffers from Honda's current penchant for exterior ugliness coupled with unnecessary interior annoyances (your mileage, of course, may vary).
But, yeah, as a hot hatch, the Veloster N is good enough that you really should put it on your short list.
Copyright 2019 Jim Bray
TechnoFile.com
Jim Bray is a member of the Automobile Journalists Association of Canada. His columns are available through the TechnoFile Syndicate.