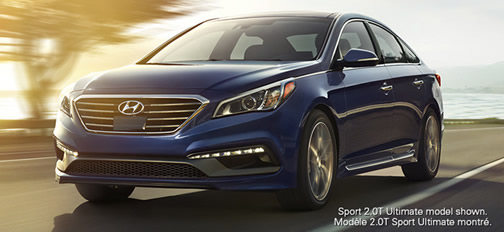 New Hyundai Sonata smooths its creases and sharpens its image
By Jim Bray
November 27, 2014
The "fluidic" design is mostly gone, but what Hyundai has left in its new generation of Sonata is a simpler-looking yet still handsome sedan that, in the company's tradition, offers a lot for the money.
(Click here or on the picture to open a slideshow)
It's hard to argue with that strategy, and judging from how many Sonatas there are on the road it's probably pointless to argue it. Fortunately, the new Sonata isn't just a plain deal, it's also a very nice family sedan. So what if it might not stand out as much as the outgoing version? And it isn't as if this is a bland or ugly car; it's actually quite handsome, just not as in your face as the previous generation.
The new Sonata is available with two engine choices in Canada. There's a two liter turbo four for those who want sportiness in their drive, and a 2.4 liter four for those whose needs are more basic. Hyundai Canada's sample wore the "Limited" livery, which meant it had the 2.4 liter engine. Other trim levels are GL, GLS, Sport, Sport Tech (all of which share the 2.4 four - well, they each get their own, but it's the same engine). The turbo comes with the 2.0T model and 2.0T with the Ultimate Package. Prices start at $23,999 for the base Sonata, climbing to $34,799 for the top line model. The Limited starts at $32,999.
You can also get a hybrid, which starts at $29,567. That's a lot of Sonatas!
The 2.4 liter engine is "estimated," according to Hyundai, to put out 185 horses at 6000 rpm, with 178 lb.-ft of torque at 4000. These are competitive figures and they move the Sonata along nicely. Power delivery is smooth; it isn't going to peel the skin off your face, but this isn't the car you'd choose if that's important to you anyway.
Sonatas get their power to the front wheels via a smoothly shifting six speed automatic transmission. You can get paddles on the sportier models. The suspension is MacPherson struts up front, with coil springs, hydraulic twin-tube dampers and a stabilizer bar. The rear gets a multi-link suspension with coil springs, hydraulic twin-tube dampers and a smaller stabilizer bar.
Sporty versions get firmer damping settings and larger stabilizer bars.
Steering is electrically power assisted and it feels fine. Brakes are discs all around, with four wheel, four channel ABS with Electronic Brake-force Distribution (EBD) and Brake Assist (BA).
As mentioned - and as has become legendary - base Sonatas come equipped well, with stuff like 16 inch Alloy Wheels along with heated, Powered, body colored outside mirrors, body colored door handles, a chrome grille, automatic headlights and a little spoiler on the bum. LED daytime running lights are standard and  you can opt for HID headlights if you want. The taillights are LED as well.
Inside, Sonatas get air conditioning, a five inch touch screen with rearview camera, six speaker audio system with wired and wireless (Bluetooth) connectivity, power windows (the driver's is one touch up/down), power door locks, heated, six-way adjustable driver's and front passenger seat, a tilt/telescope steering wheel with the usual redundant controls. Other standard features include keyless entry, and there's plenty of storage space around the cabin.
The rear seat, which is fine for two but, as usual, a tad tight for three, splits and folds 60/40 and features a central armrest and cup holder.
It's a comfortable, attractive and efficient cabin, and the front seats offer enough support and comfort that you can drive all day without getting numb bum.
There's a drive selector mode on the center console, offering three settings that adjust the steering, throttle and transmission depending on your bent: Normal, Eco, and Sport. Sport is obviously the most interesting, but it isn't as if the Sonata becomes a wallowing pig in Normal or Eco, though ECO almost feels as if the car's fighting your attempts to get it going.
The Limited trim level of Hyundai's sample ups the features ante substantially, adding stuff like leather,  automatic, dual zone HVAC, a larger LCD screen with rear view camera, an upgraded Infinity audio system that's quite nice, extra power adjustments for the driver's seat, windshield wiper de-icer, heated rear seats, keyless entry with push button start/stop and lots more, including rear side window blinds.
You don't suffer from a lack of safety features in the new Sonata, either. You get seven airbags including advanced dual front airbags with an occupant classification system (which sounds pretty judgmental!), as well as front seat-mounted side impact bags, driver's knee bags, and roof-mounted side curtain airbags. Of course there's also stability management and control, and traction control.
Hyundai has been on a major roll, moving over the past 15 years or so from being pretty much the butt of jokes - they even had a slogan once that said "relax, you'll get there someday," which I assume meant you'll fall under the brand's spell eventually but which sounded more like they were extolling the virtues of no horsepower - to a brand that's taking on the established marques in just about every niche short of supercar (and how long before they do that, too?). And they're doing it!
I've never owned a Hyundai, but my Dad and my brother both have Elantras - his second, in my Dad's case. They both speak highly of their cars - as do others I know who've bought Hyundais. So whatever the company's strategy may be, it seems to be paying off not only with sales, but with building brand loyalty among its customers. That, of course, is a good thing, especially for people who remember the Pony and the Stellar, which seem to be from a different time and space frame now. That's also a good thing.
And with this new generation of Sonata, Hyundai will undoubtedly continue its successful run. And good for them!
If I were a Japanese carmaker, I'd be looking over my shoulder at this South Korean upstart - and its Kia siblings, which I find even more compelling.
Copyright 2014 Jim Bray
TechnoFile.com