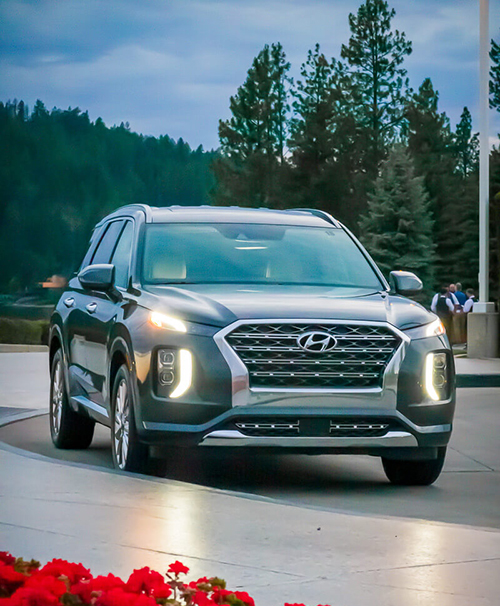 Hyundai Palisade makes a big and bold statement
By Jim Bray
November 7, 2019
If you're looking for a large, three row SUV, you really owe it to yourself to check out Hyundai's new big SUV, the Palisade.
And, as it did when I reviewed its "kind of stablemate", the Kia Telluride, this advice is also aimed at people who are looking for a big (well, some call it "midsized") luxury SUV. That's because, in my never humble opinion, the South Korean siblings are at least as compelling to drive and tricked out very nearly as luxuriously as supposedly higher end machines such as Lexus' RX 350L, the Acura MDX and many more. 
Click on the image to open a slideshow.
Methinks Hyundai may be taking a page from Mazda's playbook, with its terrific CX-9.  
It's pretty difficult to argue about its pricing, too. Hyundai Canada's sample Palisade Luxury AWD version of the Palisade lists at just over $50,000 Canadian (the "ultimate" model is $53,999), but the lowest trim level starts at just shy of $39K, which is a pretty compelling number all things considered.
Compare that to a base RX 350L ($66,250), a base MDX ($56,591.25), and even the entry level Audi Q7 ($66,300). Obviously, these aren't true apples-versus-apples comparisons (and apply best to the top line version); the point I'm making is that the Palisade is a terrific value for shoppers in this market niche.
A BIG statement…
While the Palisade is bigger than I like in a vehicle, Hyundai's designers and engineers have managed to craft a vehicle that feels smaller than it is when you drive it. Activate the Sport mode (or, perhaps even better, the Smart mode, which seems to adapt itself to your style).
You can get either seven or eight seat configurations (either a second-row bench or captain's seats).
Palisades are powered by a 3.8-litre Atkinson-cycle V6, the company says cranks out "an estimated" 291 horsepower @ 6,000 rpm and an estimated 262 lb.-ft. of torque @ 5,000 rpm. Though I'd never turn down more power, this amount is plenty for this purpose. The power gets to the wheels (all of them, in all but the base, fwd, model) via an eight-speed automatic transmission with paddles, and it shifts very well.   
I found it quite interesting that, in an era in which more and more carmakers are opting for turbo four engines – often saddled with continuously variable transmissions – that Hyundai/Kia are sticking with normally aspirated V6's and conventional automatics. And I tip my hat to them for that strategy.
The suspension consists of MacPherson struts up front and a multilink bum and, though it defaults to being fairly soft, the sportier modes tighten it up nicely. Steering feel is just fine, as are the brakes.
Hyundai's HTRAC All-Wheel-Drive system, the company says, was developed as a multi-mode system, "providing an electronic, variable-torque-split clutch with active torque control between the front and rear axles." It also features driver-selectable modes including Comfort, Eco, Sport and Smart. Sport sends more available torque to the rear wheels.
Though I find the Telluride's interior and exterior to be slightly more attractive than the Hyundai's, the vehicles are basically the same under the skin. And that doesn't mean the Palisade isn't attractive and pleasant, and designed very well (it's just that beauty is in the eye of the beholder, and I like beholding the Kia a bit better). And it comes with all the tech and connectivity you could want.
The seats are comfortable, and power-operated up front, with heating and cooling, and the greenhouse is very nice indeed. The centre stack comes with the kind of straightforward touch screen I wish all vehicles had, and HVAC controls that are simple and at hand. There are also second row HVAC controls for those who aren't lucky enough to sit up front, and the third row reclines.
Speaking of the third row, the Palisade has one of the best I've inflicted upon myself: I rode back there on about an hour's journey with the grandkids and kids and wife in the other seats and not only didn't I die, I was fresh as a daisy when I got out. And that getting in and out process is among the easiest experiences I've had with a third-row bench. And this was with a big child car seat sharing the space back there with me.  
Another feature that could come in really handy is the ability to lower the second-row seats from inside the rear hatch, using push buttons. This came in handy when I reviewed the Telluride, because my wife bought a fully assembled shed at a garage sale and the seat-dropping made loading it easy. You can open the hatch automatically, too, just by standing back there (assuming you have the key fob on you).
There are plenty of storage spaces placed around the interior as well.
The Palisade also comes with a neat "Driver Talk" feature that exploits the vehicle's audio system to let the ankle biters in the Steerage hear what the driver is saying. It does a nice job, though it should probably come with a robot arm to slap the little buggers before you speak, so they shut up and listen. 
Heck, there are even such nice luxurious touches as retractable side shades for the second-row windows.
Hyundai's sample came with the up-market audio system, a Harman/Kardon premium system with 12 speakers, Quantum Logic Surround, and Clari-Fi. It rocks, too! It also featured wireless charging and a Bluetooth system that can connect two phones at once, something I wish all vehicles would do. There's even a "quiet mode" that lowers the volume to the second and third rows for when the damn kids finally shut up and nod off.
Each row also gets two USB ports.
The standard colour touchscreen is where you'll view the rear-view camera's output, which also features rear cross traffic warning – and the vehicle can supposedly apply the brakes if necessary. There are also the usual suspects when it comes to "safety" nannies (lane keeping, blind spot, smart cruise control, etc.). You can use them or not, which is as it should be.
As with the Telluride, I hated the Blind Spot View Monitor, which uses cameras on both sides of the vehicle to put a picture of the world beside/behind when you use the turn signal lights. My issue is that the monitor sits in the centre of the instrument panel and when it fired up it would drag my attention from the road to the dashboard. You can shut it off, fortunately. 
Hyundai has come up with a real winner with this first Palisade. It's a terrific vehicle that also seems to offer very good value. The entry level one is affordable, or as affordable as any vehicle is these days, and the top line one is luxurious enough that it stretches the limits of its niche.
I've said it before and I'll say it again now: if the Asian, North American and European competitors aren't taking the South Korean twins seriously by now, they'd better get a move on lest they find themselves facing a situation similar to what the Big Three had when the Japanese invasion got really serious in the 1970's and 1980's and handed them their corporate buttocks.  
And if you doubt this is happening in the car biz, just take a look at the TV brands that are tops in the stores these days. They ain't North American, European or even, for the most part, Japanese. Nope, they're Samsung and LG – both South Korean brands that, like Hyundai and Kia in the car marketplace, s also used to be jokes. I bet Sony, RCA, Phillips et al aren't laughing very hard now.
Copyright 2019 Jim Bray
TechnoFile.com
Jim Bray is a member of the Automobile Journalists Association of Canada. His columns are available through the TechnoFile Syndicate.