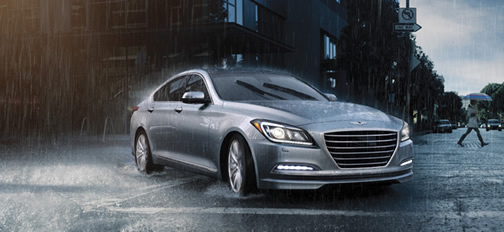 Second generation Genesis ups Hyundai's luxury ante offerings
By Jim Bray
September 11, 2014
It's big, bold and equipped very well, but is Hyundai's new Genesis sedan enough to lure customers away from the established European and Japanese competition? (click the image or here to open a slideshow in a new tab or window)
Time will tell, but this second-from-the-top line Hyundai is, if nothing else, a big and bold attempt at elevating the South Korean carmaker's profile in higher echelons of the marketplace than it has been known for traditionally. And why not? Hyundai makes good cars and has come a long way in a relatively short time - and don't forget what Toyota and Nissan did some 25 years ago when they stunned the market with their first kicks at the luxury car can: the Lexus LS 400 and Infiniti Q45.
The new Genesis is also a tad derivative, though that's hardly a sin unique to Hyundai. Besides, it's said that imitation is the sincerest form of flattery, in which case the good folks at Audi should be feeling plenty flattered.
But not necessarily worried.
Hyundai says this second generation of Genesis (how is such a thing even possible?) is completely re-engineered "from the ground up," with a new platform the company says delivers "a dynamic drive with a focus on handling and control." That said, you won't forget that this is a big sedan, not the sporty Genesis coupe.
The sample Genesis was the 5.0 liter "Ultimate" version, with the V8 engine, HTRAC all wheel drive and pretty well every option available. The base Genesis comes with a 3.8 liter V6 rated at 311 horsepower and 293 lb.-ft. of torque, which is undoubtedly more than adequate - but there's nothing like the smoothness of a V8, except perhaps for a V10, V12, V14….
Hyundai's direct injection five liter Tau engine oozes 420 horses and 383 lb.-ft. silkily and gently onto the pavement. That's good, though I thought it was a tad too silkily and when I first got behind the wheel I thought its acceleration felt more like a V6 than a V8 (it grew on me, though). You certainly won't have trouble wrestling the V8 up to highway speeds, but I expected more, especially considering the horsepower/torque numbers.
Genesis' transmission is an eight speed electronic automatic that's also very smooth. It features SHIFTRONIC Manual Mode (and paddles) but the manual setting is mostly wasted aboard the USS Genesis - though it does come in handy on hills and should help on snowy roads.
Speaking of snow, a snow mode is one of four "intelligent drive modes" on offer, the others being Normal, Sport and the usual Eco, which tailor the car to different driving conditions. Sport mode is the only one to choose unless you're interested in saving gas (in which case why are you buying a V8?), and  Hyundai says the HTRAC system can transfer up to 90 per cent of the torque to the rear wheels on dry pavement. Despite that, I thought the car had too much understeer in that, while we were never in danger of plowing off a curve, I did notice that the big Genesis prefers a gentle hand on the rudder.
The soft suspension is multi-link front and rear, with stabilizer bars, and it won't take you long to figure out this isn't a sports sedan, even in sport mode. And since the Genesis isn't meant to be a sports sedan anyway, you shouldn't be surprised to find the electrically-assisted steering doesn't offer a lot of engagement, either. The brakes, however, which are discs all around with the usual ABS et al, bring the car to a stop well, and with good pedal feel.
The big Genesis is a very comfortable car to be in, up front and in the rear - the latter of which offers very good leg and foot room. The driver's seat adjusts about 1000 ways, the front passenger's about 500, and both offer heating and cooling at this trim level. The steering column tilts and telescopes via power and it's easy to find a great driving position. There's even a head's up display, though it was completely invisible to my polarized sunglasses; heck, I didn't even notice it until I drove the Genesis at night!
You get the typical smart key/push button start/stop feature. And while the mirrors extend themselves from their parked position as you approach the vehicle, the doors don't unlock until you press the little button on the door handle. Not a big deal at all, just a bit weird, or a feature that was executed half-butted compared to some competitors whose doors also unlock as you approach the door handle.
I loved how Hyundai lets you program the number of blinks the signal lights give when you push the lever part way, a feature that's really great for when you're changing lanes. Most vehicles that have this feature (and, fortunately, that number seems to increase every year) blink three times, but on the Genesis you can program five or seven as well. Four is probably perfect, but I chose five  as a way to help ensure oblivious drivers were warned of my intentions. Assuming they were paying any attention in the first place…
The wood accents in the cabin, the sample's at least, looked as if someone had dragged something heavy over them, leaving a bunch of ruts. But the layout of all the stuff - instruments, toys, climate - is straightforward and efficient and worked well.  And the 900 watt Lexicon Discrete Logic 7 Surround Sound Audio System (with 17 Speakers crammed all over the place) is very good, indeed.
Nannies include the usual suite of Lane Departure Warning System with Lane Keep Assist, adaptive cruise control, blind spot/rear cross traffic detection, autonomous emergency braking and a rear view camera with a strange "top" view that seems useless unless your kids are prone to leaving stuff behind the car.  The nannies can be shut off and, thank you Hyundai, they default to that afterward.
All told, Hyundai's new Genesis is a fine car, as full of technology and convenience stuff as any other car in this segment (and it has to be if it's to be taken seriously). It's also comfortable and I daresay it would be easy to live with for a long time. And its performance is at the very least perfectly acceptable. So is it causing conniption fits in Europe and Japan?
I doubt it. As a fan of the South Korean carmakers, I really wanted to be smitten by the Genesis, but find after my week that it comes off more as a pretender than a contender for the luxury sedan niche. Oh, there's nothing wrong with the Genesis, and in fact it's really quite nice. But it isn't enough. When Lexus and Infiniti rewrote the luxury rules, they did it not by offering a car that was as - or nearly as - good as the establishment, for less money. They, especially Lexus, licked 'em right out of the box caused some serious soul searching in the hallowed halls of the traditional luxury carmakers. And now, they compete head to head with the world's best.
But despite its many great qualities, the Genesis - now in its second generation, don't forget - didn't do it when it first came out and it still doesn't do it. Sure, it's a really nice car, but if Hyundai wants to play in the big leagues it needs to be (using my best Tony the Tiger voice) GREAT!
Look at it this way: Hyundai wants $64,000 for the Genesis Ultimate and that's not an outrageous amount of money for a car like this. But for within a couple of grand of its price you can also get a base Audi A6 with the S-Line sports package, a well-equipped Lexus GS 350 AWD, a basic BMW 535 xDrive, and a base Mercedes-Benz E 350 4MATIC. Granted, none of these cars has all of the equipment offered on the Genesis - especially the V8 - but they're all great cars as well as proven commodities.
To be fair, if your heart is set on a V8 you'll have to look at cars such as the Lexus LS, Audi A8, Mercedes-Benz E 550 4MATIC and BMW 7 series, all of which will cost you tens of thousands of dollars more than the Genesis - though I'd also say that each is a more formidable car as well. Is it a case of "you get what you pay for?" Maybe.
The Hyundai Genesis sedan looks like it wants to be an Audi, and while that's probably the company I'd most want to emulate as well, the Genesis doesn't match the Audi's (indeed, most comparable German cars) solid feel of being carved out of a single piece of igneous rock. Not yet, anyway.
On the other hand, Hyundai also makes the even higher end Equus, which from my very limited  experience seems like an excellent car as well, so perhaps if you find the Genesis a tad underwhelming you can take a gander at that sedan, the base model of which starts at about the same price as the top line Genesis (and is only about $73,000 loaded).
I'm a fan of Hyundai and several of my friends and family are happy Hyundai owners. I want to see them do well. And despite my whining, the Genesis really is a very nice car. I just don't think it's enough better, or enough cheaper, than the established competition for it to get noticed a lot. And that's a shame.
Third time's the charm?
Copyright 2014 Jim Bray
TechnoFile.com