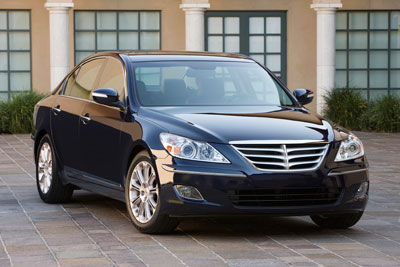 Hyundai Flagship a Smooth and Luxurious "Enterprise"
by Jim Bray
July 16, 2009
Perhaps someone at Hyundai is a Trekkie, because its new flagship sedan sure seems to have Star Trek influences.
Heck, besides having a unique (and quite attractive) grille that also just happens to look like it was inspired by a Star Trek Klingon's forehead, the name Genesis itself featured prominently in two Star Trek movies – a device that literally created life from lifelessness.
Maybe that's just the ticket needed to bring some life back to the new car market!
Anyway, the Genesis sedan (there's also a Genesis coupe that's supposed to be pretty hot, though I haven't driven it yet) represents a step up market for the Korean manufacturer, reminiscent of when Toyota and Nissan outraged the European luxury carmakers back in about 1989 by unleashing Lexus and Infiniti onto a staid market that didn't know what was about to hit it. And the rest is history.
Pretty gutsy move then, and probably even gutsier in today's marketplace, where cars have improved drastically since the "new kids" raised the bar – and if I were Toyota and the rest of the competition I'd be keeping my eyes on Hyundai.
Overall, the Genesis is a wonderful sedan that does so many things right that Hyundai should be congratulated. And it has been, via various awards including Canadian Car of the Year and Best New Luxury Car Under $50,000 by the Automobile Journalists Association of Canada as well as North American Car of the Year at the Detroit Auto Show.
It isn't perfect, of course, but after putting it through its paces for a week my only real gripe was a suspension that's too soft for my taste. In fact, if I had to come up with one word to describe the Genesis sedan it would be "soft." Soft as in cushy and comfortable, and soft as in how I imagine "my father's Oldsmobile" would have felt, had he ever owned an Olds.
That softness may not be a bad thing for many who would look at this car seriously, however. And though I'm only speculating, if you were to install a set of performance shocks on the Genesis (as I did on my 1991 Infiniti Q45, one of the Genesis' spiritual predecessors), it might tighten it up nicely.
Other than the softness, however, the Genesis suspension comes through where it counts. It's a five link set up front and rear and while the ride borders on soporific the handling itself is very good. Steering wheel inputs are taken up immediately, with good steering feel, and the car is happy to go where you point it. It'll just nod agreeably or shrug its shoulders as it does.  
The big sedan is available with a choice of engines: a 3.8 liter V6 rated at  290 horsepower and a 4.6 liter V8 (Hyundai's first eight) that cranks out 375 horsepower on premium fuel (slightly less on regular – but that means you can actually put regular in the Genesis and save some bucks, unlike some of the cars with which the Genesis competes, which insist on premium).
My review car, much to my chagrin, was the V6 (though with the optional "Tech Package"). I had really wanted to try the bigger engine, but was pleased to discover that the six is more than adequate and after my week behind the wheel became of the opinion that the V8, while undoubtedly a hoot, may be a case of gilding the lily. If I were buying a Genesis I'd probably get it with the six – a fact that surprised me to no end.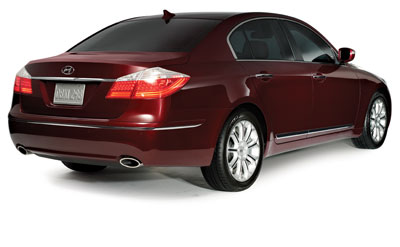 The power is smooth and on tap the instant you press your right foot floorward (as long as it's on the accelerator!). Power gets to the rear wheels through a lovely, six speed automatic transmission with a manual setting. Shifts are buttery smooth and the manual mode works well, though the car doesn't come across as one in which you'll be tempted to seek out a few seductive apices – it's more a cruiser than a bruiser. And that's okay.
The handsome exterior is more than matched by an attractive, efficient, quiet and well-thought-out leather-and-wood-accented interior.  The leather seats are heated up front and, though they don't offer a lot of side bolstering for when the roads get raucous and you hunger for a Recaro, they're extremely comfortable, reminding me of the La-Z-Boy I frequent in my home theater, though without the butt depression. Rear seats are great for two and more than adequate for three.
I couldn't find a perfect seating position in the driver's seat, though it was close. The thigh cushion wouldn't lower quite far enough to suit my stubby little legs and, annoyingly, there's no left foot rest. On the whole, however, it's a very comfortable place from which to drive, and passengers should also be very pleased with their accommodations.
The instrumentation is analog (except for the usual digital information display) and is straightforward and clear. I was dismayed to find one of those "iDrive-type" cursor control things on the center console, but carmakers are getting better at making sensible interfaces for such beasts and this is one of the best. I still prefer a touch screen, but as is the case with many vehicles the Genesis' LCD is mounted high on the center stack where it's nicely in view but a very long reach away, making a touch screen impractical.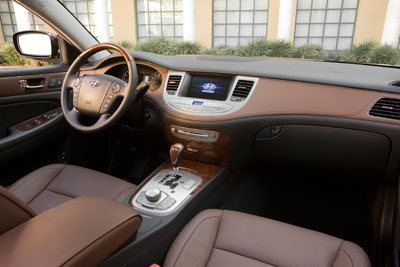 The outside mirrors are an interesting blend of size and function: I thought them a bit small and high, but that works to eliminate blind spots when pedestrians are crossing in front of you while still offering a good enough view back.
Genesis also offers a wonderfully large sunroof that's reasonably quiet at speed. It features one touch opening.
The audio system that comes with the Tech Package features electronics by Lexicon, a famous name in high end audio. It plays all my DVD-Audio discs well and the sound quality is very good. I've heard better, but not much better. As is often the case it's a tad bassy, but not excessively so.
Other toys include Bluetooth, voice recognition (again, a good realization of the technology but not the best), auxiliary input for your music player, and my test car had satellite radio activated as well. The redundant controls on the steering wheel are well-placed and work well.
Both front windows also feature one touch up/down operation.
Other nice touches include automatic, moisture-sensing windshield wipers that work really well regardless of the amount of precipitation, and the driver's side wiper sweeps almost right over to the A pillar, which is nice.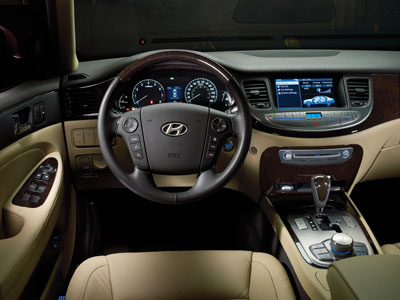 My test unit also had articulated headlights that turn as the car does, parking sensors front and rear (including a backup camera), a navigation system, cooled driver's seat, push button start/smart key, and so many other luxurious or convenience touches it'll make your head spin.
In short, other than its flaccid suspension, I liked the Genesis very, very much. It's a fine car – the latest in a long string of successes from Hyundai – and it should go a long way toward establishing the Korean manufacturer as ready and capable of playing "in the big leagues." As if it hadn't proven that already.
Is it as good as Lexus, Infiniti, Mercedes Benz, Audi, and the rest of the usual suspects? It's certainly close – close enough considering its reasonable price – and a real tour de force for Hyundai's first kick at this part of the market. 
The Genesis V6 starts at $32,250 U.S./$37,995 Canadian. The V8 version stickers for $37,250 U.S./$43,995 Canadian. A relative bargain for what you get.
Copyright 2009 Jim Bray
TechnoFile.com