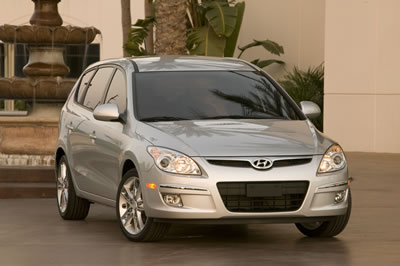 Hyundai Adds a Dash of Élan to Elantra
By Jim Bray
September 24, 2009
Hyundai has certainly come a long way from the days of rust-prone and underpowered econoboxes like the Pony and the Stellar. Heck, they're even taking on the luxury makers now with their excellent Genesis sedan, just like the Japanese some 20 years ago.
Hyundai's bread and butter cars – the Accent, Sonata and Elantra – are all fine vehicles. I haven't driven an Accent recently, but I did spend a few days behind the wheel of a rental Sonata that served us very well – and my father has spent the last five years putting an Elantra through a long term test. He loves it and it has never given him a lick of trouble.
Even in its current generation, however, the Elantra is a tad bland – not that exterior styling is the be-all and end-all of a car's worth. And while the Elantra is an excellent car, if Hyundai could manage to give it a little shot of Mazda's famous "Zoom-Zoom" an already appealing car would be even better.
And they have! The new five door Elantra Touring is a sportier, yet still eminently functional and practical version of the Elantra sedan that not only ups the styling ante, but which also has a little fun injected into it as well.
In fact, after having spent a week with the Elantra Touring, I'd have to say that it's the closest of all the vehicles in this class that I've driven to recreating the fun that Mazda's has injected into its terrific little 3. And that's something!
This is despite my test unit being equipped with a four speed automatic transmission that seemed to do its best to minimize the fun factor. Needless to say, I was both pleased and impressed.
Hyundai says the all-new Elantra Touring five door wagon is designed to deliver both five-door functionality and a dynamic driving experience, while providing buyers with a "Distinctly different offering in the compact segment" and raising the bar in terms of standard equipment, functionality and quality. They're aiming the car at the Toyota Matrix, Dodge Caliber and Mazda3. And I think they've hit their target bang on.
The company proclaims that the Elantra Touring boasts the most interior volume (passenger volume plus cargo space) of any five-door in its class, as well as a unique sport suspension and steering that's tuned for greater response and handling that's on a par with Hyundai's own Accent GS with Sport Package. I haven't driven that particular Accent, but I drove a base Accent a couple of years back and thought it was far more fun than it had any right to be.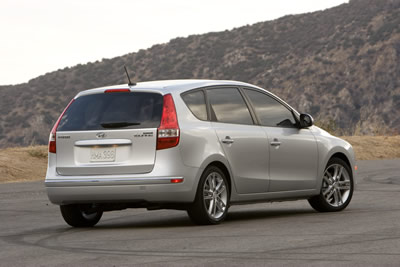 That's what I thought about the Elantra Touring, too.
The front-drive Touring is powered by a two liter, DOHC four cylinder engine rated at 138 horsepower @ 6,000 rpm and 136 lb.-ft. of torque @ 4,600 rpm. That isn't a lot, but it's more than enough to motivate the Touring; you may not win drag races, but you're perfectly capable of driving at highway speeds and more.
A five speed manual transmission is standard, as it should be, but the shiftless will be able to live with that four speed auto. I'd rather have seen at least a five speed automatic made available, one with a manual shifting mode, but such was not the case. That's the weakest link in the Touring's fun-to-drive chain. Despite that, I still had a ball with the Touring.
Brakes are discs all around and ABS is available. The wheel covers on my test unit were a tad, well the word "ugly" comes to mind, but the suspension rocks. It features MacPherson struts up front with a multi-link rear and it balances comfort and fun nicely – tilted a bit toward fun and that suits me just fine. Again, think Mazda 3.
Steering is power-assisted rack-and-pinion, and it offers a very nice feel – and it also points the car nicely where you want to go (which always comes in handy!).
The Touring doesn't look a lot like the regular Elantra. Instead, its flowing curves and strong character lines, coupled with a very different grille with a big air intake under it, make it look broader and more hunkered down – more ready to ride! It also features projector-type headlights and fog lights, and its vertical tail lights are attractive in a Volvo-ish way – which used to be a bad thing but which is no longer.

Hyundai says the Touring was conceived of as a driver's car first and foremost, a thinking that extends to the comfortable and functional interior. While my test unit didn't have steering wheel-mounted audio controls (though they're available) and that meant the audio system was a long reach for my stubby little arms, for the most part everything is where it should be and appears designed for easy use.
The instrumentation, which includes big analog gauges, is clear and legible at a glance (and features an attractive blue lighting scheme), the driver's seat is very comfortable and the driving position is optimized by a tilt/telescoping steering wheel. Seats are nicely bolstered for cornering and the fabric is of good material and doesn't act like a magnet for pet hair. The front seats are height adjustable and provide good lumbar support.
I wouldn't want to put three people in the back seat for a long highway drive, but that's pretty well standard for this class of vehicle.
I thought the black interior of my test unit was a tad forbidding-looking, but no worse than other cars I've driven. The good news is that the stereo is surprisingly good for standard equipment and my test car's had USB and AUX inputs.
Hyundai also throws in – well, includes in the price – power windows, one touch down for the driver's window (but no one touch up), keyless remote entry, cruise control, etc. And there's plenty of storage space, especially since, as a wagon with a split/fold rear seat, you can open up a virtual cavern behind the front seats.
I really hadn't expected to like this car nearly as much as I did. Heck, my test unit didn't even have all the bells and/or whistles available – it didn't even have a sunroof – but it was a great little car to drive, efficient and fun and with enough carrying space to please people looking for a small wagon in this class.
Nicely done, Hyundai!
It's a relative steal, too, starting at (according to their U.S. and Canadian websites) $17,800 U.S./$14,995 Canadian and going up to about $20,100 U.S./$22,395 Canadian optioned up. You can save about a grand by opting for the five speed manual, which I would recommend doing if you're looking to maximize the élan of your Elantra.
Copyright 2009 Jim Bray
TechnoFile.com