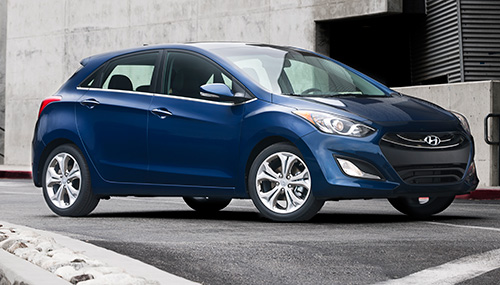 Hyundai Elantra GT a winning wagon
By Jim Bray
April 17, 2013
Hyundai's Elantra GT continues the Korean company's winning ways of the past few years. In fact, it copped the prize in its category at the 2013 Canadian Car of the Year, following up on the Elantra sedan's overall "Canadian Car of the Year" and North American Car of the Year awards for 2012.
Needless to say, it's a heckuva car and yet another example of just how far the Korean manufacturers have come in a relatively short period of time.
I gave the GT a pass at those Car of the Year trials, thinking that since its sedan brother had walked away with the big prize the year before, it wouldn't stand a chance for 2013. Shows how much I know!
Now I've had a chance to spend a week behind the wheel of the GT and have to admit that, were I looking for a new car in this class right now, it would be right up near the top of my list. It's a tremendous car that offers a really nice blend of performance and equipment for a reasonable price. And it's basically a wagon, which speaks to me. Hard to beat a combination like that.
The GT isn't a real powerhouse – its 1.8 liter inline four cylinder engine puts out a modest 148 horsepower @ 6,500 rpm, with 131 lb.-ft. of torque @ 4,700 rpm, the same as the Elantra sedan cranks out. So don't look at the GT as being a real Gran Turismo car. It's really just a hatchback/wagon version of the Elantra and, since the Elantra is an excellent car to begin with, there's nothing wrong with that.
That horsepower figure is competitive, too, with comparable cars from the competition – cars such as the Toyota Matrix (132 @ 6,000 rpm), the base Mazda3 (148 @ 6,500 rpm), and Subaru Impreza (148 @ 6,200 rpm), though not quite as hot as the Ford Focus (160 @ 6,500 rpm) or VW Golf (170 @ 5,700 rpm).
GT's can come with either a six speed manual or a six speed electronic automatic transmission, with overdrive lock-up torque converter and SHIFTRONIC  manual mode. The test car Hyundai Canada sent had the automatic and it works fine, though it didn't come with paddle shifters. This lack of paddles is a shame; they aren't only more interesting and entertaining to drive with, they should actually be considered a kind of safety system – in the manner of Bluetooth and automatic headlights (both of which the GT has) – because they let you shift while keeping your hands where they belong – on the steering wheel.
Maybe next year…
The exterior is very handsome – using Hyundai's "Fluidic Sculpture" motif that looks best on the Elantra. I really don't care for Hyundai's front end treatment, but that's a "beauty is in the eye of the beholder" type of thing.
Hyundai says the Elantra sedan is tuned primarily for comfort, but the GT version has been tweaked for increased feel, responsiveness, and handling. This is due to such stuff as stiffer rear spring rates, and Sachs dampers for improved body motion control. Hyundai claims this leads to greater driver involvement as well as more "European" handling characteristics.
The suspension features MacPherson struts with coil springs up front, along with Sachs twin-tube gas-charged shock absorbers, and a 22 mm stabilizer bar. The Elantra GT's bum is slung by a V-beam torsion axle with coil springs, Sachs monotube gas-charged shock absorbers, and an integrated stabilizer bar. Brakes are discs all around, with four channel ABS, EBD and Brake Assist. Pedal feel is fine.
It's been a while since I drove an Elantra sedan, so I can't really comment on the differences between the two, but I did enjoy driving the GT quite a lot. It's no sports car, but it's pretty fun nonetheless.
One thing I found particularly interesting – and a tad confusing, in a "huh?" way – was the Elantra GT's Driver Selectable Steering Mode (DSSM). The system gives you three driver-selectable operating modes (Comfort, Normal, and Sport), controllable from the steering wheel, and Hyundai says it's designed so that the car's steering response can be adjusted "at any time to suit driver preference and road conditions."
Comfort (a.k.a "wallow") mode loosens the steering up, supposedly to make it ideal for city driving and parking lot adventures. To say it wallows would be unfair, but it's definitely "comfortable." Sport mode was my favorite, not surprisingly, because it tightens up the steering effort nicely, making the GT more entertaining to drive, especially when you find some entertaining twisty bits. Normal mode splits the difference well.
Hyundai says the DSSM system adjusts not only power steering assistance levels, but on-center feel and effort build-up throughout the steering range "for a natural and progressive feel." It definitely isn't the same as the type of sport mode you might find on a real sports car, which can also adjust the engine and/or suspension settings, but it's an interesting feature nonetheless and it appears to work as advertised.
The cabin is modern, clean and comfortable, with easy to read instruments and an uncluttered and straightforward center stack. My test car didn't have the optional LCD screen with navigation and/or rear view camera of the higher trim level, but everything you really need was there, including an audio system that sounds quite good.
The front seats are comfortable and supportive (the driver's seat of my test car had power adjustment, too) and the driving position is just right. There's even pretty good room in back – including a surprising amount of storage space with the rear seat up, even though it looks from the outside as if there might not be.
There are two cupholders up front and two more in the rear, along with bottle holders in the doors, a cool, cooled glove compartment, central console storage, front seatback pockets, and under-floor "contraband-friendly" storage in the cargo area.
As mentioned, the Elantra GT comes with a decent 172 watt AM/FM/XM/CD/MP3 audio system with six speakers and USB/auxiliary connectivity. Air conditioning, cruise control, steering wheel-mounted audio controls, Bluetooth with voice recognition, and heated front seats are also standard on the GT.
Safety equipment includes seven airbags (including for the driver's knees), as well as the usual bevy of belts.   
Hyundai says the 2013 Elantra GT is designed to compete with five-door hatchbacks such as the Ford Focus, Mazda3 Sport, and Volkswagen Golf. All of these are fine cars, and the Elantra GT competes with them very well.
The Hyundai Elantra GT starts at $19,149 for the GL trim level, manual transmission. The highest end SE "Tech Auto" version starts at $26,349.
Copyright 2013 Jim Bray
TechnoFile.com