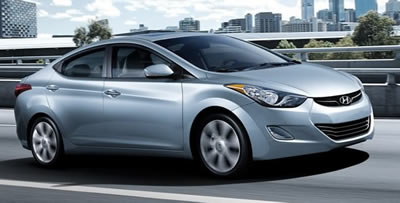 New Elantra Leaves Reviewer Elated
By Jim Bray
September 17, 2011
Who'd have thought that "Fluidic Sculpture" could be synonymous with "Great looking"? Yet when it comes to the exterior styling of the fifth generation Hyundai Elantra, that's exactly what the result is.
"Fluidic Sculpture" is how Hyundai's marketing folks refer to their new vehicles' swoopy sheet metal, made most prominent over the past while by the highly popular Sonata, a car that – to me – looks bloody awful exactly because of the "fluidic sculpture." But maybe it isn't the "FS" itself, but rather the execution – or maybe even the size of the vehicle – because, while the Sonata comes off like a pretentious, "Mr. Sardonicus" lookalike, the new Elantra looks fantastic. It's sporty and elegant at the same time, hardly the stuff one might associate with a "Corolla-class" econobox.
What's even better is that the rest of the car is just as good.
Hyundai says Fluidic Sculpture suggests "The interplay of wind with rigid surfaces to create the illusion of constant motion." They say the styling is functional as well, giving the Elantra a very slippery 0.28 coefficient of drag.
The current generation Elantra was launched for 2011 model year, and for 2012 has seen its equipment ante upped. For one thing, all 2012 Elantras equipped with the six speed automatic transmission also get Hyundai's "ActiveECO" system, which modifies engine and transmission response to supposedly improve your "real-world fuel economy" by up to seven percent. Hyundai claims the Elantra achieves best in class fuel economy, and is more powerful and fuel efficient than the Honda Civic, Toyota Corolla, and others.
This generation of the front wheel drive Elantra features a smaller and lighter engine than the last one did. The current, 1.8 liter four cylinder power plant is named "Nu" after Monty Python's Knights Who Say "Nu" – oops, sorry, that was "Ni". The engine cranks out a healthy, for this class, 148 horsepower and 131 lb.-ft. of torque. Hyundai says the "Nu technology" helps the car achieve a 16 percent increase in highway fuel economy over the old model.
Two six speed transmissions are available, a manual and the automatic, the latter of which also features SHIFTRONIC manual control, which brings some of the manual's joy of operation and control to the equation. My sample had the automatic, and it shifted very smoothly for the most part, though I did notice the odd bit of jerkiness at low gears and low speeds a couple of times. Nothing outrageous, though.
Hyundai says this all-new automatic is a lot simpler than its former five speed, and that its reduced complexity promises longer life, lighter weight, and lower cost.  
I'd have loved to try the six speed manual transmission, which the company says is also all-new, because I imagine it would make the car a relative blast to drive.
I was surprised by the Elantra's handling, which is balanced nicely between comfort and sportiness – leaning a bit toward the sporty side, which suits me just fine – it's better than I had expected. It features MacPherson struts up front, with coil springs and gas shock absorbers (which doesn't mean they absorb the shock of high gas prices, alas), while its buttocks are slung via a lightweight torsion axle with coil springs and monotube gas shock absorbers. There's also a stabilizer bar up front.
 It isn't the most racy-sounding suspension, but it works fine.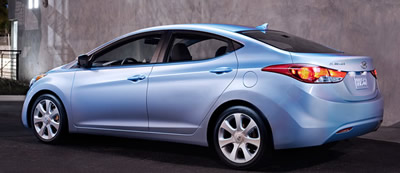 Elantras also come with electrically driven variable assist rack and pinion steering that offers very nice feel and a good turning circle. Brakes are discs all around, with four channel, four sensor ABS, as well as Brake Assist (BA) and Electronic Brake-force Distribution (EBD). Pedal feel and performance is also just what the doctor ordered.
Naturally, there's also stability control, an abundance of airbags, and the rest of today's safety complement.
Inside, the cabin reminds me a bit of the original Acura TSX – not in that it has an identical layout but I got the same feel of class with efficiency from it. Well, the Elantra's black plastic finishes with silver accents (No Hyundai model pun intended) and controls are installed in a more modern – dare I say, Fluidically Sculptured – design than that old TSX, which shouldn't come as a surprise. On the whole, it's very nice, and looks richer than you might expect.
The layout is top notch, with everything clear and laid out well at hand. The tilt/telescoping steering wheel feels great in the hands, and of course includes redundant controls for the audio system, as well as the cruise control and Bluetooth phone buttons. The seats are comfortable and supportive for the bum and the sides. You can put three across in the 60/40 split/fold back seat, but you'll hear less whining – as with most cars in this class – if you don't (or if you tranquilize 'em).
And here's a nice touch: you can get heated rear seats with the upper trim level Elantras.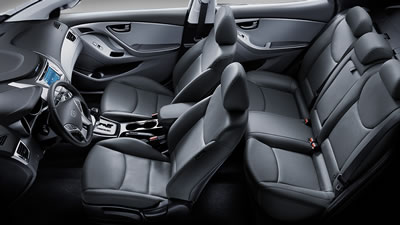 That's what my sample Elantra was - the Limited trim level, the highest offered, and that means it was absolutely crammed with stuff. In fact, about the only things missing were a touch screen LCD with navigation system and rear view camera, the upgraded stereo and a "smart" keyless entry (where the doors unlock as you approach and/or push a button) and push button stop/start system.
The more basic stereo I did get to try was still very good, and included USB, iPod functionality and an auxiliary input. You can also stream from your Bluetooth device (and the pairing process, by the way, is quite straightforward). The audio system isn't going to peel the paint from the interior or make your ears bleed, but it's okay.
My test Elantra also had a power, one touch open/close sunroof, leather, automatic headlights and climate control and attractive, 17 inch alloy wheels.  
One thing I really liked about the Elantra interior is that it offers you everything you need, without inflicting acres of buttons and knobs on you. The instrument panel and center stack, in fact, are marvels of simplicity – and that's something from which some other manufacturers could take a cue.
I spent a week with the Elantra and when I came out of it I only really had one complaint, and it was hardly a deal breaker: the drive train tends to be a tad buzzy, especially when pressed. That would hardly be a deal breaker for me, though, and this is a car I would own if I were looking in this class of vehicle. It's that good, it's that comfortable and well-equipped for the dollar – and it drives that well. It makes me think there are some long-established mainstream car manufacturers that should definitely be looking over their shoulders.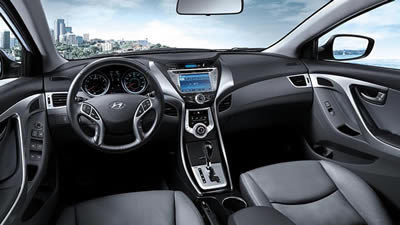 The 2012 Hyundai Elantra GLS (the base model in the U.S.) starts at $16,445 U.S./$19,799 Canadian. The Limited garb of my test car starts at $20,445/$22,699 Canadian. That's a heckuva lotta stuff for the buck, in a car that looks and acts upscale and which drives very nicely.
It'll probably last its customers many years, too. My Dad has a two generation old Elantra he's been driving since new – about six or seven years now – and it has never given him a lick of trouble.
Yessirree, the Elantra sure seems like yet another winner from Hyundai.
Copyright 2011 Jim Bray
TechnoFile.com