Hyundai Azera – A Large Corporate Statement
By Jim Bray
If you think Hyundai threw down a gauntlet with its new Sonata, wait'll you see their new flagship, the Azera!
The Korean automaker's brand new premium sedan, the replacement for the XG350, is a beautiful car, exquisitely executed – a vehicle that will undoubtedly help propel Hyundai's well-deserved climb up the ladder of automotive credibility.
Not that they need the help. I've been reviewing Hyundais for the past few years and have generally liked them. My only real complaints have been that sometimes their interior materials were comparatively cheap-looking and feeling, there was a lack of tactile feel in the controls, and some models sported anemic stereos with poor ergonomics. But overall, those complaints were fairly minor, have been addressed in the subsequent models and years, and never prevented the vehicles from being quite competitive.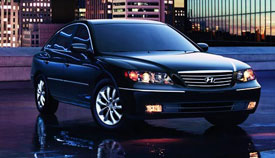 Then there's the Azera. One drive in this big sedan makes it clear that Hyundai has been even harder at work and intends to be taken seriously as a credible contender in the global auto marketplace. The company has been so successful of late that it may behoove the other big, mainstream manufacturers to start looking over their shoulders, if they aren't already.
The Azera is a luxurious premium sedan. It's no "sports sedan," so if a tremendous "fun to drive" quotient is important to you this may not be your car (but check out the current Sonata). But if you're looking for a large four door sedan that's powerful, efficient, comfortable and fully featured, I doubt you can go far wrong with the Azera.
Azera is a front wheel drive car that's powered by a 3.8 liter DOHC 24-valve V6 engine with Continuous Variable Valve Timing. The engine cranks out 263 horses @ 6,000 rpm and 255 lb-ft of torque @ 4,500 rpm, which is plenty of poop to propel it properly. The engine is smooth and quiet as well, though I did notice a kind of quiet, electric-sounding hum that almost made the Azera sound like one of those radio controlled toy vehicles you can buy in stores. The sound was by no means unpleasant or untoward, just unusual.
The transmission is a 5-speed automatic with SHIFTRONIC manual mode. Both modes work well, though in automatic mode it seemed a tad anxious to shift out of first when you first take off, possibly to enhance the car's smoothness in the way that some automatics start in second gear unless the driver deliberately opts for optimal oomph. Shifts are very smooth, however.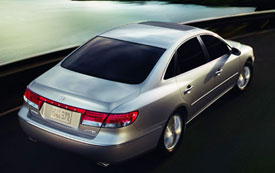 The suspension is double wishbone up front, with stabilizer bar and gas shock absorbers. Azera's bum is slung by a fully independent multilink suspension with stabilizer bar and gas shocks. I found the car a tad floaty, in a big, premium sedan type of way that seems to be the nature of that market segment. It handles fine, though, and the turning circle is very good.
Brakes are discs all around (ventilated up front), with ABS and electronic brake-force distribution, and you also get electronic stability control and traction control. Brake feel is very good, and not as sensitive as the binders in some vehicles; you can step on this pedal with firm pressure and the Azera will stop nice and straight without sending your eyeballs through the windshield.
Steering is power-assisted rack and pinion and it feels just right for this type of car.
Standard wheels are 10 spoke, 17 inch alloy units that are quite attractive; my tester wore a reasonable set of 235/55 series Michelins.
The Azera's handsome exterior seems to these eyes to display a bit of the original Infiniti Q45, some 1990's Chevrolet Impala and current Toyota Avalon with a bit of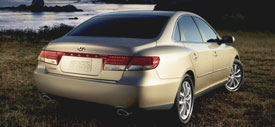 the BMW "Bangle Bum" trunk lid thrown in for good measure. But rather than the sum of those diverse parts looking derivative or, worse, like a dog's breakfast, the Azera looks classy and unique.
Aerodynamic halogen headlamps and integrated fog lamps surround an attractive front grille; two speed variable intermittent rain-sensing wipers do a good job of clearing away moisture (though the Azera and I never agreed on the amount of rain sensing that should set the wipers off – a common complaint I have about this feature from other marques, too) and the car even comes with a windshield de-icer that I (fortunately) never had to experience.
The Azera's buttocks feature wraparound LED taillights and dual chrome-tipped exhaust. I've seen mobile homes smaller than the Azera's trunk – Mafiosi would be right at home with this sucker – and it'll extend through the split/folding rear seat to undoubtedly not only hold the bodies but the coffins as well.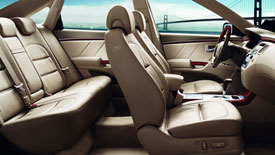 The interior of the car is lovely. From the understated wood trim to the very comfortable seats – and even to the power adjustable pedals for the driver – you're treated to a virtually hedonistic experience. The front seats recline and are power operated (U.S. customers can also opt for memory) and offer good comfort and support for long trips. My tester's seats featured a nice grade of leather, too, with variable setting bun warmers.
The steering wheel tilts and telescopes (U.S. customers can opt for power here, too), and features audio and cruise controls mounted on it – including a nifty "mute" button you can use, though it doesn't work on prattling passengers.
The HVAC system includes dual zone automatic temperature control with outside temperature display and rear seat heater ducts. And the headlights feature the "automatic" setting that, except for foggy days, does a great job of giving the driver one less thing to think about.
Then there's the audio system. What a difference from the crummy little stereos of a few years past! My tester featured the premium Infinity system with AM/FM radio, a cassette deck (remember them?) and a 6-disc in-dash CD Changer with MP3 capability. Hyundai says the system cranks out 315-watts into 10 speakers spread over eight locations in the car. I believe them; it's a very good stereo.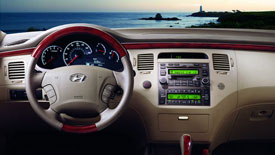 My only complaint about it is that the readout for the equalizer (which offers a variety of presets for various moods and genres) is very tiny. But that's really picking a nit.
Rear seat passengers will be very comfortable, even to being able to stretch out their legs and to enjoy the power-operated rear window sunscreen.
Hyundai hasn't scrimped on the safety stuff, either. The Azera comes with eight standard airbags (including advanced dual front airbags, front and rear seat-mounted side-impact airbags, and roof-mounted side curtain airbags for both front and rear outboard seat occupants). Active front head restraints, child seat LATCH system and seatbelt pretensioners and load limiters are all standard equipment.
All of this undoubtedly helped the Azera earn the Insurance Institute for Highway Safety's (IIHS) top crash test rating for frontal offset impacts.
Not only has the Azera copped the top crash rating, it was also awarded the "Best New Family Car Over $35,000" award by the Automobile Journalists Association of Canada in its Canadian Car of the Year Awards. Not bad!
During my week with Hyundai's flagship the more I drove it the more I liked it. My first impression, that it's a bit of a boat, never wore off totally – but since the direct competitors that I've driven are also a tad "nautical," it appears the company has hit the target at which it's aiming.
The Toyota Avalon, for instance. I liked the Avalon very much, and the Azera seems quite similar. But I prefer the Azera; to these eyes it's more attractive, especially inside, and the fact that, fully loaded, it's also a tad more affordable is icing on the cake.
Sure, Hyundai has yet to achieve Toyota's reputation for bulletproof reliability, but the company seems well on the way and, in the meantime, offers a very good warranty.
The Azera starts at about $24,300 U.S./$34,500 Canadian. The top line model starts at $26,800 U.S./$37,500 Canadian.
I have a feeling we'll be seeing an abundance of Azeras on the road over the next years.