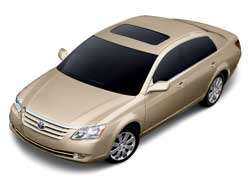 By Jim Bray
Who'd have thought a Toyota Avalon would have a claim to sporty performance?
Yet that's the case with the new, third generation of Toyota's flagship - at least if you enjoy straight line performance. The car not only comes with an attractive new exterior coupled with a comfortable and luxurious new interior, it also sports a new 3.5 liter V6 engine that cranks out a very pleasant 280 horses @ 6200 rpm and 260 lb.-ft. of torque @ 4700 rpm. This is enough to propel this big car in a most satisfying manner.
That V6 comes with an intelligent electronic throttle control system, double overhead cams and dual variable valve timing with intelligence. It's also rated as an ultra low emissions (ULEV) engine.
Mated to that gutsy and smooth V6 is a very smooth 5-speed, Super Electronically Controlled automatic transmission with a pretend manual mode. The manual mode doesn't add a lot of fun to the driving experience, though it's handy for those times when you're going downhill and don't want to ride the brakes.
The suspension is made up of good stuff as well, so I guess the Avalon's relatively floaty demeanor is intentional on the part of Toyota. The front suspension is made up of Macpherson gas struts with coil springs and a stabilizer bar, and the Avalon's rump is reined in with Macpherson struts, coil springs, multi link control arms and a stabilizer bar. The ride is comfortable and smooth and the car does a very nice job of soaking up road irregularities.
It isn't nearly as good at straightening out curves, though.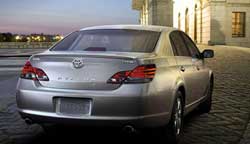 Stopping the big Toyota are four wheel disc brakes with ABS and electronic brake force distribution. They work very well and there is good pedal feel. My tester came with 17 inch aluminum alloy wheels and the car had the optional vehicle skid control and advanced traction control system, a full size spare tire and a leather and wood steering wheel.
Inside, the Avalon is roomy and plush, with all the amenities you could need. My XLS trim level tester was loaded, with heated, power adjustable leather seats, and power everything, including a very nice sunroof. There are attractive "wood grain" accents that look quite lifelike considering they undoubtedly originated in an extrusion or injection molding machine.
Toyota has opted to put the audio system, cup holders, and other assorted storage places behind panels that look like stainless steel. This allows for a very smooth and uncluttered appearance to the interior, though it also means you have to take an extra step to get at the stuff, pressing a piece of trim on the panel that also doubles as the latch. I opted to just leave the darn things open and enjoy the bells and whistles. Alas, the door gets in the way of loading and unloading compact discs into the 6 disc changer, though it isn't a major hassle.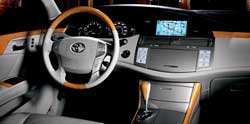 The "upgraded" stereo in my tester was pretty good, though by no means the best I've heard in a car. Not even close. It's from JBL, who are famous for their speakers, and includes an 8 channel amplifier, 12 speakers and a subwoofer. It's quite well laid out and easy to use. Audio and HVAC controls are duplicated on the steering wheel.
The Avalon features automatic climate control with dual zones, and it works very well. And get this, the rear seats recline and that, combined with the rear seats' overall comfort and the car's placid ride, means they're a good place to catch a cat nap on a long trip.
Gone from the new model is Toyota's optional front bench seat and column-mounted shifter, and that's just as well in my never humble opinion.
Safety equipment abounds, including dual stage front airbags, and the usual assortment of bags and belts.
This third generation Avalon is a major upgrade, indeed, but it's still an Avalon and that means it isn't meant to stir the soul of a wannabe racer. That isn't the Avalon's mandate, of course, and that's fine. But the car confuses me a bit. The Lexus GS300 AWD I drove the week before I tried the Avalon is a much nicer car (and, for about thirty grand more, it should be!), but the supposedly sporty Lexus sedan's response when spurred on by the gas pedal is more sedate than what you get from this big, supposedly dignified sedan. What gives? Has the world gone flip flop?
Anyway, Toyota's folk have done an excellent job of addressing my biggest complaint about the previous generations of Avalon: their appearance. Beauty is in the eye of the beholder, of course, and I've always thought the Avalon to be the most repellent of Toyota's sedans, a big slab of car with a front end (especially on the second generation) reminiscent of a cow catcher or maybe a battering ram.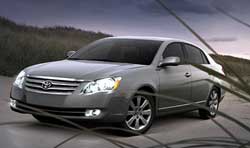 The new Avalon is still a big car, but it comes clothed in a very handsome new skin that reminds me a bit of the new Cadillac models, but smoother, and with a healthy dose of the Camry thrown in, but more attractive than Toyota's midsized sedan.
That description probably doesn't do the Avalon justice, though. It is indeed a very handsome car, one I wouldn't be – and wasn't – embarrassed to have parked outside my house.
But it's still a bit of a boat, because as modern and pleasant as this car is, a spirited driving experience it is not.
On the other hand, I suppose that depends on what you're looking for in a driving experience. If you desire something you can point forward and will take you from point "A" to point "B" comfortably and reliably, you probably can't go wrong with the Avalon. It is a very nice car in that respect. But if you're looking for something to quicken your pulse on the twisty bits, best to look elsewhere.
That leaves a huge potential audience for the Avalon, of course, because many people don't care if their car is a rocket sled.
We took the Avalon for a weekend trip to visit my brother and it was probably the perfect car for such a trip. Our route was multi lane divided highway with few curves – a totally boring drive in any vehicle – and the Avalon ate up the miles happily and transported us in first class comfort and ease and we arrived fresh and ready to party. And that is undoubtedly what Toyota and Avalon owners want.
So if you're looking for a full size car that'll get you where you want to go with no fuss, has Toyota's famous quality, and you don't care if it'll carve up curves like a Formula 1 race car, this new Avalon may be just what the doctor ordered.