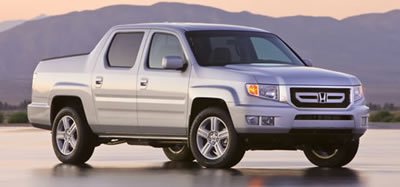 Honda's Ridgeline Keeps on Trucking
By Jim Bray
April 24, 2009
Who needs a full-sized pickup these days?
Well, many people do, actually, and thank goodness for them or Detroit's big three might have dug themselves into an even deeper hole than they have, if such a thing is possible. But many people's hauling and towing needs don't require a vehicle larger than some homes, and for them there's a wide variety of smaller-but-still-capable pickups.
Honda's entry into this fray is the Ridgeline, a homely but homey vehicle that's not only a pretty capable truck, but which also showcases some nifty innovative thinking – as well as some creative mimicry the type of which the Japanese did so well back in the days when they were playing catch-up in the car market.
Yep, this is the truck with a trunk, an idea stolen – er, adapted – since by Dodge in the little "trunks" on the side of the new Ram's box. And it features the old fashioned "magic tailgate" feature that used to be a standard fixture on North American station wagons of the 1960's, opening either sideways or down, depending upon how you unlatch it.
And of course it has a bed in which you can haul stuff.
The result is a Honda pickup truck that's utilitarian, tough, comfortable, and even quite nice to drive. I've never been a truck guy, but if I were looking for such a vehicle the Ridgeline would be near the top of my list – depending on what I needed to haul and how often I needed to haul it. The Ridgeline obviously can't compete with the likes of the Dodge Ram, Ford F-150 or Chevy Silverado when it comes to payload and towing capability, but if your hauling needs are more casual than professional it just might fit your bill.
And when you aren't hauling, you have a vehicle that's easy to live with, seats five comfortably and drives kind of like a Honda. How can one lose?
It's still ugly, though – but since when is a truck all about winning beauty contests? In this market, beauty is definitely more than skin deep.
Since I first drove the Ridgeline back in about 2006, Honda hasn't changed a lot on the truck. That's probably because they got it so right when it debuted (its introduction was at the 2004 North American International Auto Show in Detroit). But the marketplace marches on constantly, so even minor changes are called for to help keep the vehicle in tune with its competition.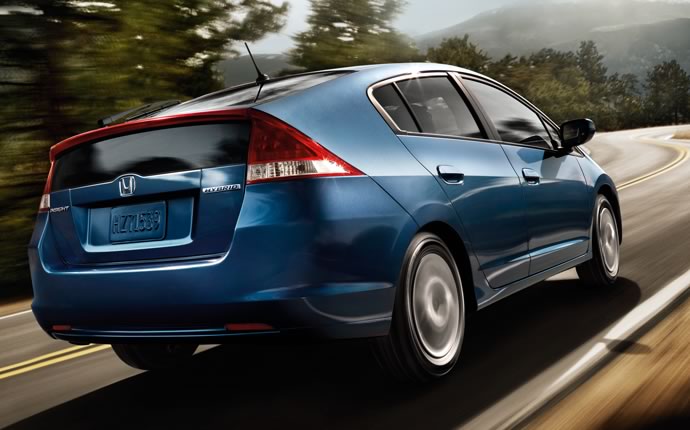 This means that for 2009, for example, every Ridgeline now comes with an integrated trailer hitch and a trailer brake controller (Ridgeline is tow-rated for 5000 pounds). There's also a trip computer, active front seat head rests and an extra two heavy-duty tie-down cleats in the bed (making eight in total).
Depending on the trim level, the 2009 Ridgeline may also come with fog lights, an auxiliary input jack for your audio player (located handily on the dashboard), satellite radio (with a no-charge trial of 3 months), 18" alloy wheels, a 115-volt power outlet, Bluetooth wireless telephone interface and a rearview camera.
My sample Ridgeline didn't have most of that "extra stuff", being a basic entry level unit, which I took as a personal slight. Fortunately, despite its lack of satellite radio, it had the auxiliary jack I could use with my portable SIRIUS device, and that saved me from having to listen to the local stuff.  
The Ridgeline is powered by a 3.5 liter, 24 valve, SOHC VTEC V-6 engine that puts out 250 hp @ 5,700 rpm and 247 lb.-ft. @ 4,300 rpm via a drive-by-wire throttle system. This is competitive with other V6-based small trucks. I didn't actually haul anything during my time with the ugly little truck, nor did I take it off road (the streets and highways were "offal" during my very cold week in the truck, so it was best to merely concentrate on keeping it on the road!) but its performance seemed more than adequate for the conditions and will undoubtedly satisfy Ridgeline owners.
Power gets to the wheels via Honda's Variable Torque Management 4-wheel drive system (VTM-4) and a five speed automatic transmission with Grade Logic Control. Shifting is done via a steering column-mounted lever, which frees up space on the center console for a dizzying array of storage bins and the like.
Power is bled from the wheels via four wheel anti-lock disc brakes with Electronic Brake Distribution (EBD) and Brake Assist.
Ridgeline features a MacPherson strut front suspension with multi-link buttocks that feature trailing arms. The thing drives like a truck, but not nearly so much as some "real" trucks that chitter over road imperfections as if they're skittish ponies ready to bolt. In fact, the overall driving experience is very good, all truckish things considered.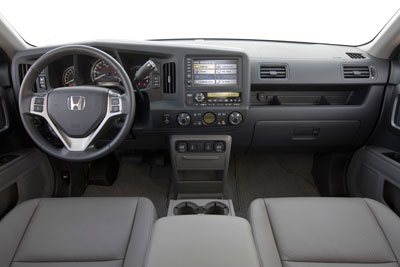 The interior is quite comfortable, with a good driving position thanks to a tilt (but not telescoping) steering wheel. The seats in my "stripped down" Ridgeline were adjusted manually, but they were comfortable – and more supportive than some bosses I've worked for.
The rear seat folds up easily with one hand (splitting 60/40 as well), creating a big storage space in the rear compartment.
The AM/FM/CD/MP3/WMA audio system features six speakers and sounds not bad considering it's rather anemic in the power department. I'd opt for a higher end system if I were outfitting the Ridgeline, especially one with satellite radio.
The inside front doors have weird-looking "chromish" handles that look as if they should be the door handles, but aren't: they surround the real door handles and work well for grabbing and holding on for dear life when you're hitting rough patches in the road. They're also good for pulling the doors closed.
One thing I love about the Ridgeline is that marvelous trunk recessed below the floor of the bed, offering about nine cubic feet of space that you can lock. And it's waterproof, with a drain at the bottom, so if you're into tailgate parties it would make a fabulous cooler to fill with ice and beer. The spare tire is also in there, on a raised shelf that's hard to reach, so you may have to search for some lost booze if you don't load the trunk just right.
But what a great idea! Honda has given you a place outside the cab in which you can lock valuable stuff that could be stolen from the bed otherwise.
I didn't really find a lot of nits to pick about the Ridgeline. It's a straightforward yet imaginative take on the concept of the utility vehicle, and as such, I think it's still a winner even if it hasn't been changed a lot in the years since it first came out.
The Honda Ridgeline starts at $28,200 U.S./$34,490 Canadian.
Copyright 2009 Jim Bray
TechnoFile.com