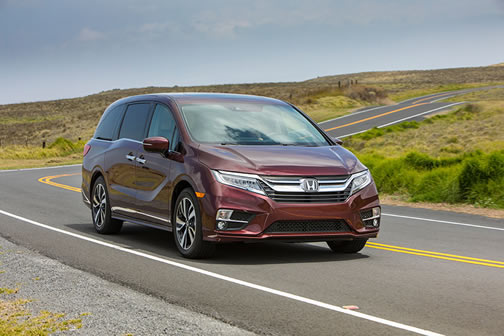 Looking for a good minivan? You Odyssey Honda's entry
By Jim Bray
January 11, 2018
It may be a bad pun, but the headline above is a good piece of advice if you're one of the people thinking about making the move to a new minivan.
I'm not a minivan guy at all - my wife wanted one when our kids were sized and had lifestyles that were "minivan friendly" but I always managed to stave it off, until now they're long-married and on their own and a minivan is even less of a necessity for empty nesters. But I understand and laud the minivan as perhaps the ultimate in family-and-their-stuff hauling (at least until the three row SUV came along) and I've driven enough of them over the years to appreciate their utility, if not their fun.
The closest I've come to driving a fun minivan was the Chrysler Pacifica hybrid my wife and I took onto some Alberta back roads last year. It was a bit of a revelation, especially for someone who's never been much of a Chrysler fan. Thus, I strode over to Honda Canada's sample 2018 Odyssey Touring with a new appreciation for just how compelling a miniature bus could be to drive.
Alas, the Odyssey isn't quite as interesting to drive as the Pacifica, but - if only because it's a Honda - it may be a better vehicle overall, especially over the life of its service (Hondas, indeed most Japanese vehicles, are legendary in this regard - and the last Odyssey I reviewed got rear ended but was still eminently driveable once the first responders had pried off its rear bumper and stowed it inside).
It has some pretty cool stuff in this new, fifth generation version, too, stuff that makes it more like a science fiction-type shuttlecraft than a plain vanilla people hauler.
Honda touts the new Odyssey as featuring a more powerful engine than before, as well as an advanced 10 speed automatic transmission, "Magic Slide" seats, Wi-Fi "CabinWatch" and "CabinTalk" stuff as well as the usual suite of anti-driver-oafishness aides.
Odysseys start at $34,890 CAD, which Honda says is a modest increase over the previous version "despite greater value than ever before." Fair enough. If nothing else, inflation must make it tough holding the line on prices. Honda says the hike is due to stuff like substantially increased comfort and convenience features, such as some of the abovementioned goodies.
Of those new features, CabinWatch  is a day/night in-vehicle video surveillance system, while CabinTalk is an in-vehicle PA system by which you can yell at the ankle biters tussling back in Steerage without going hoarse. I could've used that when my kids were of that ilk! Also handy, though not new to this generation, is a rear-stowed vacuum cleaner you can use not only to clean out the crud kids bring in with them, but to show off proudly and smugly to naysayers if they tell you sneeringly that a minvan sucks.
The van's 3.5 litre V6 engine gets an extra 32 horses this time around (up to 280 @ 6000 rpm, with 262 lb.-ft. of torque @ 4700 rpm). It's been long enough since I've driven an Odyssey that I can't say I noticed the difference, but I had no issues or angst with its oomph. Besides, as you've undoubtedly noticed by now, this is a minivan and not a race car. More's the pity.
The front wheel drive Odyssey comes standard with a nine speed automatic, but the Touring trim level ($50,290) gets the 10 speed, which makes the lower trim levels un-ten-able. Shifts, all 10 of them, are very smooth and unobtrusive, though as with other newer tech trannies the shifts upward come quickly if you aren't standing on the accelerator (undoubtedly a fuel saving strategy). You also get paddles which, while even more useful in a sporty vehicle, can still offer you easier control when road conditions deteriorate or you just want to partake of some engine braking going down hills. Even lousy paddles are better than no paddles (at least they let you keep your hands on the steering wheel, even if the transmissions still shift mostly when they want to), and the Odyssey's are actually a reasonable example of the species.
Most vehicles give you the choice of paddles or the shift lever, but Honda's current design direction is taking them away from levers and toward a strange system of buttons and stuff that works fine, and takes up less room on the console, but which is just plain weird to use. It's one more example of current Honda design making me wonder if their folks actually drive their vehicles.
The driving position is fine, the ventilated seats are comfortable, and the ones behind the front row are a marvel of convenience. You can slide the centre row seats together in the middle, or to either side, and they also move back and forth to help ease the kids' damn kicking on the back of the front row seats - or to facilitate access to the third row split bench.
That rear bench also collapses into a deep depression (kind of like a Never-Trumper) inside the rear hatch, creating oodles of storage space for those times you need the "van" part more than the "bus" part of the Odyssey's raison d'etre.
For loading stuff, the Odyssey has a power tailgate you can activate from the key fob or via your foot. I prefer the fob because, well, I'm just not graceful enough to stand on one foot with arms full of stuff.
To help you minimize the urge to throttle the kids misbehaving in the back, the Touring model comes with a nice, ceiling-mounted LCD screen connected to a Blu-ray player in the dash (it also streams video). It comes with wireless headphones, too.
The "regular" audio system (as opposed to the rear system) gives you a volume control on the centre stack, but there's still no tuning knob and the interface hasn't yet been updated to reflect the better one in the new Accord.
As befits a utility vehicle, there's plenty of configurable storage, enough cup holders to open your own Tim Hortons, and a wireless charging pad for your smart devices.
The Touring Odyssey runs on 19 inch wheels, versus the standard 18's, and features stuff like power folding side mirrors, LED headlights and rain-sensing wipers. Rain sensing wipers have really improved since their first generation, which were more annoying than useful the times I tried them.  
The side doors slide open/closed via power as well, which is really handy.
You also get a blind spot monitoring system and rear view camera with cross traffic alert. I can live without blind spot monitoring, though I've made my peace with it, but the rear view camera and cross traffic alert are really great features.
All Odysseys get the Honda Sensing suite of safety and driver-assistive stuff. This includes a Collision Mitigation Braking System (CMBS), Lane Keeping Assist (LKAS), Road Departure Mitigation (RDM) and Adaptive Cruise Control (ACC). I'll be happier when all this stuff is replaced by full self-driving capability (so people who shouldn't be driving don't have to), but in the meantime we're stuck with these things and, fortunately, most can be turned off these days.
Naturally, there's a full array of airbags and the other conventional safety stuff, including a decently unobtrusive traction control as well as ABS for the vehicle's four wheel disc brakes.
Honda was either the first or nearly the first non-American companies to set up factories in North America and, perhaps to help make America great again (to coin a phrase no one has ever heard before) the Odyssey is not only built on this continent, it was also designed and developed in North America. As such, the company says, the Odyssey and its engine are manufactured exclusively at the company's Lincoln, Alabama plant using parts sourced both domestically and globally. The new 10 speed transmission comes from the company's transmission plant in Tallapoosa, Georgia.
I've been kind of down on things Honda for the past couple of years, as they seem to have lost their design mojo in favour of unfathomable and/or annoying interfaces (including a voice that "yells" at you to do up your seatbelt if you unlatch it before the vehicle is stopped completely). This new Odyssey doesn't address all my whining points (the Bray version of talking points), especially in its centre stack LCD, but that doesn't make it a bad vehicle at all.
In fact, the Odyssey is a fine minivan, and you can get it featured as fully as you can afford. It's decent to drive - actually, better than decent - and it'll probably survive Kim Jong Un's best efforts.
For what more could anyone ask of a minivan?
Copyright 2018 Jim Bray
TechnoFile.com