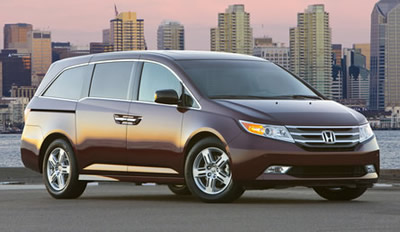 Next Gen Minivan a Honda You Odyssey
By Jim Bray
January 20, 2011
Minivans are the Rodney Dangerfield of the automotive industry: they get no, or little at least, respect. They're not particularly attractive, they're not the most lithe of vehicles nor are they the most subtle.
Look no farther than my own life. For years, my wife thought it would be nice to have a minivan and I always found a way to steer our vehicle purchases in different directions. It wasn't hard, since we tend to keep our vehicles until they fall apart and therefore don't sally forth to the local auto mall very much other than to ogle or "goal set".
Now our kids are grown and the only time we'd need the capacities of a minivan are when family visits, a couple of times per year at most. And most of those capacities required are of the passenger variety – a third row of seats – rather than freight, which would be served nearly every bit as well by many SUV's or a little van-like object such as the Mazda 5.
Still, as far as minivans go, the Honda Odyssey is arguably at the top of the heap and as it turned out Honda made it available to us just as Chateau Bray was descended upon by a Christmas crowd the likes of which we had never seen before.
It was loaded, too, the Touring Model. About the only thing it didn't have was a remote starter. It not only had power second row doors and rear tailgate, rear seats that are so easy to stow flat you can do it with one hand, a double wide LCD screen two people fight over at once,  but it also came with a solid V-6 engine, six speed transmission, innumerable bins and airbags, etc.
Too bad about the remote starter, because the weather was really cold most of the time I had the Odyssey…
Duh!
The new Odyssey, as did the old version, looks and acts like a minivan. And doesn't that seem appropriate, somehow? That means the temptation to do donuts in snowy parking lots is easy to resist – but the temptation to quit rationalizing and go out and buy that big screen TV you've been wanting, since now you have a vehicle you can take it home in, isn't.
At first glance, the 2011 Odyssey also looks a lot like the old one, but there have been some obvious changes made. The new van has a more hunkered down appearance – with a lower, wider stance – and the rear quarter view reminds me of the Mercedes-Benz R class, which makes at least that angle look less boxy than the average minivan. And a scooped out section behind the sliding side doors, which Honda calls a "lightning-bolt beltline", breaks up the straight lines, making the sides look a tad more interesting while also enhancing third-row passengers' view outward.
The Odyssey is powered by Honda's 3.5 liter i-VTEC V-6 engine with variable cylinder management. It makes about 250 horses and lb.-ft., slightly more than the model it replaces. And as is usual, it's supposed to be more efficient, too.
The transmission on my upper crust cruiser was a six speed automatic with Grade Logic Control and it works very nicely. A five speed is standard on lesser Odysseys.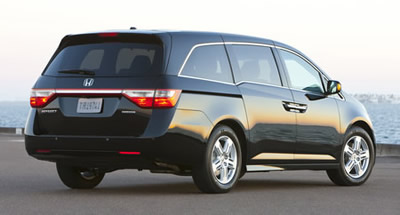 Brakes are discs all around, with four channel ABS, Electronic Brake Distribution (EBD) and Brake Assist. Pedal feel is good, neither mushy nor grabby.
Despite its heft, driving the Odyssey is hardly an ordeal. In fact, it's quite car-like - though that would make for one immense car. But there's little "bus-ness" in the business of driving, thanks to decent handling and power and a very comfortable driving position that includes a ten-way power adjustable and leather covered driver's seat.
Add to that a cornucopia of features. Not only did the Odyssey seat eight of us in more comfort than you might expect (though it's better with only seven, as the third row's a tad tighter than the center one), but it got us to a brunch in a neighboring city without anyone coming to blows, a testament to both its power and its comfort. The LCD screen and DVD player didn't hurt, either.
And while it's great when loaded with people, the Odyssey is even better when you only have four. The second row can be converted into what are basically very nice captain's chairs and, with the third row bench folded into the floor, you have a very comfortable shuttlecraft that still has room for a lot of stuff you may need to carry.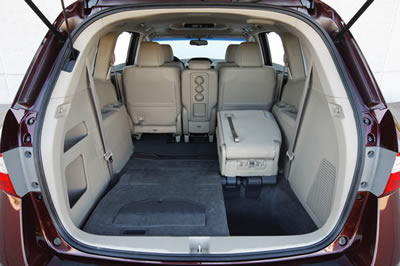 If you do use the third row to put people into Fourth Class, there's better legroom back there now. I submitted to the experience for a while and it was fine riding in Steerage, not that I'm particularly large. Hardly any rats, too.
No wait. That was DiCaprio in "Titanic".
The second row has plenty of elbow room, and you can widen the seats or slide them forward for convenience. This can be particularly handy when the kids get unruly: you can reach back and take whatever kind of action you may find appropriate more easily.
Heck, there's so much room in this thing that Honda says you can put a 4x8 sheet of plywood in it.
Getting in and out of any row is about the easiest I've experienced with a vehicle. And since the center row seats move all over the place, you can create a pretty decent path to the cheap seats.
The second row windows are power operated and open up and down nearly all the way into the doors, with built in sunshades you can deploy manually.
The DVD Ultrawide Rear Entertainment System, which has the capacity to exploit separate audio sources, has a 16.2 inch wide screen hanging from the usual spot on the ceiling, and you can detach its control panel faceplate to use as a remote control.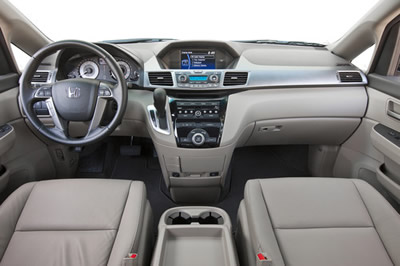 There are two wireless headsets included "with personal surround sound" that's no substitute for a real 5.1 system but which sounds pretty good for a minivan. You can even plug in a video game system or laptop computer, using the rear audio/video inputs that, surprisingly, even include HDMI.  
My well-endowed test unit featured the 650 watt premium audio system, with MP3/Windows Media Audio playback capability and 12 speakers including a subwoofer. It boasts 5.1 surround sound and my sample had the available satellite radio activated, which is always a treat. It all sounds darn good, better than I expected.
Safety features include a blind spot warning and the usual abundance of airbags and seatbelts, including three-row side curtain airbags with rollover sensor. There's also a tire pressure monitoring system that, like the rest of such gadgets, had a conniption when it got really, really cold.
You also get auxiliary power outlets, a bin between the front seats big enough to use as a magazine rack (just what you need for those boring drives!), and a flip-up trash bag ring (not available on the base Odyssey). My Touring tester also sported a navigation system with trilingual voice recognition and a multi-view rear camera with onscreen display guidelines that was kind of neat until it got covered with road filth.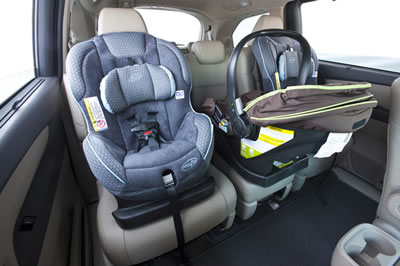 You can save copious coin by opting for a lesser Odyssey, but I must admit to having enjoyed the extra stuff my test unit had almost as much as I appreciated all the extra room a minivan provides.
The 2011 Honda Odyssey goes about its duties very well and would undoubtedly be very easy to live with. It's comfortable, roomy, efficient, and pleasant to drive. In short, it hits the target beautifully.
Oh, oh. That's violent imagery. Guess I'd better head for the reeducation camp…
The Honda Odyssey starts at $27,800 U.S./$29,990 Canadian. The Touring model starts at $40,755 U.S./$46,990 Cdn.
Copyright 2011 Jim Bray
TechnoFile.com