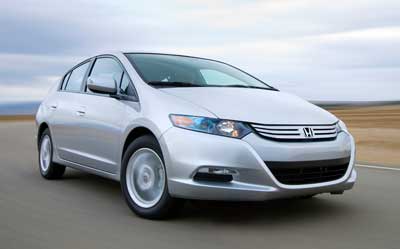 Honda's Insightful New Hybrid
By Jim Bray
June 3, 2009
Maybe it can be thought of as a "Post-Prius".
Honda's brand new Insight is the carmaker's second kick at making a hybrid by that name, but the two Insights are very, very different from each other.
The first Insight was a little two seater with no storage space (no get up and go, either) and which looked a bit like a squashed lady bug. The new one has a definite Prius influence, perhaps so people will know it's a hybrid, unlike Honda's other hybrids (such as the Civic) that look like their gas-only counterparts. It also has some "old Insight" cues, including the taillights and the two section rear window that's nearly horizontal on top and nearly vertical on the bottom.
I got to spend a week and a bit in the new, 2010 Insight, using it for both everyday driving and on a Honda mini-junket driving the vehicle from my home town to a horrid city about three hours away, a trip that focused on the car's greenness and greenness in general. I came away from the experience appreciating this nice little car, but I would never buy one.
The deal breaker for me is the split in the rear window where the mostly horizontal panel joins the mostly vertical one. As with the Pontiac Aztek, and we all know what a design masterpiece that was, they've stuck a thick bar there and in my experience it blocked the view rearward via the rear view mirror, sometimes blocking the view of vehicles behind completely. I can remember one time when all I could see of the person riding my tail was the glow from daytime running lights. It drove me nuts.
The same thing happens with some sporty cars that have outrageous spoilers, and they're deal breakers for me, too. I like being able to see what's behind me, especially if it has flashing lights…
Other than that, I quite liked the Insight, which is cute, nicely tricked out, and efficient.
Honda bills the new Insight as "a more affordable version of the company's gasoline-electric powertrain in a distinctive, engaging and functional 5-door hatchback." The Insight is designed to "better improve the relationship between environmental performance and the traditional cost premium", which means it's envisioned as the "entry level" hybrid, more affordable than the Priuses of the world.
Insight's hybrid technology has evolved since the 2000 Insight's debut, designed to make the technology "more attainable, more engaging and more desirable to a wider audience."
It might just do that, too, if you break off and throw away the inside rear view mirror…
Insight gets its minimal power from a  1.3-litre 4-cylinder i-VTEC engine with Integrated Motor Assist (IMA). Honda rates its output as 98 horses with the integrated electric motor tossing in another 13 horses, and that combined total feels about right. The Insight may beat bicycles off the line, or keep up with other entry level cars, but it isn't going to set the world on fire, let alone light up its own tires.
That isn't the car's mandate, of course. And while the enthusiast may not be too enthusiastic about such performance, it's perfectly fine for real world driving in the city, which is where this car is at its best.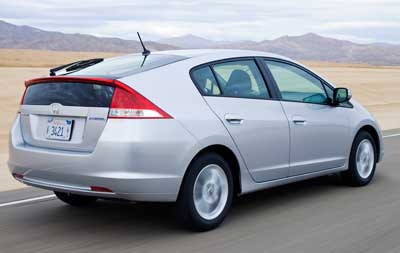 The car's flat underbody and other aerodynamic tweaks help the Insight move with little turbulence, and minimal drag, though it's prone to crosswinds as I discovered on a highway jaunt. Honda says the car's MacPherson strut front suspension and torsion beam rear suspension are tuned "to provide sporty performance" (I'd argue that point) and a comfortable ride (I wouldn't argue that one, other than thin seat cushions), with plenty of room inside.
Low rolling resistance tires help the Insight slide smoothly over the asphalt, which sounds good in theory but which made me fear it would bite me in my rather ample butt when we had a typical Rocky Mountain spring snowstorm. A few inches of the white stuff and low rolling resistance tires becomes the last thing on my list of priorities (well, maybe a convertible top, too).
But I adjusted my driving to suit the conditions, slowing down and throwing the continuously variable transmission into its "pretend manual" mode, and the Insight did just fine. Honda has built a well balanced car and added to it an abundance of safety features that help you keep it on the road.
In good weather driving, the Insight does its job well. The paddle shifters seem a bit silly in a car like this, though they came in handy when it snowed and I wanted more control, and the drive-by-wire throttle, power assisted brakes (disc up front, drums in the rear) with ABS, seating position and instrumentation are all up to snuff.
If the regular gas sipping and low emissions mode is still too much of an environmental rape to you, pushing the ECON button on the dash increases fuel economy by, among other things, using the idle stop feature sooner, operating the HVAC in recirculation mode more while reducing the fan speed, and cutting power and torque by approximately 4 per cent (unless you drive at wide-open-throttle).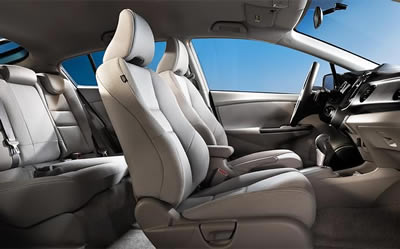 Economy and environmental friendliness were the themes of my Honda trip, which stopped at a couple of houses that are so green and efficient that they can actually sell electricity back to the power grid.
EQuilibrium Health Housing for a healthy environment is a Canadian housing initiative that brings the private and public sectors together to research and develop homes that "address occupant health and comfort, energy efficiency, renewable energy production, resource conversation, reduced environmental impact and affordability", according to the blog the Insight wrote for its Cross-Canada adventure (I bet it was ghost written, though). I got to drive one of the first two Insights registered in the Great White North as they went coast-to-coast with journalists and I taking the wheel for different legs.
Anyway, there are 14 homes across the country so far that are under the EQuilibrium Health Housing umbrella, two of which are in Red Deer, about the halfway point of my leg. One, known as the CHESS project, is built by Laebon Homes. The other is the Avalon Discovery 3, by Avalon Builders. Between them, they use geothermal, solar, energy efficient appliances, and water re-use. They're pretty nice, and quite cool.
The best thing about them to one with a black thumb and an allergy to freshly cut lawn is landscaping that's desert-like, but very attractive, and which requires little maintenance. That's my kind of lawn!
The highway trip showed that the Insight's seats are reasonably comfortable, thank goodness! I thought the driver's seat back was bolstered a little too much, as if a lumbar support were on full, and the padding seems a tad thin, but it was better than sitting in a hammock.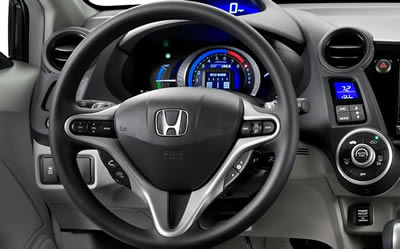 The colored display behind digital speedometer is cute. It changes from green to blue, apparently as the car gauges the greenness quotient of your driving – if you're booting it it's blue but when driving "properly" it's green. It's a very pretty blue and I saw a lot of it…
The instrument panel is high tech-looking, colorful and attractive. It features a multi-information display by which you can monitor your performance. It's almost like having a high tech back seat driver telling you to ease up on the gas.  
Visibililty, other than rearward, is fine. That reminds me of another thing that bugged me about the rear window: the rear wiper/washer only clears the part that's nearly horizontal, a very small area when you're trying to see top to bottom. The vertical part only has the defogger to clear it and when I ran into that snow storm it got covered completely despite the defogger. It was really annoying.
The four speaker, 160-watt AM/FM/CD audio system  has an auxiliary input jack speed-sensitive volume control, text readout and the like.  Its sound quality is adequate. An upgrade can be had that also comes with a USB audio interface.
Honda has mounted the Insight's battery and other components under the rear cargo area, which helps create a roomier interior and facilitates a 60/40 split fold-down rear seat.
There are about a million other storage compartments of varying size, including the usual cup holders and the like.
My Insight was very well equipped, with such niceties as a nav system and Bluetooth, and just about every creature comfort you can think of for a reasonably priced car.
Safety equipment includes dual-stage/dual-threshold front airbags and front-side airbags
with front passenger Occupant Position Detection System, as well as  side curtain airbags front and rear.
Honda estimates a combined fuel economy of 50 U.S. mpg (4.7 l/100 km in my Canadian-spec test units) and a maximum driving range of around 400 miles. I tried to drive the car in the spirit with which it was born, which I thought would kill me, but in the end had a reasonable compromise that brought me an average of 43.6 U.S. mpg (5.4 l/100 km), which is extremely good for me.
The Insight starts at $19,800 U.S./$23,900 Canadian. The more upmarket EX starts at $21,300 U.S./$27,500 Canadian.
The Insight appears to be built with one purpose – saving gas while achieving low emissions. There's nothing wrong with that, and as such the Insight works as advertised. Beyond its efficiency and cleanliness, it's fairly comfortable, comes with plenty of features, and is reasonably pleasant to drive and to ride in.
Just don't look back.
Copyright 2009 Jim Bray
TechnoFile.com