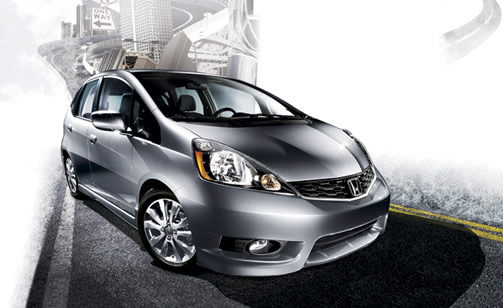 Honda Fit gets "Sport" and updated features for 2012
By Jim Bray
July 12, 2012
Honda's entry level car comes into the 2012 model year mostly unchanged, but that could be due to the fact that it's a terrific little car already.
The Fit reminds me in many ways of that old Honda Civic that invaded North America back in the 1970's. I owned one of those cars; I traded a six month old MGB straight across on it, losing about $1500 in the process, which was a lot of cash in 1976, especially for a young married couple planning to have kids.
As it turned out, however, it was a terrific investment. Had we kept the "B" we wouldn't have had room for the kids, would've been left on the side of the road every time it even threatened to rain, and would've spent a lot more money on gass.
We drove that Civic for 48,000 miles, at which time it was rusting out something awful and at which point it announced in no uncertain terms that it was ready to retire. I loved that car; it was fun to drive, efficient, and just all 'round pleasant to own. Its rusty demise at only 48K kind of colored my feelings for Honda for a while, but that was then and this is now. Today's Honda makes terrific cars, though lately the company seems content to more or less coast rather than innovate like it used to.
I bet that's about to change, however, and look forward to Honda kicking butt again.
Anyway, the Fit reminds me of that old Civic. It has the same fun demeanor, it's definitely a little entry level car, and it shows some pretty nifty thought from the Honda engineers, especially in its terrific rear bench seat.
The Fit was required in Honda's lineup because over the years the Civic, once the entry level Honda, has grown in size and capabilities – like pretty well every other car on the road.
My test car, provided by Honda Canada, was the laughingly named "sport" model, which tops the Fit line. I just don't get why car companies insist on misnaming their vehicles this way. There's nothing particularly sporty about this Fit when it comes to performance, instead you get exterior updates like a new front grille and bumper design, black headlight bezels and a dark "machined surface" for the 16" aluminum-alloy wheels. Where's the turbocharger?
The Fit Sport's interior gets dark metallic dashboard components "for a unified color theme," as well as extra chrome accents around the instruments. It also gets to wear a perforated leather-wrapped steering wheel, upgraded seat fabric and, shared with the Fit LX, Bluetooth HandsFreeLink for your cell phone.
The Sport does include an underbody aero kit and a cute rear roofline spoiler, but I can't rightly say how much performance they add; the car drove pretty much like the last Fit I drove, if I remember correctly (it was a couple of years ago) – not that there's anything wrong with that. Fits drive great!
All Fits have new, console-mounted center beverage holders for 2012, along with console ambient lighting which is said to provide easier access and greater stability. I have no idea what they mean by "greater stability" coming from cup holders and ambient lighting, but I managed not to roll the Fit during my week with it anyway.
Fits also have extra sound insulation in the floor, front fenders and A pillars this year, plus thicker front corner window glass (the little windows between the front windshield and the main side windows), which Honda says help create a quieter, more-refined cabin environment.
The Fit looks like a cheap little car – and it really is – but despite that it's still a great drive, all things considered. Its 1.5 liter, i-VTEC four cylinder engine, Honda says, is "tuned to deliver an engaging combination of power and fuel economy." The engine puts out 117 horsepower at 6,600 rpm and 106 lb.-ft. of torque at 4,800 rpm. You won't beat a lot of Kias or Hyundais off the line, but that isn't the Fit's mandate.
A five speed manual transmission is standard on the Fit and a five speed automatic (with no manual mode) is available. My test car had the slushbox, which was a darn shame. It works fine, but if you want to maximize the driving enjoyment you're better off with the stick.
Honda claims a city/highway fuel economy rating of 7.1/5.4 L/100 km for the automatic, while manual transmission-equipped Fits get 7.1/5.7 L/100 km city/highway.
The Fit's nearly sporty feel is enhanced by a decent suspension, which consists of MacPherson struts up front with a torsion beam rear. Anti-lock brakes (front disc/rear drum) with Electronic Brake Distribution are standard of course, and do a nice job of bringing the car to a stop efficiently.
Honda says the Fit provides the lowest, flattest cargo floor and the most cargo volume in its class when the rear seats are down. It's due to that fantastic "Magic Seat," which has four configurations Honda says are designed to accommodate large objects ranging from mountain bikes to surfboards to tall houseplants.
It's pretty neat. You can lower the seat backs like you can in virtually any other car in this class, but you can also leave the seat backs up and instead raise the bottom cushion to fold up flat against the back, which is how you'd get a bike in there. It took me a couple of minutes to figure out how to raise and lock the seat cushion – because as it turned out, I was over thinking it and once I realized just how simple the process is I felt kind of dumb because it had been staring me in the fact all along.
Not that this hasn't ever happened before…
The Fit's cockpit is typically Honda simple and efficient. Well, typical lower end Honda; the higher end models, including Acuras, have become afflicted with "button-and-knob-itis," but here in the Fit you have only what you need, laid out well and easy to fathom and to use.
The audio system is about what you'd expect, a four speaker 160 watt AM/FM/CD system with USB and auxiliary inputs. It won't set the world on fire, but it works fine.
You also get air conditioning, cruise control, remote entry, power windows, mirrors, door locks and a security system.
According to Honda's websites, Fits start at $14,580 Canadian ($15,325 U.S); the Sport starts at $18,880 ($17,060 U.S.). In all, a pretty good price for what you get.
Copyright 2012 Jim Bray
TechnoFile.com