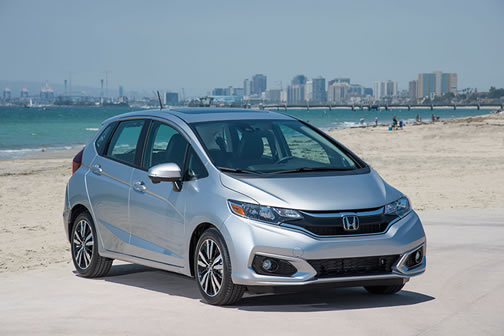 Honda refreshes the Fit for 2018
By Jim Bray
November 16, 2017
Does Honda's mid-cycle refresh of its little Fit mean the car's a little Fitter now?
Indeed. The Fit is a good little car - despite the Honda-isms of the company's current line that continuously drive me crazy - and Honda has indeed made it even better than before. They've even returned the volume control knob to the centre stack, proving that they either do listen to their critics or that they've actually started driving their own products for a change.
Click on the image to open a slideshow.
Once upon a time Honda's entry level vehicle in North America was the Civic, but as that popular and iconic car grew it re-opened the niche it occupied originally, creating room for a newer, smaller model to, well, fit in there.
This growing of segments is, of course, not unique at Honda at all. For example - and this is only one of many such examples - Toyota's smallest offering in North America was the Corolla many years ago, but over time it grew as well, making room for the Tercel (then the Echo and the Yaris). And so the market goes.
So the Honda Fit fits in this "entry level" niche, going against such vehicles as the abovementioned Yaris, as well as the Nissan Versa, Hyundai Accent and the brand new Kia Rio - and more. How does it fit? Quite well.
Honda Canada's sample 2018 Fit wore the LX HS trim level and carried a retail price of $19,890. It's getting hard to find a decent car for under 20 grand these days, so Honda slides in just under that imaginary barrier. For reference, a five door Yaris hatchback LE lists on that company's website at $19,510, the Versa SR is $19,698, the Accent GLS auto is $19,999 and the Rio EX (automatic transmission) is $20,945. So the Fit fits right in there - and as with these competitors you can get into a Fit for a few grand less: Honda says the Fit actually starts at $15,190 CAD.
For 2018, Honda has updated the Fit's styling, added a new Sport trim and also offers Honda Sensing as an option. That's an option I'd eschew, because I get really tired of Hondas yelling at me either verbally or visually. Your mileage, of course, may vary.
The new styling includes a front end that has been given a horizontally-layered, two-piece chrome and piano black grille that features a bigger and more prominent Honda logo. The headlights are integrated more into the front end now, and blend into the side edges of the upper fascia for a more aggressive look - so, I suppose, people will be intimidated when you show up in your mighty Fit. The front bumper now has chrome accents, a full-width splitter, and more angular fog light pods.
Fit's buttocks feature a new bumper that has a full-width "character line" in piano black, along with a splitter-shaped lower section. The taillights have been restyled as well.
The Fit has never been a really cute car, in my opinion (though functionally it's always been a beaut!) and these tweaks aren't particularly revolutionary. But they do make the car a tad less dumpy-looking - and it would have quite a long way to go before it becomes as ugly as the current Civics.
The new Sport trim is positioned between the LX and EX trims, and ups the sportiness ante via aero form features at the front, sides and rear, as well as a bright orange-highlighted front splitter. The 16 inch alloy wheels get an exclusive black finish, while the sportiest Fit's bum gets a three-strake diffuser with a bright orange upper trim line. Topping - or bottoming - it off are a chrome exhaust finisher and Sport badge.
There's also a new colour offered this year: Orange Fury.
You can choose from a six speed manual transmission or the whiny and loud CVT of Honda's sample. That CVT, as most do, sucks a lot of joy out of the driving experience, whereas Honda's manual trannies are usually are delight. Putting the CVT-infected Fit into Sport mode does increase the driving "joy" but it also makes it whine more - as if the car is saying "Do I have to?"
I remember when Hondas responded more with a "Great! I get to do that!" impression when spurred - and I daresay the manual version will probably still do that. So if driving enjoyment is more important to you than fuel saving (remembering that this is first and foremost an economy car anyway), I'd recommend choosing the stick.
If you do opt for the CVT, you'll find the Honda Sensing suite of safety features comes standard. That means you'll get Adaptive Cruise Control (ACC), Collision Mitigation Brake Braking System (a.k.a. a "BRAKE!!!!!!!" warning on the instrument panel), a Lane Keeping Assist System (LKAS) incorporating Lane Departure Warning (LDW) (shut offable, fortunately) and Road Departure Mitigation (RDM) incorporating Road Departure Warning (RDW).  These are some of the things about Hondas that I really hate because even on their most "dangerous" settings (i.e. they cut you the most slack) they're still too much in the driver's face.
Also particularly annoying is the verbal warning to do up your seatbelt. My dear wife likes to undo her belt as we're pulling into a parking space, before the car is stopped completely (I think she's getting ready to jump out and kiss the ground if I'm driving) and despite the fact that her maneuver is completely safe, the car objects and admonishes her. I guess I should be pleased to see her getting yelled at for a change instead of her yelling at me…
Powering the Fit is a 1.5 litre direct-injected four cylinder i-VTEC engine with Variable Cam Timing. It cranks out up to 130 horsepower @ 6,800 rpm and up to 114 lb.-ft. of torque at 4,600 rpm, which is pretty good in this market niche (the Yaris, for example, only boasts 106 horses).
One area in which the Fit excels is in its suspension feel. Honda says the dampers have been retuned for 2018, and the steering system and body have been made more rigid. Honda says the Fit also offers a quieter cabin than before (as long as you ignore the CVT). All these tweaks contribute to a very nice driving experience (as long as you ignore the CVT).
The audio system is pretty good for this level of the marketplace and the return of the volume control knob is very welcome. But just to prove you can never please some people, I still call for the return of a real tuning knob instead of having to futz around with virtual buttons on the LCD screen.
Honda has also made Apple CarPlay and Android Auto available to the Fit.
The driving position is fine, mostly, though I wished the steering wheel would telescope a bit more. The seats are comfortable - and don't forget Honda's cool magic rear seat that can open up enough room for you to store a bicycle - or maybe a body - back there. The front wheel drive Fit's flat floor helps in this regard, too.
The Fit chimes when you open a door - I guess this is in case you're so oblivious that you don't realize you just opened the door - and the sample's HVAC was of the primitive, manual knob type (not unique in this niche), though it worked fine.  
The Honda Fit appears designed to be more utilitarian than fun, and that's fine. And as such, it's a good car that offers a lot of flexibility and safety for a not unreasonable price. I wish Honda would return to its "We make it simple" days in its interfaces and nannies and such, but that ship may have sailed, thanks to technological innovation and competitive pressure.
In the meantime, the Fit is the simplest Honda, and the cheapest, and if you don't mind shifting for yourself it could be quite a bit of fun, too.
Copyright 2017 Jim Bray
TechnoFile.com