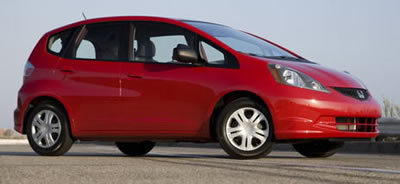 Entry Level Honda a Good Fit
By Jim Bray
March 20, 2009
Newly redesigned for 2009, Honda's entry level Fit is a wonderful little car, an excellent choice for people looking to buy in this market niche.
Time was when the Civic occupied this place in the car world but it has grown in size, price and features over the years until now it can no longer be considered alongside today's entry level competitors such as the Hyundai Accent, Toyota Yaris and the like. Rather, it competes with other "growing concerns" such as the Toyota Corolla, Hyundai Elantra, VW Jetta, etc. Indeed, today's Civic is nearly "Lexus-like" compared to those Civics of old.
I owned one of those early Civics, a 1976 hatchback model I bought new and drove until the wheels fell off it (nearly literally, unfortunately, due to the rust problem they seem to have figured out since then). It was basic transportation for people who only required such from their car and, other than the orange-colored holes that eventually appeared all over it, my family was very happy with the way it served us.
The Fit reminds me a lot of that car, sans oxidation (so far!). Oh sure, it's far more sophisticated than that old Civic hatchback, with equipment and safety features undreamed of then, but it feels the same. It's an unpretentious little car that's happy to serve, flexible, fun to drive, and won't break the bank.
Honda bills this new Fit as "Efficient meets cool. All over again." Seems apt. It also reminds me of Honda's old ad campaign "We Make it Simple," which no longer describes some of its products, such as the current Accord and the new Acuras.
With Fit 2.0, it seems as if they've taken all the great thing about Fit 1.0 and carried them over, while making the car even bigger inside. They've also given it a more powerful 1.5-liter i-VTEC engine with a new exhaust manifold-integrated cylinder head and high temperature catalytic converter. The Fit is still no rocket sled, but the car's 117 horsepower @ 6600 (with 106 lb-ft of torque @ 4800) never left me pining for more.
Or not much, anyway. You can't expect blinding speed and red mist-inducing acceleration from a car in this class and you don't get it from the Fit. Yet I never had trouble getting up to highway speeds or merging onto freeways during my week with the new Fit.
Honda claims the car is EPA rated at 27 mpg city/33 highway for the manual and 28 mpg city /35 mpg highway for the automatic. I didn't track my mileage, but I ended up paying less than $30 to fill it at the end of my week (at approximately $2.70 U.S./gallon), which seemed like a bargain to my lead foot and I.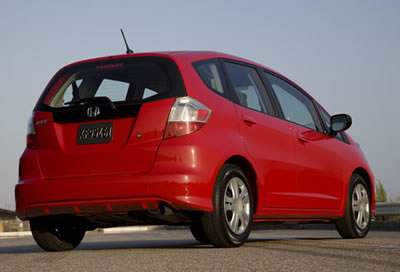 My test unit came with a five speed manual transmission that shifts beautifully (a five speed automatic is available). The shifter feels great in the hand and it snicks from gear to gear solidly. 
The Fit's reflexes are aided by a MacPherson strut front suspension and a Torsion beam rear, and Honda says its suspension geometry has been improved. Again, it's no sports sedan but, if such things are important to you, it manages to have a very good fun to drive quotient. The high-capacity electric power steering feels just right as transmitted via the tilt/telescoping wheel, the power-assisted ventilated front disc/rear drum brakes work just fine (and ABS is standard), and the instrumentation is straightforward and legible.
15 inch wheels are standard for 2009 and the Fit Sport gets 16-inch alloy wheels.
My only complaints about the interior are that the seat cushion is just a bit high on the thighs and can't be adjusted up and down. That, and the fact that the seat fabrics are pet hair magnets. I'd get awfully tired of shaving the seats over and over again.
That's pretty nitpicky, though.
Heck, even the stereo system is better than it has any right to be in a car like this. It won't make your ears bleed, but the standard four speaker 160-Watt AM/FM/CD Audio System (with MP3/Windows Media playback capability) sounds very good and features an auxiliary input jack.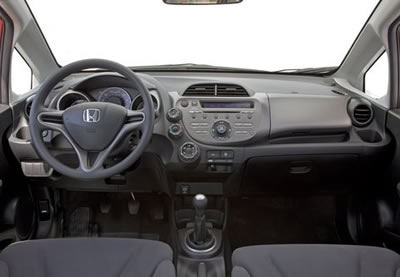 The Sport version gets an extra two speakers.
One of the great old things about the old Fit was its Magic Seat which, besides splitting 60/40 and folding down flat for great storage room, now does it at the flip of a single lever. You can also fold the seat cushion up with one hand (using your other to lock it into place very easily) and thereby create enough space to haul a bicycle, a big plant, or maybe even a reasonably sized flat screen TV.
The greenhouse is terrific. There are little A pillar-type windows that help make a great transition from the steeply-raked windshield to the side windows. Power windows are standard and the driver's will go down and back up with one touch.
Other standard equipment includes air conditioning, power outside mirrors and door locks, a current and average fuel consumption indicator, driver's footrest (always a welcome feature) and driver and front passenger vanity mirrors.
Storage bins and pockets are all over the place, including a couple of neat, if small, cup holders at each outside corner of the dashboard.
Safety features includes what Honda refers to as "Advanced Compatibility Engineering" in the body structure, which includes a "pedestrian injury mitigation design" in front – so presumably you can forget about using the Fit to mow down jaywalkers with abandon. Also standard are dual-stage/dual-threshold front airbags, front-side and side-curtain airbags, three-point seat belts in all positions, driver and front passenger Active Head Restraints and, optional on the Fit Sport, Vehicle Stability Assist.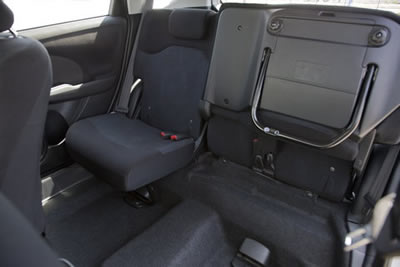 In the three or so years since I drove the original Fit I'd forgotten just what a great little car it is, but it only took a short while for that feeling to come back. This is a car I could live with easily, even though given my druthers I'd rather have something higher end.  
The car's making some fans besides me, too. The Automobile Journalists Association of Canada (AJAC) awarded the new Fit the 2009 Best New Design Award as part of the 2009 Canadian Car of the Year (CCOTY) awards announced at the Canadian International Auto Show in Toronto. The Fit beat out finalists Audi A4, Jaguar XF Supercharged and Volkswagen Passat CC, for its "combination of aesthetics, function, and brand essence".
Notice that all the other finalists were much higher end cars, too!
That's quite an achievement and though I haven't driven the other three cars yet (the CC's on the way, though!), I certainly can't complain about my fellow AJAC members' choice. The Fit is a wonderful little car.
The Honda Fit starts at $14,750 U.S./ $14,980 Canadian. The top line Sport trim level starts at $16,260 U.S./ $19,280 Canadian.
Copyright 2009 Jim Bray