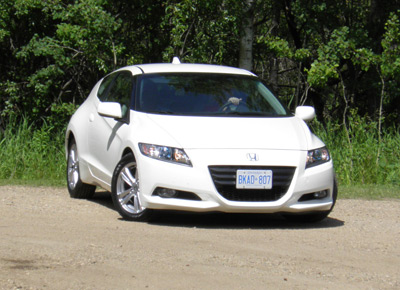 Honda's Hot New Hybrid a Blast from the Past
By Jim Bray
August 21, 2010
Anyone who remembers the Honda CRX fondly will probably find a soft spot in his or her heart for the new CR-Z sport hybrid.
Honda bills the CR-Z as "the world's first sport hybrid" but, first or not, what really matters is that this is a nifty little car, cute as a bug's ear, fun and efficient – and priced reasonably to boot.
For what more could anyone ask?
Honda invited a gaggle of writers including me to a special introduction of the car in Edmonton, Alberta, timed to coincide with the Honda Indy Edmonton, which made for a wonderful and exciting long weekend. Before hanging out at the race, we were given the opportunity to drive the CR-Z on a variety of roads and even on a large karting track they'd taken over for the purpose.
The CR-Z is kind of the spiritual successor to the old CRX. That car was "a rocket" according to the late Burgess Meredith when he was the voice of Honda. It wasn't really a rocket, but it was a pretty hot little car that was fun to drive and economical to own.
Honda appears to be trying to bring that kind of experience back with this new hybrid and, though you may not think immediately of a hybrid when you're talking about fun to drive, Honda has done a really nice job of it. The CR-Z is definitely entertaining, and the hybrid technology acts to give its relatively ordinary oomph a couple of ticks up on the fun-o-meter.
The CR-Z, Honda says, represents the latest expression of the "Honda Spirit" which has been based since the company's inception on the three pillars of "environment," "technology" and "motorsport".
Honda's motorsports credentials need no explaining, from its success in Formula 1 beginning in the 1960's to its current role as engine supplier to IndyCar and much else in between. But some may forget that Honda has been pushing the other two pillars successfully as well. Heck, I remember the old CVCC engines of the 1970's, which were economical, very low emission power plants for their day – and it was Honda who introduced the first production hybrid car to the marketplace – the Insight.
Honda also introduced Super Handling-All Wheel Drive, which not only distributes torque between front and rear wheels but which will also send extra torque to whichever rear wheel needs it at a particular moment. And they pioneered VTEC, variable valve timing technology that's now common throughout the industry in a variety of versions.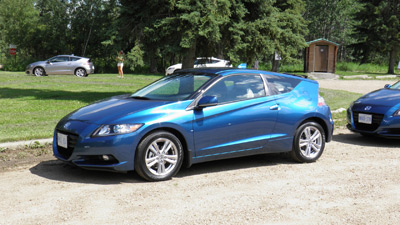 The CR-Z is aimed at loyalists and enthusiasts alike, and Honda expects there'll be a tuner market for the little critter as well. They're probably right.
The CR-Z gets its gas-powered oats from a 1.5 liter SOHC 16-valve i-VTEC four cylinder engine. Its electrical oomph is due to a 10 kilowatt Integrated Motor Assist (IMA) system designed to give that extra kick – kind of like using a little, lag-less turbocharger – while keeping the car a gas sipper.
Total combined horsepower is rated at 122 @ 6000 rpm, with 128 lb.-ft. of torque from 1000 - 1750 rpm for the manual transmission version (or 123 lb.-ft. between 1000 - 2000 rpm for the optional CVT). Honda estimates the manual will get 44.4 miles per U.S. gallon (5.3 l/100 km), while the CVT will achieve 39.2 (6.0 l/100 km). Naturally, if you drive the car in the sporty manner to which it aspires you won't get that, but you'll probably have a lot of fun not caring.
CR-Z's are slung via a MacPherson strut suspension with aluminum control arms up front and a rear H-shaped torsion beam with trailing arms. All models come with 16 x 6-inch aluminum wheels wearing P195/55R16 86V rubber. 17 x 7-inch alloys with P205/45R17 84V tires are optional. You also get four wheel disc brakes, with a very good pedal feel, and since the car's a hybrid they also cause the car to start charging its battery while you're slowing down.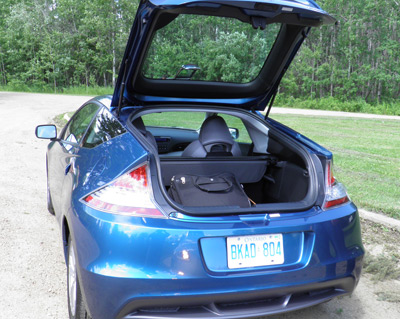 Honda describes the car's cute curves as a "one-motion wedge" designed to help improve performance and reduce greenhouse gas emissions. It's very aerodynamic-looking, with a sloped front, raked roofline and sharply truncated tail kind of like that of – though better than - the Insight's. It's even reminiscent of the old CRX, which is probably no coincidence.
I really like how the car looks. That comes as a relief, because I was starting to wonder if Honda's designers had gone on strike or something. The current Accord is the ugly stepsister of the lineup, while the new TL's exterior also leaves plenty to be desired. Those are the worst offenders in an increasingly "stylistically-challenged" lineup - but the CR-Z is sporty and cute without being awkward and comes across just as it's meant to: as unpretentious, high tech fun.
We drove the CR-Z's on a route Honda chose that took us over single and multi-lane rural highways, urban roads and, because the CR-Z's three driving modes include "Sport", to some lap time on the karting track that was great fun.
The different driving modes tailor the throttle response, steering and IMA assistance to the situation at hand. "Normal" and "Econ" are self explanatory: "Normal" feels pretty ordinary while "Econ" sucks all the joy out of the drive, the payback being the gas stations by which you'll be able to drive, thumbing your nose. I'd probably keep it in "Sport" all the time; it tightens and sparkles the car up appreciably, bringing more "joie de conduire" than I'd expected, considering the car's mixed missions.
Heck, we had those suckers screaming around the karting road course in a way you probably wouldn't normally associate with a hybrid and wouldn't ever drive the CR-Z, the only noticeable difference between lapping with them and with a conventional car being that we had to make sure the battery pack was recharged before we took off for each successive session. It was a most happy experience!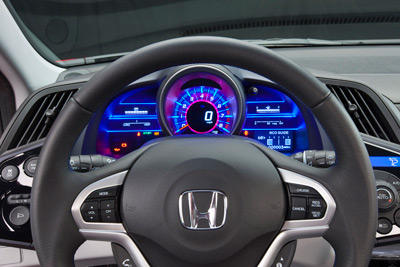 The cockpit is driver focused, which is always a good thing, sporting sport seats and some neat 3-D(ish) instrumentation. The upper part of the dashboard has a kind of "floating" appearance over the lower section, and everything is placed where it's easy to see and/or reach without losing concentration on the road, assuming the nifty light show on the panel doesn't grab your attention too much.
Speaking of the light show, the instruments have a real high tech look: the inner ring of the tachometer lights up in red when you're in Sport mode. In Econ mode, it changes between blue and green, green indicating that you're achieving the most efficient driving.
You'd think they'd run those colors the opposite way: Green, for "GO!", for Sport mode and Red, for "Don't GO!", for Econ, but apparently not.
The "Green"house – the view outside via the windows – is pretty good. I am still not a big fan of the split rear window this car and some other Honda products have, but the bar across your rear line of sight seems less annoying in the CR-Z than it has been elsewhere. Or maybe I'm just getting used to it.
CR-Z also comes standard with power windows and locks, and keyless entry. I didn't really get a chance to play with the 360-watt audio system (with steering wheel-integrated audio controls), the Bluetooth HandsFreeLink, and other tools/toys that, if they're as good as Honda's typical fare, will be fine. North American CR-Z's are equipped with a rear cargo console directly behind the seats, like you'd see in an old MGB or Datsun 240Z, among others. It's big enough to accommodate stuff like briefcases, laptops or gym bags.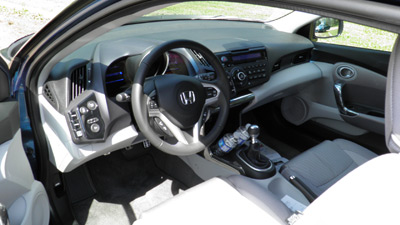 Naturally, Honda stuffs in as many safety technologies as they can, including dual-stage, multiple-threshold front airbags, front-side airbags, side-curtain airbags, active head restraints. There's also stability control, ABS, a tire pressure monitoring system and a "pedestrian injury mitigation design" for the front, which we didn't actually try out but which I imagine works kind of like a cowcatcher.
The CR-Z debuted in early August, so it's too early to tell how it's being accepted by the public. I hope it does well; I have no dog in the hybrid hunt – though I'm inclined to abhor them just because it's politically incorrect to do so – but they're a legitimate concept whether you want to save gas or just go faster more economically. And I like a car that offers a good fun to drive quotient without costing an arm and a leg – cars such as the Mazda3 or VW Golf. I expect the CR-Z will fit that bill nicely as well.
In short – well, maybe it's too late to say that in a 1500 word piece – the CR-Z does appear to hit Honda's target of offering a fun and sporty hybrid that won't break the bank. And at estimated starting prices of $19,200 U.S./$24,490 Canadian for the version with the manual transmission, it seems like a pretty good deal.
Copyright 2010 Jim Bray
TechnoFile.com