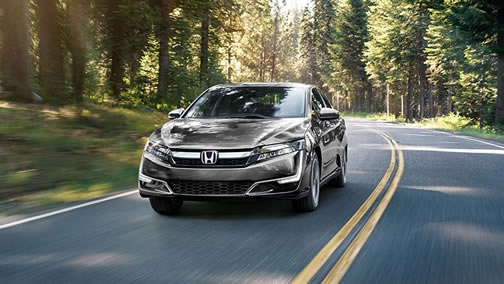 Honda brings Clarity to the plug-in hybrid market
By Jim Bray
March 29, 2018

It's loud. It's whiny. Its interfaces are incoherent. But it'll help you save the world, and you might be able to make other people help you pay for it!

It's Honda's new Clarity, in this case a plug-in hybrid model. Honda calls it the newest member of their "completely redesigned lineup," even though it sports exactly the same dashboard abomination – as in no knobs for tuning the stereo or tuning the volume up or down - that the company is finally moving away from with its new Accord and other models.

Click on the image to open a slideshow.

Claritys (Clarities?) start at a Canadian MSRP of $39,900 and if you want to step up to the top line version – the Touring trim level – it'll cost you and/or your peers $43,900 (your peers, according to Honda, thanks to "up to $13,000 of government incentives"). For that price you'll get what Honda says is "a big step forward for the company's electrified fleet, entering the Canadian market with the best overall combined range and interior volume in its class."

Honda wants you to focus on three major things about the Clarity. First is its fuel economy, which the company claims is a combined rating of 2.1 Le/100km and an all-electric range of up to 76 km, depending on extenuating conditions such as outside temperature, hilliness, etc.  The "Le" designation, Honda says on their Canadian website, is to help compare the efficiency of vehicles that use electricity. "Electrical energy consumption is converted…into gasoline litres equivalent per 100 kilometres (Le/100 km). One litre of gasoline contains the energy equivalent to 8.9 kilowatt hours of electricity."

How's that for clarity?

Thanks to the plug-in hybrid aspect of the car (if you remember to plug it in), you can supposedly spend most of your daily commute using only electric power, the gasoline engine waiting patiently for such times as you need extra range, such as on a weekend excursion to the country. 

The "electromotive power" comes from a 181 horsepower electric motor that produces 232 lb.-ft. of delicious torque and which is claimed to feature a recharge time of a mere 2.5 hours using a 240 volt system (otherwise, if you plug it into your regular house power it's more like an overnight proposition). Between the electricity and the 1.5 litre gas engine, Honda says, the Clarity plug-in has a total system output of 212 horsepower. That's not bad.

The oomph is more than adequate, and I've learned to love the instant torque you get from electricity.

The Clarity Plug-In operates in three different driving modes: EV Drive (the Clarity operates like an all-electric vehicle – the gas engine is off and is decoupled from the drivetrain to reduce friction). Hybrid Drive makes the Clarity function like a series hybrid, in which motive power comes from the electric traction motor while the gasoline engine and generator motor produce electricity that goes directly to the traction motor or to the battery pack, "depending on the driving situation and the battery's state of charge."

The third mode, Engine Drive, is engaged typically when cruising at medium to high speeds and sees the Clarity function as a parallel hybrid. This is the driving mode in which you definitely won't risk getting your doors blown off by pedestrians. 

There are also three driver-selectable operating modes – Normal, Econ and Sport – that let you customize the driving experience, such as it is, focusing on efficiency or performance. Sport, obviously, is the most interesting, but it's also the noisiest, thanks to the moaning thrumming of that transmission.

The second "talking point" about the Clarity is its comfort and technology. The front drive, five seat sedan features soft touch materials, leather seats and a premium yet futuristic interior (as long as you ignore the backward-looking LCD/interface). Honda says its intelligent interior design creates the most spacious interior in its class. And it is, indeed roomy.

Alas, while Honda Canada's tester was the top line Touring model, it didn't even offer a powered driver's seat, let alone with memory, and I found the manually operated seat couldn't let me find the perfect driving position and ended up feeling a tad like I was sitting on a stool.

Clarity does come with standard features such as Apple CarPlay and Android Auto, a particularly annoying but typically Honda eight-inch LCD display on the centre stack, HondaLink mobile apps, Honda Sensing's suite of safety technology including a rear-view camera. It didn't come with rear cross traffic alert or parking sensors, though.

It also comes with Honda's Lanewatch, which uses a camera mounted on the right outside mirror to give you the look down the side of the car via the LCD screen. I find this feature very disconcerting because it grabs my attention and focuses it onto the LCD rather than the road (or mirrors); others to whom I've shown the feature think it's great, though.

A nifty piece of technology the Clarity does come with, however, is a neat windshield washing system that eschews spray nozzles on the hood, the fluid instead appearing to ooze right from the windshield wiper blade itself as it sweeps across the windshield. It's pretty cool and it works well. It took me by surprise; I thought when I initially fired up the washers that the car was out of fluid, but be darned if it didn't get clean anyway!

Honda says this system also saves the amount of fluid you'll use, which surely comes in handy this time of year as the snow melts.

The Clarity's exterior gets LED lighting front and rear.

Honda's third talking point is "No Compromises." "Clarity Plug-In Hybrid is a vehicle (that) meets the needs of Canadian buyers because it requires no compromise in driving behaviour or lifestyle," Honda says. "That means no compromise in range or refueling time. No compromise for cabin space or cargo. No compromise in feature content. And no compromise in flat out driving enjoyment."

Okay, I can only take so many whoppers at one time and that "no compromise in flat out driving enjoyment" was the limit. I have yet to experience flat out driving enjoyment from a car that has been inflicted with a continuously variable transmission. And the one in the Clarity is typically noisy and whiny, groaning like I do first thing in the morning when I see my reflection in the mirror - and the "elastic band" feel, while not as bad here as in some CVT's I've driven, does nothing to up the fun ante.

You do get paddles, but they don't work like real paddle shifters. Instead, Honda calls them "deceleration paddles" and that are more for controlling the regenerative braking system's settings than to pretend you're really shifting. So there's no manual mode at all, really.

Whining notwithstanding, I liked the Clarity's suspension (struts up front, with a multilink bum), which toes the line between snoring and soaring quite well; it's not tight enough to be jarring, but neither does it come anywhere close to wallowing. Steering feel is also good, as is braking.

The sedan's hatchback-like buttocks reminded me of the Accord Crosstour (not a happy memory) and its gently sloping top section really could use a wiper, but rear visibility is good except for the big horizontal bar that separates the upper and lower parts of the rear window. Further hamstringing the aesthetic appeal is a flank that looks as if Honda took the worst elements of the original Insight hybrid (which looked like a squashed bug), then stretched them and grafted them onto the Clarity. At least you won't mistake it for an Accord.

As is typical of the past few years' Hondas, I had the dickens of a time pairing my cell phone to the Clarity, and even once I'd done it the car refused to stream from my phone, even though it indicated all was well. The phone aspect worked fine, however, once the car deigned to pair to it.

Upping Honda's recent interior annoyance ante are USB ports mounted, supposedly handily, below the centre console - but mounted on the back of the open storage space there, so they face forward, which makes it a real pain trying to slide a USB drive into them. Do Honda designers ever drive their cars?

The trunk is of a decent size, and you can split/fold the rear seats for more storage. There's also a tire repair kit in the trunk, as well as the charging cable.

I really don't get the Clarity. Honda's newest eco-warrior doesn't even embrace the company's newest interface (The new Accord, on the other hand, is a big step forward in livability from most other current Hondas, including the Clarity), and it piles on the eco tech at the expense of driving enjoyment.

Something tells me I'm not the target market here…

I will admit that in my week being enlightened by the Clarity I didn't use a lot of gas, and I drove it mostly as I'd drive any other car (which, means aggressively, when I wasn't messing with the many modes) and it only cost me $15 Canadian to fill it (at $121.9/litre). This came in particular handy that week because gas prices had shot up by a dime a litre during my moments of Clarity.

But 40 grand or more for a supposedly high-tech car that doesn't even offer powered seats, a heated steering wheel, and parking sensors in 2018? I don't think I could ask my neighbours to help pay for it with a straight face.

But at least you can feel good about saving the world.

Copyright 2018 Jim Bray
TechnoFile.com




Jim Bray is a member of the Automobile Journalists Association of Canada. His columns are available through the TechnoFile Syndicate.