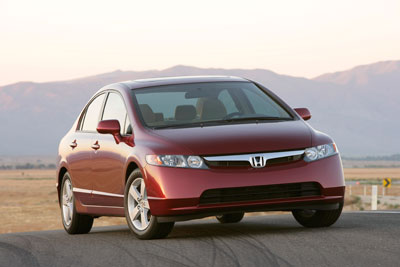 Honda Civic, Toyota Corolla Still Good Choices for Economy Cars
By Jim Bray
October 14, 2009
I'd forgotten just what great little cars the Honda Civic and Toyota Corolla are.
What used to be both companies' entry level – and bread and butter – vehicles have grown up over the decades, getting bigger in every way and far more sophisticated. And that isn't a bad thing; technology advances. One thing that hasn't changed, however, is that endearing simplicity and ease of use that Honda once used in its commercials: "We Make It Simple".
Both companies still do, at least in the lower end of the marketplace. And that's great!
Now, by simple I don't mean technologically atavistic, just straightforward – these cars have lots of the safety equipment you'd expect these days, as well as sophisticated underpinnings. They just don't beat you over the head with it. And in a day in which cars are getting increasingly complex to use, it's refreshing.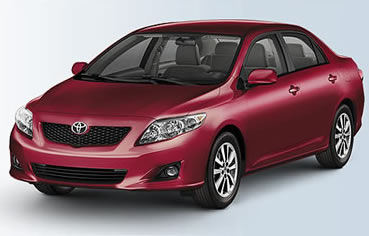 Corolla and Civic go head to head with each other in the marketplace, and I got to drive them nearly back to back, a nice chance to compare these two excellent, but very different, cars.
My review Civic was your pretty basic four door sedan, and that's okay. It's a fine vehicle and though this particular generation must be getting close to the end of its life, Honda has still managed a couple of tweaks for 2009, including a redesigned grille and a new, optional spoiler. Basically, however, it's the same eighth generation Civic that, according (no pun intended) to Honda, was recognized upon its introduction as the North American International Auto Show Car of the Year, the Motor Trend Car of the Year and the Automotive Journalists Association of Canada Car of the Year.  
The tenth generation Corolla is no slouch for awards, either, one of its most recent coming when the Automobile Journalists Association of Canada named it the 2009 Best New Small Car under $18,000. My review unit was the LE trim level, more than basic but not top-of-the-line.
Both sedans are conventional front wheel drive, four door cars. The Civic is powered by a terrific 1.8 liter, 16 valve, SOHC, i-VTEC four cylinder engine that puts out 140 horsepower @ 6300 rpm and 128 lb.-ft. of torque @ 4300 rpm. This is more than adequate to propel the car to highway speeds, though you won't win many drag races. But that, of course, is not what the Civic is about.
Ditto with the Corolla. Its 1.8 liter four banger also features variable valve timing and all that good stuff, and Toyota rates its output as 132 horses @ 6000 rpm and 128 lb.ft.of torque @ 4400 rpm. Pretty close, though if you're looking for a "driver's car" from either of these vehicles you may find the Civic a little more fun.
You can order your Civic or your Corolla with a five speed manual transmission, depending on the trim level, and that's what my Civic had. You can also get it with a five speed automatic transmission with Grade Logic Control and lockup torque converter. I was surprised to find the Civic's stick didn't shift as slickly as I remembered it from my last drive, but it wasn't a big deal – and the clutch is nice and light, with a good feel.
Corollas, except for my LE trim model, come standard with a five speed manual transmission. My test car had the four speed electronically controlled automatic transmission, which does about as good a job as you can expect from such units. Shifts are smooth, but the automatic takes some fun out of the equation, especially when (such as with this unit) there's no manual mode.
The top line Corolla, however, is available with a five speed automatic that includes a manual mode.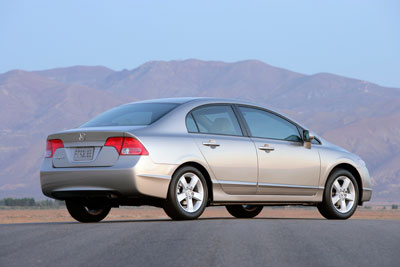 The brakes of both the Civic and the Corolla are front discs and rear drums as standard equipment, with discs all around available, and both cars feature ABS on all four wheels, with the usual other brake nannies thrown in as well. The pedal feel on both cars is fine and they stop well. Call it a tie.
Steering is power-assisted rack and pinion on both vehicles. Civic's suspension features a MacPherson strut setup in the front with a reactive-link double-wishbone rear, with stabilizer bars at both ends, while the Corolla boasts MacPherson Struts up front with a torsion beam type bum (and stabilizer bars). Both cars handle nicely – not sports car rough and tight but, especially for the Civic, catlike enough for most needs. Neither car handles like a Boxster, let alone a Mazda 3, but I'd have to give an edge to the Civic in the fun to drive department.
Either car will hold four comfortably. The driver's seats are quite comfortable and support you well in corners. I liked the Civic's driving position better than the Corolla's, the latter of which wasn't helped by a tilt/telescoping steering wheel that just wouldn't tilt/telescope quite far enough for my liking.
Lower trim level Civics only get a fold down rear seat, whereas the higher end ones get a 60/40 split fold-down rear seatback. It seems a bit strange not to offer a split/fold seat on the entry level Civics, but Honda never asked my opinion. All Corollas come with a split/fold seat.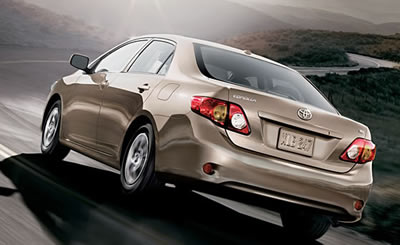 Neither the Civic's nor the Corolla's seat fabrics were outrageously attractive to any pet hair that may have found its way into the car on our clothes. The Civic's seats were the worse hair magnets of the two – but not nearly as bad as some cars I've tested.
Civic's double decker dashboard has elicited bravos and brickbats and while I didn't think much of it initially it actually works quite well. The top level, right below the steeply-raked windshield, displays a digital speedometer, your fuel level and the temperature gauge and the way it's mounted, almost at eye level, makes it work kind of like a head's up display without projecting it onto the windshield.
And speaking of that sloping windshield, the wipers do an excellent job of cleaning it, thanks to a wide and strong spray from the washer units. Base Civics get 2-speed intermittent windshield wipers, while the higher models add variable intermittent settings.
The Corolla's interior is much more conventional, with a conservative but attractive and efficient set of instruments. My test unit featured a "wood-grain-style interior trim" (I think that means it was fake wood – kind of like when you order "Golden Topping" in a movie theater you ain't getting butter) – that seemed out of place in an economy car.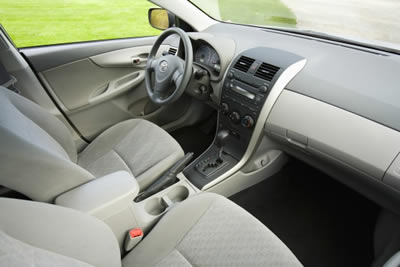 Both cars come with power windows, and you can get an auto-up/down feature on the driver's window. They have decent HVAC systems, too, and you can get automatic climate control if you want it.
One thing I really liked about the Corolla was its smart key/pushbutton start, which lets you leave the key fob in your pocket or purse. It was an unexpected bonus.
Neither stereo is going to win an award, but they're about what you'd expect. The standard equipment systems are okay, and you can upgrade them via option packages if you want something a little more ear pleasing. Neither of my test units had steering wheel-mounted audio controls, but they're available. I noticed that the reach to the controls on the center stack was longer in the Corolla, but it wasn't a big deal.
Both trunks are plenty big enough, as are the glove compartments, and both cars spread around a good assortment of bins and cup holders.
Safety equipment includes front airbags, front side airbags and side curtain airbags and all seating positions get three point seatbelts.
The Toyota Corolla and the Honda Civic have both come a long way. I owned a new 1976 Civic and I've had two Corollas since the 1980's. At their core, they're still the same basic transportation they were then.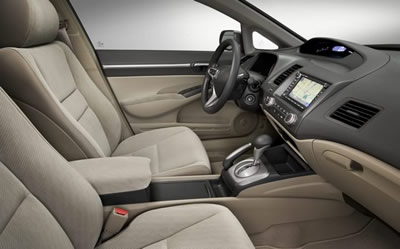 Technology, and free market competition have definitely marched on, as the current models reflect, but that's a good thing, and today's Civic and Corolla are both nice sets of wheels that perform well and should be very easy to live with. They'll probably run forever, too.
The Honda Civic sedan starts at $15,505 U.S./$16,990 Canadian. The Toyota Corolla starts at $15,350 U.S./$15,250 Canadian according to their respective websites.
It's hard to go wrong with either of these vehicles. My "heart" is probably with the Corolla, but it's a little stodgy next to the Civic, and not quite as much fun to drive – so my "head" leans toward the Civic.
Tough decision.
Copyright 2009 Jim Bray
TechnoFile.com