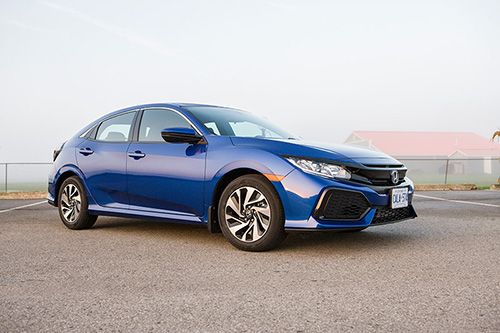 Honda adds an ugly but kind of fun hatchback to its Civic line
By Jim Bray
March 9, 2017
You could look at it as a return to form, an extra reason to give Honda's classic Civic a look if you're in the market for a mainstream car. And it is, somewhat, because Honda offered hatchback Civics in Canada for many years.
Click on the image to open a slideshow.
Alas, this isn't Civics of old and, as great as it is in so many ways, it's still a current Honda and that means it may drive you nuts as you drive.
Full disclosure: I once owned a Honda Civic hatchback, a silver 1976 model I adored and drove happily for three years, at which time it was pretty well rusted out and went from being wonderfully dependable to woefully undependable. But those were a great three years of cheap and fun driving.
I traded straight across a six month old 1975.5 MGB (which sold for appreciably more than the Civic and which kept leaving me on the side of the road) moving in the process to something that would hold the family we were planning to build at the time. And even though I only got three years out of that Civic before it informed me non-verbally that it was retiring, I never questioned that swap.
That was then, of course, and this is now, and the days of Hondas - and other Japanese cars - rusting out from underneath you are long gone, mostly. But that Civic - along with cars like the Datsun 510, Toyota Corolla and the like - was part of the reason the Japanese companies put the boots to the Big Three domestic makers back then, with affordable and reliable vehicles that undercut their North American competition.
Plenty of Honda Civics - and other Hondas that didn't even exist back then (CR-V, or Acura, anyone?) - have come along since then and though I didn't drive any of them until I started reviewing cars around Y2K, I always looked upon the brand fondly, especially since family members had owned more recent Hondas and Acuras and loved them uniformly.
But there's something awry about today's Honda and it really has me scratching my head. Civics have always been cute, or at least inoffensive, but this current (tenth) generation - which includes sedan and coupe versions as well as this new hatch - is bloody ugly. And frustrating. Now, I realize that beauty is in the eye of the beer holder, and Honda is only one of the Japanese carmakers currently over styling their vehicles (some Lexus and Nissan models come to mind as well), but the new Civics are full of creases and bulges that look almost as if it were designed by a committee of people who never spoke to each other.
The interiors are much better, but even here Honda has gone from offering vehicles that almost seemed psychic in their usability to ones that are so frustrating they'd keep me out of the dealership until Honda comes to its senses. I'm talking mostly about the centre stack and its LCD, including the lack of conventional knobs for the audio system. Individually, these are small things that may seem insignificant, but which cumulatively would be a deal breaker for me.
And yet the Civic won the honour as Canadian Car of the Year for 2016 after the Automobile Journalists of Canada's TestFest in October of 2015.
Fortunately, Honda seems to be listening at least a bit, because the brand new CR-V has a volume knob again, though there still isn't a radio tuning knob and that means you have to futz around with virtual buttons on the LCD.
This is yet to be the case with the Civic, alas. Yet, there's so much to like here!
I loved the Civic Hatchback's suspension, I loved its turbo four, I loved its driving feel - or I would have if Honda Canada's sample weren't saddled with a continuously variable transmission. Fortunately, you can order your Civic hatchback with a six speed manual transmission; I haven't driven that version, but Honda's manuals are usually wonderful things. Put the stick in this and I might be able to overlook the other stuff that really rubbed me the wrong way.
Nah. But it would sure help!
The Civic Hatchback, which can be had in LX, Sport and Sport Touring trims, only offers one engine choice, but it's delightful, and it has two personalities. The 1.5-liter DOHC direct-injected turbocharged in-line four cylinder power plant has a peak output of 174 horsepower and 162 lb.-ft. of torque (in the base LX trim, with CVT) and an even more interesting 180 horsepower and 162 lb.-ft. of torque in the Sport and (all-new) Sport Touring model, with the CVT. The manual transmission, as a bonus, will up that ante a bit, too.
There's a tad of turbo lag but not much; the car always feels rarin' to go, and go it does - with abandon. Handling is just how it should be, tight and confident, and that lovely suspension feels right at home toeing the sport/comfort line a little more toward the sport side than I expected. Yes it's tight, but it's never jarring and helps impart a feeling that the car really wants to play. Even with the CVT!
The company says the Civic also features a more rigid and lightweight body and a sophisticated chassis design that features a fully independent suspension with liquid filled bushings at both ends. The power steering is tuned for sporty driving (and, yes, I loved it) and the disc brakes on all four corners work great, with wonderful pedal feel and, of course, stuff like ABS, Electronic Brake Distribution and Hill Start Assist.
The hatch, which is available only with "five doors" (four and the hatch - my old Civic was a "three door"), opens up nice and high and is easy to manipulate even if you're challenged vertically.  
Inside, the hatchback is pretty much the sedan or coupe, and other than the centre stack debacle there's nothing wrong with that. It's attractive, with good material quality, and Honda says it has more room inside it for people and cargo (and rear seat legroom) than the rest of the class.
Honda says the car has CarPlay and Android Auto capability, but as is customary with recent Hondas it really, really didn't like my Android phone. I'm used to the Bluetooth pairing process of today's Hondas being a major pain - I usually have to try pairing then, when it fails, use the backup method Honda offers that works fine (so why not just start with that one, Honda?), and that's what I had to do with the Civic hatchback. Once it was paired it worked fine for phone calls, but during my time with the car it only streamed media correctly once; the rest of the time it would stream dribbles and drabs of the content, but it was an unlistenable waste of time. In 2017.
Standard across the line are heated front seats and side mirrors. You can also order your Hatch with power seats up front, and remote engine start - and more. Honda's sample had manual seats and they were fine - and very comfortable and supportive when the driving got interesting.
Optional, though standard on the Sport Touring trim level, is the Honda Sensing suite of safety and "driver-assistive" technologies such as Collision Mitigation Braking System, Forward Collision Warning, Lane Keeping Assist, Road Departure Mitigation, Lane Departure Warning and Adaptive Cruise Control.
According (no pun intended) to Honda's Canadian website, the LX trim level starts at $23,390 CAD (the sedan starts at $16,390 by the way). The top, Sport Touring level starts at $29,390 and of course you can add options along the way.
Once again I find myself of two minds about a current Honda. I love the way they drive and I love most of the things about them And as a fan of wagons (full disclosure: I own a wagon), I love the hatchback. But the stuff that rubs me the wrong way really, really rubs me the wrong way.
Yet the Civic in its various forms continues to be a huge seller in Canada, so perhaps my angst isn't shared widely across the true north strong and relatively free. This wouldn't be the first time...
Guess that means I should put my political aspirations on hold for a while.
Copyright 2017 Jim Bray
TechnoFile.com