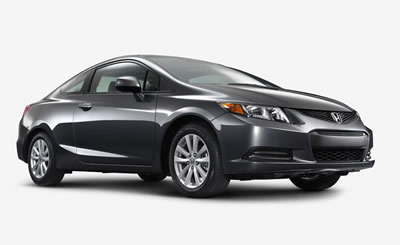 Honda Civic Coupe – Manual Dexterity
By Jim Bray
October 8, 2011
The 2012 Honda Civic Coupe is a great little car, comfortable, efficient and will undoubtedly be long serving for its owners. It also shows how much difference a manual transmission can make if you value a "fun to drive" factor.
I drove the new Civic sedan a few weeks prior to my session with the coupe and, while I liked the car a lot, I didn't like it nearly as much as I liked this coupe version, despite my preference for four doors. The basic difference between the two – besides the door count – was that the sedan was an automatic whilst the coupe was a manual. The manual-equipped coupe changed the way I think about the new Civic – which had been that it was kind of a nicer-to-drive Corolla – and reminded me of all the things I've loved about Civics past, right back to the 1976 two door I owned new. It made that big a difference.  
The Civic coupe has a 50 mm shorter wheelbase than the sedan, too, and that helps gives it a more sporty character, even though both versions share "Nearly identical chassis construction," according to Honda.
The coupe is nicer looking, too, with a more sporting mien that's cute as a bug's ear. It differs from the sedan via a different fascia and a mesh grille up front and a more "fastback-like" rear roofline flowing smoothly into the trunk.  The EX trim level even has a little spoiler integrated into its bum that might help with fuel efficiency while giving the coupe's hindquarters a nifty, sporty appearance.
Civics, other than the hotter Si model, share a 1.8 liter in-line four cylinder engine with a 16-valve i-VTEC valvetrain and dual-stage intake manifold. This engine produces 140 horsepower at 6500 rpm and 128 lb.-ft. of torque at 4300 rpm, which is adequate.
As with the sedan, the coupe features Honda's "Advanced Compatibility Engineering"  (ACE) body structure, which is designed to be "frontal collision friendly" and includes standard side curtain airbags, driver and front passenger side airbags, stability control and anti-lock brakes. My sample EX trim level coupe had discs all around; the base models have drums (with ABS) on the rear wheels, in case you want to "snare" a less expensive Civic.
The EX trim level also featured 16 inch aluminum alloy wheels, as opposed to the base models' 15 inch steel ones, and it adds a power-operated, one touch open/close moonroof to the mix, which is always a treat.
Honda Canada says all 2012 Civics come with multi-reflector halogen headlights; the EX-L, Hybrid and Si models also feature auto on/off, which in my never humble opinion should be standard on all cars whose owners live under regimes that have mandated daytime running lights.
Bluetooth is standard equipment on the coupe EX (with a very easy pairing process), as are such conveniences as power windows with auto-up/down driver's window, power auto-lock door locks, cruise control and illuminated steering wheel-mounted controls.
The EX coupe's pretty nifty handling comes from the Civics' basic MacPherson strut front/multi-link rear suspension (with stabilizer bars fore and aft) and the standard motion-adaptive electric power-assisted rack-and-pinion steering (EPS) imparts a good feel. The suspension treads the line between comfort and "whee!" nicely, neither sloppy nor jarring.
Inside, the coupe is pretty much the same as the sedan, and that isn't a bad thing if you like the two-tiered instrument panel concept Honda introduced with the last generation Civic. It puts a digital speedometer up top – now accompanied by the new i-MID "Intelligent Multi-Information Display", which can display a variety of audio, trip computer, maintenance, fuel-economy, and other information on its five inch color LCD.
As with the sedan, the 2012 Civic coupe also comes with an Eco Assist display that lets you buy into the eco frenzy by letting the car help you "Develop and maintain a fuel-efficient driving style."  It does this via segmented vertical bars on either side of the speedometer that change from green (Gaia-friendly) to blue (Global Warming Denier-friendly) depending on how you're driving. I didn't see much green, I must admit…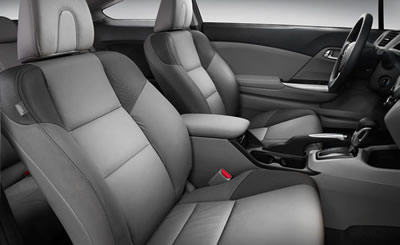 There's also an ECON button on the dashboard you can press if you want more fun sucked out of the drive; it modifies several of the vehicle's operating parameters to "Further enhance the potential for fuel efficiency." Push that magic button and the Civic's Drive-by-Wire throttle system provides "More gradual response," as well as changing how the climate control system operates and reconfiguring the automatic transmission's shift mapping.
Another reason to go stick!
Despite all that eco-stuff, the Civic coupe is a well thought out place to be. It's comfortable up front, though – being a coupe – getting into the rear seat may be a little more interesting than one might like. Rear seat space is tight for three, but at least there's a flat floor so the poor soul relegated to the middle doesn't have to play footsie with his or her seat mates. Unless he or she wants to, of course.
The cloth seats are attractive and supportive and don't seem to be nearly as magnetic to pet hair as some, which is a good thing because it cuts down on the vacuuming you have to do if you own critters.
If you're in the Civic's driver's seat, you'll find instrumentation that's clear and concise, controls with good tactile feel, and everything where it should be. The small, three spoke steering wheel feels great in the hands
The standard audio system is okay, and on all but the very base model it offers you USB and auxiliary inputs for your digital files.
I'm a bit of two minds about how Honda has chosen to play it safe with this new generation. On one hand, I can understand why the company would choose not to mess with success – and, after all, a careful, evolutionary approach to design can serve a company well: just ask Porsche, who happen to be about to unleash a brand new 911 that still looks enough like the original from the 1960's, at least to the casual viewer, that it's recognizable instantly.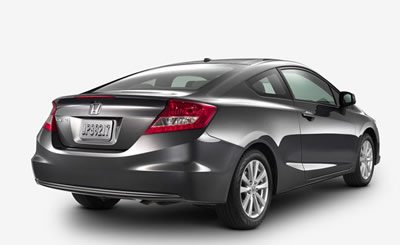 On the other hand, while there are few choices in the 911 class of vehicle, there is an abundance of vehicles vying for the attention of potential Civic customers.
However you slice it, the 2012 Civic coupe is certainly a safe bet for consumers, and it continues Honda's tradition of offering an excellent car for the money. Will that be enough?
Time will tell, and I certainly wouldn't want to bet against Honda, whose track record speaks for itself.
The 2012 Honda Civic DX Coupe, which isn't available in Canada, starts at $15,605 U.S. The LX trim level starts at $17,655 U.S./$17,990 Canadian and the EX Coupe starts at $19,705 U.S./$19,990 Canadian.
Copyright 2011 Jim Bray
TechnoFile.com