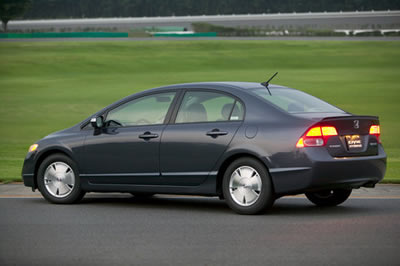 Variations on an Automotive Theme: Honda Civic Hybrid, Acura CSX Type S
By Jim Bray
April 30, 2008
What's even better than a garden variety Honda Civic? How about a gas-sipping hybrid or a souped up, luxurious version?
The hybrid is a straightforward adaptation of Honda's terrific little sedan, with Honda's Integrated Motor Assist system added on for "even greener" performance.
The souped up, more luxurious version is the Canadian-spec Acura CSX Type S, a little rocket that's mostly analogous to the Civic Si sedan, but with different logos, grille, tail light treatment and other goodies thrown in to send the up market Civic a little bit more up market.
Green Honda
The hybrid Honda is as charming as the regular Civic, though perhaps not quite as much fun as the five speed manual version.
Its 1.3 liter gas engine is rated at 93 hp @ 6300 (110 hp @ 6000 with the IMA system) and 89 lb.-ft. of torque @ 4500 (123 @ 1000~2500 with IMA). This compares with the basic gas Civic's 140 hp @ 6300 rpm and 128 lb.-ft. @ 4300 rpm from a 1.8 liter engine.
You feel the difference but, since the raison d'être of most hybrids isn't blinding speed, it's undoubtedly an acceptable trade-off. And the CVT (continuously variable transmission) does a good job of maximizing thrust efficiently.
The downside for those who want to make a political statement that, by driving a hybrid they're somehow better than the rest of us, is that the hybrid looks mostly like the regular Civic sedan, so (to steal a phrase from South Park) your "smug emissions" may go unnoticed.
Honda says the hybrid Civic achieves an EPA-estimated city/highway rating of 40/45 MPG, the highest of any 2008 Honda automotive product. The regular Civic is rated at 26/34/29 (City/Highway/Combined – five speed manual,) and 25/36/29 (automatic). Want better mileage from a Honda? Buy a motorcycle.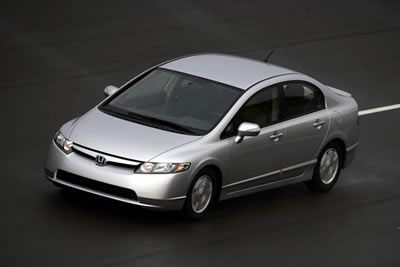 Civics feature a fully independent MacPherson strut front suspension and multi-link rear, and it's pretty cat-like for a little economy sedan, with nice handling and good road feel.
Standard features include 15 inch lightweight alloy wheels, P195/65R15 tires, automatic climate control, cruise control, power door locks, power windows with driver-side auto up/down, and a security system with remote "keyless" entry and trunk release.
Also standard is a 4-speaker 160-watt AM/FM stereo system with MP3/WMA-enabled CD Player and a handy auxiliary audio input jack. The sound quality is good.
About the only thing I really didn't like was its seats. Oh, they fit nicely enough but, perhaps to save weight, the cushions are so thin and hard on the bum that I had flashbacks to riding in a stagecoach at some Western Adventure theme park years ago.
Fortunately, I had brought my own padding….
The fabric seats are cat hair magnets, too. After a few days I thought one of my felines was trying to escape a bit at a time.
The steering wheel of Civics (and the little Acura) is great. It's small but thick (my sons say the same about me) and features duplicate radio and cruise controls. Steering feel is just fine, thank you, and the column tilts and telescopes to help facilitate the perfect driving position.
Less useful for the perfect driving position is the manually-operated driver's seat, which slides forward and backward but doesn't have enough up/down adjustments and tilts to suit me.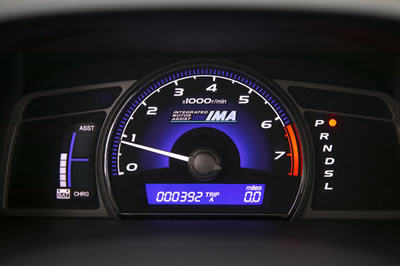 On the other hand, the window and outside mirror controls are at hand beautifully on the driver's door armrest.
The extremely raked windshield of the Civic/CSX makes for a gigantic dashboard, but Honda/Acura has broken it up nicely. On the driver's side there's a two level instrument panel with the speedometer (and fuel/coolant gauges) on top with the tach and other readouts below. On the passenger side the acres of plastic are broken up by a little depression and groove that, while not really good for holding anything, looks better than acres of plain plastic.
The buttons for selecting CD, AUX and the like are quite small, though they're also far enough apart that they'd probably be nicely accessible when you're wearing gloves. The buttons for choosing radio presets, disc selection, track repeat, and the like, are nice and big, but their small labels are hard to read.
Both the Civic and the Acura feature an amazing number of little cubbyholes tucked away in all over the place, including a little bin right underneath the HVAC controls on the center stack, one behind the gearshift that was perfect for holding the little digital voice recorder I use for taking notes – and of course you get the usual cup holders, a center console silo and a (rather small) glove compartment.
The Honda Civic Hybrid starts at $22,600 U.S./$26,350 Canadian – about $7500/$10,000 more than a base Civic, though it also comes with more standard equipment. Whether that premium will pay for itself in gas savings over the term of ownership is a question for the ages.
White Acura…
The Taffeta White CSX Type S I drove is the more potent version of the CSX, featuring a bigger engine with more horsepower. The base CSX comes with a 2.0-liter, 16-valve DOHC i-VTEC 4-cylinder engine that cranks out a reasonable 155 hp, but the Type S puts the hooves from 197 horses onto the pavement. The difference is noticeable immediately upon tromping on the drive-by-wire throttle.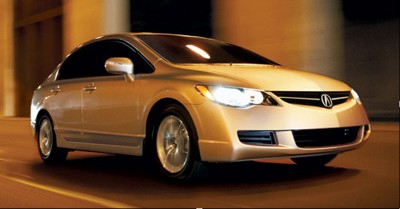 It's also noticeable thanks to the Type S' throaty growl, a "standard equipment" tweak that makes the car sound like some kid has unleashed one of those "coffee can exhaust systems" on it.
The Type S features a six speed manual transmission that, while a tad notchy, also contributes to the little car's enjoyment factor. And to make it handle better, the Type S features a tuned control-link MacPherson strut front suspension and a reactive-link double wishbone bum, with tighter spring coils and dampers and larger front and rear stabilizer bars.
Add stability control and a limited slip differential and you have a car that feels tight and taut and ready to rumble.
The manually adjustable seats are padded better than the Civic hybrid's, but the adjustments are the same, which meant I could never find the perfect seating a position here either.
The CSX also came with a pretty good premium audio/navigation system, though its user interface wasn't as happy-making as some. It features seven speakers, including a subwoofer, and a 350-watt AM/FM head unit with in-dash CD player, auxiliary input jack and an (available) digital audio card reader with MP3 and Windows Media playback capabilities, speed sensitive volume compensation – oh, and very nice sound as well.
The disc and media slot hide behind the fold-down navigation/interface LCD screen, nicely out of the way. Acura doesn't offer the marvelous ELS surround system on the CSX, unfortunately, and the screen still persists in inflicting one of those infernal lawyers' screens you have to click through to get at the navigation system, though you can ignore it and it eventually turns into a big clock you can display in either analog or digital form.
My test car also featured a reasonably sized tilt/slide sun roof, a leather-trimmed interior and creature comforts such as automatic climate control, illuminated vanity mirrors, variable intermittent windshield wipers and 17 inch alloy wheels.
The CSX Type S starts at $33,400 Canadian, while the closest trim level Civic Si starts at $23,260 U.S./$26,680 Canadian.
Why isn't the CSX available in the States? Beats me. I think it would sell well.
I liked the CSX Type S, but even though you can't make a true apples-to-apples comparison, I have to admit that for the extra money the Acura costs, a loaded Civic Si looks awfully attractive.
Besides, if you're looking for a "near luxury" rocket, Acura's wonderful little TSX is a whole lot more fun, for only a few grand more.
Copyright 2008 Jim Bray