Acura TSX – Totally Seductive Xperience
By Jim Bray
Acura's TSX is a classic example of the whole being greater than the sum of its parts.
Like a football team that doesn't have the best quarterback or the strongest defense but which manages to fight its way to the championship anyway, the TSX won't win any "Automotive Superbowls" for its horsepower, torque, and the like, yet it's a delight to drive and would undoubtedly be an easy car to live with.
The TSX comes across as a lively little thoroughbred that's athletic and quick, and as happy to please as a puppy.
Maybe Acura should take a page from the Ferrari notebook and create a "prancing puppy" logo….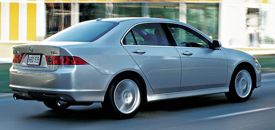 Not too much has changed with the TSX since its introduction a few years back, and that suits me just fine. I loved my first experience with the car, and loved it just as much this time.
Well, almost. Acura has added a couple of new features that help keep the car at the leading edge of technology (i.e. a nav system and Bluetooth capability), but I wasn't as pleased with my experience using them as I was with the unabashed joy of throwing the TSX through my favorite twisty bits.
The TSX is based on Honda's European version of the Accord, which is a pretty good place to start. I haven't seen the Euro-Accord, but if it's half the car of the North American one, it's a pip. The TSX is smaller than the "home game" version of the Accord, however, and it's a lot more fun. And, being an Acura, it ups the luxury ante over Honda's more mainstream sedan.
From the outside, the TSX is still an attractive-but-not-in-your-face four door sedan, a tad slab-sided but decidedly pleasing in appearance despite slim tail lights that make for a large expanse of metal on its bum.
It's still a front engine/front wheel drive configuration, too, featuring a 2.4 liter, 16-Valve, DOHC, i-VTEC four cylinder engine that's simply delighted to produce 205 horses @ 7000 rpm and 164 lbs-ft of torque @ 4500 rpm. Unfortunately, the horsepower (the peak of which is reached only 100 rpm below the car's redline) and torque figures – and to a certain extent the front wheel drive configuration – are the TSX's main sticky points – especially the torque.
What this translates into on the road is a car that hardly pushes you back into your seat at all when you put the spurs to it, one of the things that can be so exciting about driving a sporty car and that you really do miss here.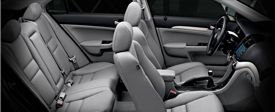 On the upside, despite that lack of push, before you know it you're screaming along at what the authorities would undoubtedly consider an excessive rate of speed (it really does sneak up on you, so subtle and seductive is this little beast) and you find yourself with a broad smile on your face that belies the car's specifications.
Another reason for the car's fun factor is its cat-like handling and the fact that it feels as if it weighs about ten pounds, which maximizes the car's "oomph factor."
Controlling that peppy little power plant is either a close-ratio 6-speed manual transmission with a magnesium transmission case or a 5-speed automatic with sequential SportShift (a.k.a. "pretend manual mode"), grade logic control and lockup torque converter.
The automatic is probably fine for an automatic, but my tester came just as it should: with the stick shift, and it's wonderful. I'm not sure if Acura has improved this tranny since I first drove the TSX or if I'm just getting more used to that extra gear, but I had a lot easier time of getting this TSX into sixth than I did with my first tester. The TSX shifts as smooth as silk – it's a delight, from the light and responsive clutch to the short, efficient throws of the shifter itself.
Helping to facilitate your tossing the TSX into a few curves is an independent double-wishbone suspension up front with a multi-link rear and stabilizer bars fore and aft. And one shouldn't ignore the drive-by-wire throttle system and torque-sensitive, variable power-assist rack-and-pinion steering that feel just right.
Speed is bled away via disc brakes with ABS all around. The brake pedal also feels just right – not grabby in the least but with very good stopping power. The TSX comes standard with 17" x 7" aluminum alloy wheels wearing P215/50 R17 93V all-season radial tires. Stick a good set of performance radials on the TSX and I daresay it'd carve up the roads better than a master chef working on a prime rib roast.
Helping keep you on the road are the usual assortment of electronic nannies such as vehicle stability assist (VSA) with traction control.
The TSX seems always ready to play, almost taunting you with a "c'mon, is that all you've got?" attitude that's really something to experience. It also feels as solid as a rock, and features pretty well all the luxury and creature comfort you could need short of an onboard biffy.

Front seat passengers get heated sport seats with perforated leather trim. The driver's seat features 8-way power with memory and adjustable lumbar support and the front passenger gets 4-way power adjustment. Couple that comfortable and flexible driver's seat with a manual tilt/telescoping leather wrapped steering wheel and you can easily find a great driving position. And the view out from that seat is expansive, thanks to the TSX' fine greenhouse.
The controls and the various displays are logically laid out and clear; there's no learning curve because just about everything is where you'd expect it to be.
Naturally, the steering wheel also comes with stereo and cruise controls mounted on it, plus the voice activation system I first got to try on the Canadian-only Acura CSX sedan.
I don't know whether I've lost the ability to enunciate or not (though I still manage to do some radio work), but I had a lot easier time getting the CSX system (which is undoubtedly the same one) to understand my commands – though neither's particularly great. I'd say something like "Go home" and the car would pause to think about it and then respond with something like "Radio channel four."
If I weren't so simple I'd get a complex….
The voice recognition is bundled with a navigation system featuring the usual LCD screen with the typical annoying lawyer screen to click through before you can use it. The nav system works very well, but in a very un-Acura-like move its DVD player is hung from the roof of the trunk, appearing to be an afterthought. If you opt for this feature be very careful loading when taller stuff into the trunk lest you knock the player from its position.
The stereo is first rate, however. It's Acura's 360-watt premium sound system with AM/FM stereo, 6-disc in-dash CD changer and 8 speakers. It won't play DVD-A or dts discs like its big brother the TL will, but you do get the increasingly popular (and for good reason) MP3 player/Auxillary input jack, however.

The car now comes with a Bluetooth interface that's designed to let the TSX interact with Bluetooth-equipped devices such as cell phones. It's a great idea, but I had a heckuva time trying to pair the car to such a cell phone and ended up abandoning the attempt. The system I tried about a year ago in Infiniti's M35x worked a lot better.
Comfort in the lovely cabin is maintained via a dual-zone automatic climate control system. Comfort in the rear seat is good for two and okay for three and the seat back splits 60/40 and folds.
This being an Acura, you get power everything, including a moonroof with tilt and key-off operation, one touch up/down driver's side window and keyless entry (though not the "smart" kind whereby you can leave the fob in your pocket). The wipers feature a speed-sensing, variable intermittent setting and the headlights will turn themselves off if you forget.
Safety stuff includes dual-stage, dual-threshold front airbags, front side airbags with passenger-side occupant position detection system (OPDS), side curtain airbags, and the usual bevy of belts.
The TSX is one of those "pry it from my cold, dead hands" types of cars I really loved driving and didn't want to take back. Thanks to its outrageous combination of athletic prowess and agility, comfort, quality and luxury, it truly is a car that, flaws notwithstanding, brings pure joy to its driver.
The Acura TSX starts at $27,890 U.S./$35,900.00 Canadian.