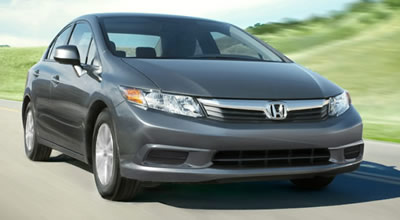 Honda Civic 2012 – A New Generation Joins a Crowded Market
By Jim Bray
August 10, 2011
Honda's classic Civic is back with a new suit of clothes for 2012, the eighth such makeover since the car came to North America in the 1970's. And it appears Honda has chosen to play it safe with this latest iteration rather than push the envelope.
Nothing necessarily wrong with that, of course, especially since the Civic was a great car already. And there have certainly been copious changes and innovations over the decades since the Civic appeared on these shores as a two door coupe/hatchback. The car has definitely been a success story for Honda, and deservedly so.
I bought a 1976 Civic hatchback new, trading a virtually new MGB straight across – a smart move on my part even though I lost money on the transaction. That's because, unlike "Eric, the Half B," the Civic ran when it was rainy, handled better, and was cheaper and more fun to drive than that so-called classic British sports car – which was really just a pale shadow of its past glory.  
That silver Civic gave us three years of trouble-free driving, though by then it had pretty well rusted away. That was then, however, and Honda (and its competitors) has made huge strides in every aspect of the automobile including, thank goodness, superior rust resistance.  
The last model was a very good car – which is good because this new generation seems more like a gentle evolution than the styling revolution the last one represented. The new Civic sedan that's featured in this piece still features clean lines and an aerodynamic shape – complete with steeply-raked windshield – that are reminiscent of the previous generation's but with more pronounced character lines and different front and rear end treatments to help distinguish the generations.
It's evolutionary in other ways, too, including an interior that, while definitely fresher, still hearkens back to the last generation via such things as its innovative (and somewhat controversial) double decker dashboard, with a digital speedometer mounted high atop a lower tier housing the other displays.
And there's lots that's new, as befits a "new" generation. Honda says the Civic has been redesigned completely, and now includes "Enhanced technology for personalization, safety and fuel efficiency with even more value than ever before."
Civics are available in Sedan and Coupe models, as well as the hotter Si and, soon, Hybrid models. Even the lower end Civics come with good basics, including a 140 horsepower, 1.8-litre, 16 valve, SOHC-i-VTEC four cylinder engine. Sure, it won't peel the skin off your face when you tromp on the gas, but this is a basic Honda Civic, after all, so you shouldn't expect it to. The 201 hp Civic Si should be more capable of rocketing along with wild abandon. I, for one, can't wait to try it!
My lower end test car had everything one really needs, including Bluetooth and even a USB interface for the stereo, both of which Honda says are standard on "almost" every Civic. It also came with the five speed automatic transmission, though you can get it with a five speed manual instead, and that will undoubtedly put a little more enjoyment into your commute. Sure, the automatic works fine, and shifts very smoothly, but like most automatics it's about as exciting as brushing your teeth.
Hybrids, by the way, will get a CVT, which will probably be even less pulse-quickening. Such is the nature of the beast.
Honda says all Civics get better gas mileage than the 2011 models, with improvements of up to 12 per cent on "some" models.
Lower end and hybrid Civics stop via disc brakes up front with drums in the rear (I think they're tympanis!). Four wheel discs are available. All the Civics' braking systems benefit from ABS, Electronic Brake Distribution and Brake Assist. You still have to step on the pedal, though. Vehicle Stability Assist (VSA) is also standard on all models. 
The Civic uses a MacPherson strut front suspension and multi-link rear, with front and rear stabilizer bars. It's not the most catlike suspension there is, obviously, but it's comfortable and non-threatening. Motion-adaptive Electric Power Steering (EPS) imparts a reasonable feel to the driver's hands through a new, three-spoke, manual tilt/telescope steering wheel.
Inside, Honda has taken what it calls a "smart interface" approach, with key displays located above the steering wheel and secondary info mounted lower. New for 2012, an intelligent Multi-Information Display (i-MID) is standard on all Civic models except the lowest end; its five inch color screen displays vehicle and audio information including album artwork (if it's available).
You can customize the i-MID's info, including the ability to upload your own wallpaper if such a thing motivates you. I think if I worked at Honda and it were my Civic, I might upload the Hyundai and Kia logos and pretend the screen's actually displaying a rear view camera…
And here's great news for the environmentally sensitive: An Ecological Drive Assist System lets you save the world personally! Honda says it can "Help the driver develop and maintain a fuel-efficient driving style," which means a damn robot keeps monitoring how you drive and tries to prod you into what it considers the "right" (more like "left!") direction.
It does this via vertical bars on each side of the speedometer that are designed to help keep you from giving Gaia a lead foot to the rear end. The bars change color from blue to – you guessed it – green when the system deems you're driving properly. Honda says the system "Continuously monitors and displays the impact of a driving style on the vehicle's fuel efficiency and transitions colors to provide feedback that can help a less-efficient driver make adjustments to driving style."
Doesn't that just make you feel all warm and fuzzy?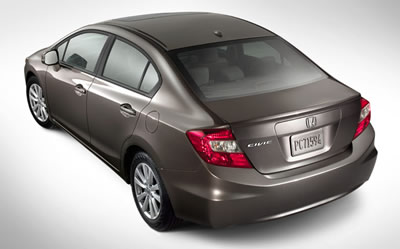 All 2012 Civics (except the Si) also come with an ECON button the pressing of which causes the glaciers to start expanding again, the rise of the seas to stop and the car to be powered by butterfly sneezes instead of problematic products provided by pernicious petroleum pushers. It does this by ensuring the car's Drive-by-Wire throttle system provides more gradual response (perhaps I should says "even more gradual…") and reconfigures the shift mapping (on automatics) and the climate control system.
This means you can ooze away from traffic lights, sweating, but feeling self-satisfied. It's also perfect if your dream is to lose drag races to pedestrians.
All kidding aside, you don't have to press the ECON button if you don't want to – though its mere presence serves as a not-so-subtle reminder every time you pull away from a stop light with anything other than the slightest touch on the gas pedal.
I think I'd put duct tape over it and the blue/green bars if it were my car.
The Civic's new cabin is comfortable and efficient, though I'd hesitate to call it a five-seater. It does have a nice, flat floor in the rear seat compartment, but if you don't want fisticuffs to break out back there in steerage it may be best that the trio you've stuck there be of small stature.
Honda says the Civic's seats have been redesigned to be more supportive, and the cloth ones in my test car were nice. Both front seats recline manually, and the driver's seat is adjustable manually for height as well.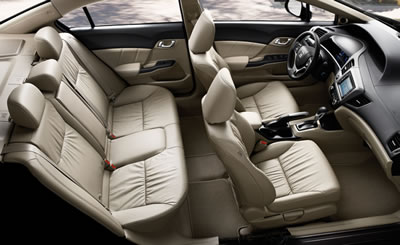 The standard audio equipment is a reasonable, 160 watt AM/FM/CD audio system with MP3/WMA playback, four speakers, and auxiliary inputs. Satellite radio is available with the navigation system.
Safety features include side curtain airbags and front side airbags with a passenger-side Occupant Position Detection System (OPDS) as standard equipment. All seating positions also include head restraints Honda says are designed to help mitigate neck injuries in rear end collisions. There are also dual-stage, multiple-threshold front airbags and the car's designed in a pedestrian-friendly manner that might help keep ambulance chasers chasing ambulances elsewhere.
While my sample Civic was pretty Spartan, though it wasn't quite bottom of the line, its lack of hedonistic accoutrements works to your benefit if you want to save on the price of entry and/or have fewer gewgaws to figure out. And it's quite a decent price of entry: The 2012 Honda Civic sedan starts at $15,905 U.S./$14,990 Canadian.
The Civic is still a great car, though this new one almost seems more like an "eighth generation, part two" than something wholly new – especially when you consider some of the very fresh-looking entries now being offered in this niche. Still, the Civic has arguably has been the benchmark in this segment for many years so the competitors definitely have their work cut out for them.
Time will tell how successful they are at knocking the Civic off its pedestal.
Copyright 2011 Jim Bray
TechnoFile.com