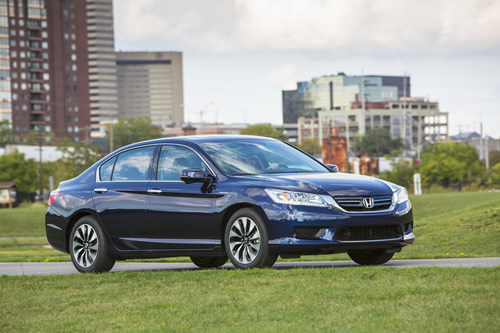 Honda builds a hybrid Accord that doesn't suck to drive!
By Jim Bray
January 9, 2014
How good is Honda's new Accord hybrid? It's so good I kept forgetting (well, almost) that it's a hybrid!
(click the image to open a slideshow)
To be such a compelling hybrid to drive that you can think of it as just a great car, not just a great hybrid, is quite the accomplishment for a mainstream car. I can think of a few others - the VW Jetta hybrid and some higher end ones, for example - but Honda's "electricized" Accord is definitely in select company.
Even its CVT fails to be annoying, and the Accord is the only hybrid I can think of about which I can say that.
Outside, the hybrid looks pretty much like an Accord, which is good, though Honda has differentiated it via unique hybrid badging, with a cute blue-accented grille and light lenses, LED running lights, unique 17 inch alloy wheels and a little spoiler.  You also get "Smart Entry" (Keyless), Honda's Lane Watch nanny, a rear view camera, a 10 way power driver's seat, heated front seats and side mirrors.
The hybrid, according to Honda, uses its "two-motor hybrid power train along with two-motor SPORT HYBRID Intelligent Multi Mode Drive powertrain," which as written sounds as if it's two, two, two cars in one! The electric stuff is coupled to a two liter four cylinder engine and the combination offers three different driving modes to supposedly optimize efficiency and fuel economy: EV Drive (all electric), Hybrid Drive and Engine Drive.
All that stuff is claimed to produce a fuel economy rating of 3.7 L/100km city (approx. 64 US. mpg) and I found its gas mileage quite remarkable (thanks to my lead foot, however, I got nowhere near that 3.7 figure). Not only that, but that performance didn't come at the cost of the Accord's fun-to-drive quotient, which is pretty good. It's definitely a rewarding drive, with excellent gas mileage however you slice it.
The "196 horsepower-equivalent," front drive Accord hybrid features electrically-boosted power steering that feels pretty much like the gas-engine version's (which means it feels very good) and the electrically-assisted brakes have a crisp pedal feel without the excessive grabbiness of some regenerative braking systems.
The suspension -  independent all around - is tuned just right, in that it's soft enough for those with no sporting pretensions, yet stiff enough (well, nearly) for those with such pretensions. It's an interesting balance that many manufacturers are figuring out well these days. That doesn't mean the Accord drivers like a BMW 3 series, but it's still darn nice without being sloppy.
And as mentioned, the CVT doesn't whine excessively nor does it feel like a loose elastic band flopping up and down a dowel.
Honda's traditionally feel as if they perform better than their specs might indicate, partly because of a light-footed feel they impart - like Fred Astaire as opposed to, well, me. As I said in my initial review of the new Accord, I'm not sure how they pull that off, but they sure do a great job of it.  
The interior is cleaner and more straightforward than before, which is a very good thing. Honda still inflicts a cursor control thingy on it, one that's a tad far away for my stubby little arms, but some of the functions - especially the audio system - now have a touch screen interface that's a huge step in the right direction as far as ease of use is concerns. Tuning the radio would be aided by putting one knob back in, but if you use presets mostly this is a minor quibble.
I'm of two minds when it comes to Honda's new "LaneWatch" feature. It uses a camera mounted on the passenger side mirror assembly to display the view down that side of the car - displaying it on the upper LCD (which also handles the cursor controlled stuff), and it really does give you a great view of what's happening beside you. It comes on automatically when you flick on the right turn signal or you can fire it up manually via a button on the end of the signal light stalk.
When I first experienced LaneWatch I found it obtrusive, in that it attracted my gaze away from the road ahead - which is undoubtedly its point. But every other person who "passenged" in the Accord back then thought it was fantastic and by the time I returned Honda Canada's test car I had come around to their thinking.
Yet this time I and other people who actually drove the Accord went back to my first impression, that it was just another nanny, for the sake of adding a unique new nanny. I guess we need a rubber match.
As is often the case with cars, not just Hondas, the voice control really didn't like working with my smart phone. Oh, it paired fine, but I had the dickens of a time actually making a call without cussing and, eventually, pulling over to dial manually via the car's regular interface.
All of this goodness is available for a starting Canadian MSRP of $29,590, or you can option it up with the Touring package - which adds stuff like leather seating, heated rear seats, driver's seat memory, a 360 watt premium audio system, four way power front passenger's seat adjustment, a power moonroof, HDD navigation system, LED headlights and Homelink garage door opener.
The Touring package raises the Accord hybrid's price to a still not unreasonable $35,690 - though you can also option up an Accord gas four cylinder version to a price of $32,526 (and get a six speed manual transmission with it!) and still achieve more than acceptable gas mileage.
Option up the V6 version (which starts at $34,736) and you may not save Parent Nature singlehandedly, but you'll have a terrific new mid-sized sedan for about $37,236 - and you'll get a six speed automatic instead of the CVT which, as good as it is, is still a CVT.  
How long does the hybrid's extra gas mileage take to pay for itself considering its increased retail cost? Car and Driver magazine did the math (U.S. figures, of course)  and claims it would take 5.7 years to break even. If you're planning to keep your Accord hybrid for longer than that, it may make sense considering the additional outlay; if you flip your vehicles more often, well you may be more into "smug emissions" than economic logic.
Still, Honda has created one of the nicer mainstream hybrids with this new Accord version of the species. It's a great car overall, a wonderful step forward both for the technology and for the Accord as well - a car that in recent years seemed to get bogged down with bland, dumpy looks and a confusing, gadgety interior.
It still doesn't make me want to run out and buy a hybrid, but it comes as close as any hybrid I've driven.
Copyright 2014 Jim Bray
TechnoFile.com