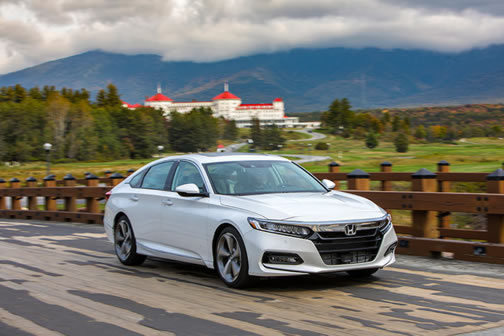 New Honda Accord a major step backwards - and that's a good thing!
By Jim Bray
December 7, 2017
It may not be back completely but, as evidenced by the newly redesigned 2018 Honda Accord, it looks as if the honoured Japanese carmaker is back on track. Or at least well on the way.
I've been particularly vociferous about my Honda angst in recent years. The company makes terrific cars - and they still do, for the most part - but somewhere along the way between adding all the new drivers' aids and pursuing ever more strict fuel economy mandates the company seemed to lose its way.
Click on the image to open a slideshow.
They also seemed to have fired some of their great designers of the past, as evidenced by the current generation Civic, one of the ugliest cars on the road today in any of its in-car-nations. I realize that beauty is in the eye of the key holder, and Honda's sales don't seem to have suffered a whit just because I've been poking at them with a pointy stick but, to me, the company seems to have been sucked into a styling rut in recent years.
As I wrote in my review of the Civic Coupe in March of this year: "…there's something awry about today's Honda and it really has me scratching my head. Civics have always been cute, or at least inoffensive, but this current (tenth) generation - which includes sedan and coupe versions as well as this new hatch - is bloody ugly." I did also note, however that "Honda is only one of the Japanese carmakers currently over styling their vehicles (some Lexus and Nissan models come to mind as well), but the new Civics are full of creases and bulges that look almost as if it were designed by a committee of people who never spoke to each other." Or perhaps they just didn't like each other very much.
Methinks they may have started hanging out with each other again, however, because this new Accord, while not nearly as attractive as the one it's replacing, is a big step forward from the dumpy Civic and Accords of a couple of generations ago.
The 2018 Accord looks kind of like a hatchback, though it isn't, and it's mostly quite handsome. The creases and overall dumpiness have been minimized and the result is a modern-looking large sedan that'll probably garner all sorts of Car of the Year honours globally (though still not from me). The car is lower and wider than before - dare I say sportier? - with a longer wheelbase but shorter length overall, with a more aggressive mien than the nicer-looking but somewhat staid outgoing Accord.

Honda says this 10th generation of the Accord features a ground up redesign, with a more rigid body, new chassis design, and "two all-new, high-torque direct-injected and turbocharged engines, the world's first 10-speed automatic transmission for a front-drive car and a new generation of Honda's two-motor hybrid technology." There are also new safety, driver-assist and connected-car technologies.
Honda Canada's sample didn't have the new transmission; alas, it had a CVT and while it may not be as loud and obnoxious as some, it's loud and obnoxious enough, especially in Sport mode. At least it comes with paddles you can use to pretend it's a real automatic so you can take advantage of such stuff as engine braking on hills, etc.
The other transmission available is a six speed manual and if it's anything like the Honda six speeds I've driven in the past, it's a peach.
One thing you can't get this year is a V6 engine. Instead, there are two turbocharged four bangers, a 1.5 litre unit and a two litre one. Honda Canada's sample had the smaller of the two and, while I have yet to drive the larger one, I have to admit the only reason I knew I was driving the smaller power plant was because of the CVT, which is mercifully not available with the larger engine (you get to choose between the stick and the 10 speed). So that base engine is pretty darn good at moving this relatively large sedan along at a nice pace.
That 1.5 litre's output is 192 horses @ 5500, with identical torque available from 1600-5000 rpm. That doesn't seem like much these days, but I had no issues even though I subscribe to the "Tim the Tool Man Taylor" school of "More Power!".
That two litre unit, by the way, puts out what is probably a much more interesting 252 horses @ 6500 and 273 torquey things from 1500 - 4000 revs. That's getting close to traditional V6 territory: the V6 available in the all-new Toyota Camry, for example, is rated at more horses - 301 @ 6600 rpm - but less torque (267 lb.-ft. @ 4700 rpm).
Inside, Honda has addressed nearly all of my quibbles and complaints. Gone is the knob-less centre stack LCD screen that used to make you sweat blood to crank the audio volume or tune a station that isn't in your pre-sets, replaced with real knobs that not only work great but which also look really classy. My only quibble now - and it's a common one with non-Hondas, too - is that it's just a tad far away for my stubby little tentacles to reach with ease.
The new interface is logical and mostly easy to use, though busy, and if they'd chosen to make their virtual buttons a little bigger I'd say it was laid out well, too. On the whole, then, it's a wonderful change and I take off my hat to Honda for figuring this out. It would be even better if they'd attached it to a better audio system, but even here the Accord stereo - while kind of weak - is no worse than many others in this area of the marketplace.
The rest of the interior layout is fine, including the driving position and where Honda has mounted the rest of the buttons, stalks and the like. The rear seat seems a little smaller than in the last Accord, but it's still more than adequate for two and not excessively tight for three (depending on their size and odour).
Sport mode is the most entertaining, even with the CVT, and besides the normal mode there's also an eco mode. Lighting highlights on the instrument panel change to reflect your driving mood - green highlights for eco mode and red for sport.
The car, if you ignore the CVT, drives really nicely, with a taut but still comfy suspension, good handling, and very nice comfort for the occupants.
One of the things that's driven me (more) nuts about recent Hondas is their driver aids, which are really obtrusive - I've complained repeatedly about the BRAKE!! light that appears on the instrument panel when the car thinks you're about to rear end someone (even if you aren't); it not only comes on too early, it's bright enough to grab your attention off the road in front of you (undoubtedly its intent) - but if you're really about to slam into someone your eyes really should be looking outside rather than at the warning.
Fortunately, you can set the sensitivity and when I put it to its least obtrusive mode I didn't have any more issues - so either Honda has refined this or I've finally figured out their configuration menus. In fact, once I eased off all the nannies the car got much less annoying, except for the damn seatbelt warning that hollers at you if you dare unlatch the belt while the car is still in motion (even if it's in motion at a very slow speed while you're pulling into a parking space).
How about that? Honda is such a thoughtful company that it has not only designed a great new Accord, it also left in a couple of things (CVT, nanny) for me to whine about! Talk about a win-win situation!
The new Accord is also the easiest Honda for pairing my phone that I've experienced in a few years. Usually it takes at least two attempts and some cussing, but this time all was well the first time I tried it. Nice!
The 2018 Honda Accord, according to the company's Canadian website, starts at $28,326.25 CAD for the base LX and the price can rise to $40,626.25 for the top Touring 2.0 model. Honda Canada's sample, which was the base Accord Sedan Touring, lists for $37,626.25 (what's with the quarters?).
As someone who has been a Honda fan for many years, until recent years, it's great to see the company back on track with this new Accord. It isn't perfect, but what (besides my wife) is?
Copyright 2017 Jim Bray
TechnoFile.com