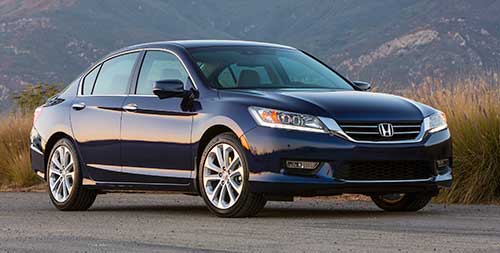 Ninth generation Honda Accord Touring a nice step in both directions
By Jim Bray
January 16, 2013
If this new Accord is any indication, it looks as if Honda may be back in the saddle again, and that's a very good thing.
I'm not sure if it coincided with the death of founder Soichiro Honda, but I've been of the opinion that over the past few years the company has either been on automatic pilot (no Honda SUV pun intended) or has gotten complacent, or maybe a tad lazy. Cars I had loved were getting decidedly uninteresting, gadgetry was getting out of hand, and technologically the company was slipping – heck, I don't believe they even offered a direct injection engine until about five minutes ago.
Okay, they've been hammered by acts of nature such as the Japanese earthquake of a while back, but that was later and my angst began sooner. And don't think I mean that Honda has been inflicting crap on unsuspecting consumers; they haven't. Hondas have been and still are excellent cars; it's just that the competition – especially from Korea – has been making giant strides while Honda appears to have been taking baby steps.
But there are encouraging signs coming out of Honda HQ, including the new Acura ILX (at least in the Dynamic trim level I drove, which is a blast) and the new Accord. The ILX restored my faith that they can still make a fun TSX and the 2013 Accord shows they can still make a, well, Accord.
The Accord has been an excellent car for many years. But the last two generations were dumpy looking (not, of course, that styling is everything) and with too much stuff in the way of controls inside. In short, they weren't as interesting.
On the other hand, and I don't know if it was the Korean threat or what, but this new Accord is a really nice car and I can find very little to whine about (though I'll certainly try!). I couldn't even bring myself to hate its continuously variable transmission and, as regular victims of my columns know, I hate CVT's in general.
Honda's have traditionally felt like they perform better than their specs would indicate, in part because they just feel light on their feet. Not so much for the Accords immediately past, but now, once again, that feeling is back. Don't expect a gazelle (though my quick drive in the Accord Coupe manual was quite enjoyable), but expect a car that drives as if it's smaller and lighter.
Not sure how they pull that off. Honda says the new Accord's length and wheelbase are a little smaller than the prior generation's, while still "providing improvements in key interior dimensions including rear legroom and trunk volume." And while the Accord is hardly a small car – heck, it's very roomy inside and even the back seat is generous – it's lithe, too, and as enjoyable to drive as any other Asian car in this segment. It's full of good stuff, too, and – thankfully! – more straightforward to use.
In short, a great step forward, and a great step backward to memorable Accords of generations past.
Looks good, too. It's less "generic and inoffensive family car" and more "modern mainstream sedan," and in the top tier of the niche. The front is no longer an affront and its trim bum almost appears to have taken inspiration from the handsome Hyundai Genesis sedan which, if true, would certainly be an interesting turn of events.
New Accords are available with three choices of power train, including what Honda says is "the first North American application" of its new 2.4 liter direct-injected engine and of the "two-motor plug-in hybrid system." And, finally, the Accord V6 is the first Honda sedan to sport a new six speed automatic transmission. Till now, Honda had lagged behind in this department and it showed. Heck, you can get a six speed auto on a Kia Rio! I wish I'd had a chance to try the new tranny and hopefully that opportunity will present itself before long.
My sample Accord Touring from Honda Canada had the new  four cylinder engine. It puts out 185 horses @ 6400 rpm, eight more than the old car. Honda says the 3.5 liter V6 is now rated at 278 horses @ 6200 rpm, up seven. The four pulls well and as much as I love Percherons more than ponies, it wasn't lacking in oomph.
The new CVT can only be inflicted on the 2.4 liter four cylinder engine, which is why it was on my test car. Honda says it has a wider ratio range than the five speed automatic it replaces, as well as a special "G-Design Shift logic" the company says offers more immediate acceleration response than either conventional automatics or other CVT's, while "offering a sporty driving experience exceeding all other CVTs."
And darned if I can't really argue that. I still don't like how a CVT never shifts – it just feels weird – but Honda's new example doesn't whine or feel like a stretching elastic band. It feels pretty much like a conventional automatic, except that it doesn't shift. I'd still like to try the six speed auto, though.
Even better, the Touring can be had with a six speed manual, and Honda's sticks are usually quite fine.
The new Accord eschews the old one's double wishbone front suspension, but the new MacPherson strut setup works well and Honda says it's lighter.  The rear suspension is of the multi-link persuasion and it's also set well. You won't mistake the Accord for a Panamera, but you won't confuse it with an aircraft carrier, either. It's a bit softer than it is sporty, but it won't lull you to sleep by the first intersection, either. Honda has struck a nice balance.
The interior doodads are cleaner than before. Oh, there's still a cursor control thingy – and it's mounted a tad far away for my stubby little tentacles – but the audio system now has a touch screen and that's a big step in the right direction. And the info LCD mounted up high is still there, so you get the best of both worlds.
And get this. There's a new "LaneWatch" feature available that uses that LCD as a TV monitor to display the view down the passenger side of the car, giving you a wonderful view of what's happening beside you. It comes on automatically when you flick on the right turn signal, and you can put it on manually via a button on the end of the stalk.
When I first saw feature this I thought it was obtrusive and a bit over the top – features for features' sake, as it were. But every other person I had in the Accord thought it was a fantastic idea and by the time I returned the car I had come around to their thinking. It's a marvelous innovation and I shan't be surprised to see the idea stolen by other carmakers just as the "three blink" lane change signal light is slowly becoming ubiquitous (and a good thing, too, though considering the attention span of many drivers these days it really should be four blinks).
Standard features for all Accords include a power driver's seat, 17 inch alloy wheels, a rear view camera, Bluetooth and a text and email messaging function. You can up the Accord ante by adding a hard disc drive-based satellite-linked navigation system with voice recognition and 3D map view, and 18 inch alloy wheels. New "visibility technologies" include an "expanded-view" driver's mirror, the aforementioned LaneWatch feature and such stuff as LED headlights, daytime running lights and brake lights.
You can also get a Forward Collision Warning (FCW) and a Lane Departure Warning (LDW) system.
I had some issues with the voice interface, which seemed to be rubbed the wrong way by my smart phone (or vice versa), but if I'd had more time with the car I undoubtedly would have wrestled the robot to the ground. Still, I've used easier systems.
Instrumentation is the usual Honda efficient, the seats are comfortable and, other than my issue with the robotic brain, everything works as it should.
I'm really glad Honda has come through with this Accord. It's a great car that seemed in recent years to kind of disappear among the herd, but now it's out there proudly and unapologetically, throwing down the gauntlet in front of those who thought there were other, better choices out there.
That doesn't mean there aren't, of course, but you're going to have to look harder now.
The 2013 Honda Accord Sedan starts at $23,990 Canadian. The four cylinder Touring model starts at $30,390 Canadian.
Copyright 2013 Jim Bray
TechnoFile.com