Honda's Accord Reaches a New Level of Refinement
By Jim Bray
January 22, 2008
Fresh from an unfortunate uglification process, Honda's 2008 Accord has emerged as a fine new car that'll surely continue the brand's reputation for excellence and innovation.
When I first saw this eighth generation of Honda's flagship model, I was appalled. While the last generation was merely dumpy-looking, the new "athletic dynamism" look seems designed by committee, with a bland front end, a side view that looks suspiciously like it was cloned from an Acura TL (not necessarily a bad thing) and a rear end that looks like a cross between a BMW 5 series and a Saturn. I thought Honda had lost it.
Then I got inside, adjusted the seats, wheel and mirrors, and fired it up. Now I think I'm in love.
Okay, I'm the "Ado Annie" of cars - I cain't say no to a fine set of wheels, and haven't fallen in love with a car for at least a month, when I had a brief but torrid affair with an Audi A4.
But this new Accord, though far from perfect (in fact, it's showing an alarming tendency towards complication of operation) won me over within about ten minutes of starting to drive it.
It's just so darn great to be in, and to drive. It's a front wheel drive car with plenty of power (my test unit was the V6 model) yet little if any torque steer. It also sports a terrific greenhouse that offers great visibility, really comfy seats, a steering wheel that's nigh on perfect, and just about all the amenities you could want short of DVD-Audio playback (you still have to go upmarket to Acura to get that from the Honda family, and most people could care less anyway).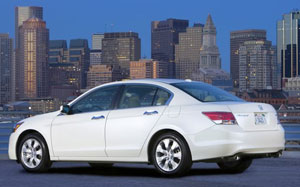 The new Accord is longer, wider, taller, and heavier than its predecessor, but it's also more powerful, more economical and with lower emissions - a pretty decent balancing act.
Accord is powered by two four bangers, one rated at 177 horsepower (up 11 from the previous model) and one with 190 horsepower (up 24). You can also get the 268 horsepower V-6 (up from 244 hp in '07) my test unit had. The four cylinder engine can be matched to a 5-speed manual transmission or optional 5-speed automatic; the V6 only gets the auto, and no sport mode or paddle shifters are available. But it shifts smoothly and efficiently and doesn't really cry out for a bigger fun factor.
Despite its lack of sporting pretensions (and this is an Accord, after all, not a TL), that V6 engine is a peach. Not only is it plenty powerful, it also for the first time incorporates Variable Cylinder Management (VCM) to operate in 6-, 4- and 3-cylinder modes for improved fuel economy. That must be what's happening when the "ECO" light fires up on the instrument panel (though perhaps it also measures "smug emissions" which mean you can commute and go on an "eco-trip" at the same time).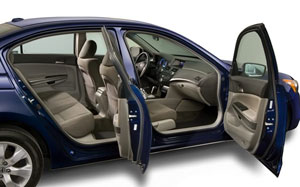 The fun to drive quotient is undoubtedly enhanced by the Accord's lower center of gravity, double-wishbone front suspension and new, multi-link rear suspension. A new, variable Gear Ratio (VGR) steering system uses "variable mechanical ratio steering, in addition to variable power assist, to provide precise on-centre feel and greater responsiveness at larger steering angles." The result is most satisfying apex carving capabilities - which also comes in handy when you're trying to avoid hazards such as clueless pedestrians or road obstructions.
And for the first time, all 2008 Accords get four wheel disc brakes with electronic brake distribution (EBD) and Brake Assist. Brake feel is excellent, and stopping power is just fine.
Inside, the Accord is plenty roomy and comfortable. The driving position is enhanced by a tilt/telescope steering wheel that feels practically perfect in every way (though the ancillary radio/cruise controls are a little flat for operation when wearing gloves) and a simple and attractive instrument cluster. My test unit also had a power operated driver's seat, leather seats all around with two setting bun warmers ("reheat" and "broil") up front. I could drive all day without getting numb bum.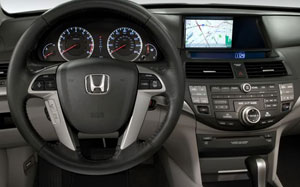 My test Accord featured premium stuff such as a navigation system, Bluetooth, and voice recognition (as with most vehicles it's "kind of" voice recognition though, as with computer-based systems, it will probably perform better if you spend more time training it) - stuff more common on higher end vehicles.
Alas, all this technology appears to be coming at a price: Honda has seen fit to install an "interface dial" similar to what you get with BMW's iDrive and Audi's MMI. It works well, but it adds complexity - yet still doesn't seem to cut down on the number of function buttons on the center stack, which seems about a thousand. On the plus side, they're clearly labeled and large enough to see at a glance.
Japanese carmakers have been accused of imitating their European competition for many years, but this is an homage they could do without. And Honda being as innovative as it is, they should be able to figure out a way to add all these features without the complexity.
A touch screen would be a good way to do this, but that would mean a redesign of the car's dashboard to move the existing screen from up top - where it's out of reach - to somewhere at hand.
The audio system in my EX-L trim level test unit was first rate, with very good sound quality, a 6 disc CD/MP3 changer built in and XM satellite radio capability that's integrated seamlessly with the rest of the system.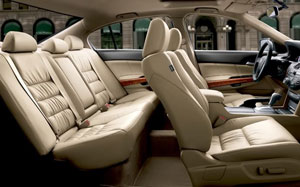 Standard safety equipment includes Honda's Advanced Compatibility Engineering (ACE) body structure, which is meant to improve the protection of anyone lucky enough to be inside the car, Vehicle Stability Assist (VSA), side-curtain airbags, new dual-chamber front side airbags, active front head restraints (not so active that you have to strap them down, though!) and pedestrian safety features that'll let you mow 'em down with abandon, guilt free.
Or maybe not quite.
You also get a tire pressure monitoring system that seems to work as well as others I've tried: it was bitterly cold when I had the Accord and the low tire pressure light stayed on the entire time (well, it shuts off when you turn off the ignition). You can get around this by putting a piece of black tape over the indicator, then removing it once global warming kicks in.
Honda says this new Accord includes the company's first use of Active Noise Control (ANC) in a non-hybrid Accord (which is all of them now - the hybrid Accord is dead). This helps contribute to a very quiet cabin, much like noise cancelling headphones can enhance your enjoyment of an airplane flight.
My test unit also had the wonderful automatic headlight feature that means you never have to remember to fire up the lights when it gets dark. If you live in an area where daytime running lights are mandated for the front of your vehicle, this is particularly handy because it can prevent you from driving along with no tail lights on.
Despite my quibbles with the car's styling, and other minor issues, I found the new Accord to be a wonderful car. It drives beautifully, is comfortable and efficient, and will undoubtedly serve its owners well for many years. And that's something!
The 2008 Accord sedan starts at about $20,360 U.S./25,900 Canadian. The EX V6 starts at $25,960 U.S./31,690 Canadian.