Honda creates a 'pooka' ute while the Accord gains new features
By Jim Bray
March 24, 2016
You could call Honda's new small crossover Harvey, if you want.
Or not. I liked calling the new HR-V by that name, but it seems as if a lot of people have never seen the old James Stewart movie or the play on which it was based - because my attempted naming of the HR-V after the big, invisible rabbit of "Harvey" fame didn't go over as well as I'd hoped. Oh, well.
Click on the image to open a slideshow.
I imagine the good folks at Honda hope the vehicle itself will go over better than my attempt at humour. And it may; it's a fine vehicle, a "minute ute" in that it's smaller than the traditional "cute ute" category in which Harvey's brother "Crave" (the CR-V) already competes quite successfully.
The HR-V goes head to head with such vehicles as Mazda's Canadian Utility Vehicle of the Year-winning CX-3, Nissan's Juke, Kia Soul and Fiat's 500X, among others, in what's basically a newer and smaller (hence my "minute ute" crack) sport ute/crossover category. It's basically a taller Fit, and there's nothing wrong with that.
It has things wrong with it, of course, as do all vehicles, but here it's mostly just the recent Hondaisms that drive me so crazy. These criticisms also apply to the Accord Touring sedan on which I'll report later in this column. None of my whines mean these are lousy vehicles, just that they include some features that are at least as annoying as they are useful. Naturally, your mileage may vary.
And for each of these quibbles, there's something nice to be said about Hondas - vehicles that are built well, perform well, and will probably last well as, er, well. I just miss the Honda of a few years ago and earlier.
The HR-V is a handsome little thing, to these eyes it looks nicer than its big brother CR-V, which went through an unfortunate uglification process for its latest generation. And despite its location at the low end of the market, it appears quite classy.
Harvey gets his motivation from a 1.8 litre four banger rated at 141 horses/127 torque, which is fine in this segment. Power comes on well, though as is typically Japanese, it likes the higher revs. Honda rates Harvey's base front wheel drive configuration at 9.3/7.0/8.3 litres/100 km/h (city/highway/combined), though of course I never achieved that thanks to a lead foot that kept the ute's throttle by wire gas pedal closer to the floor than prudent to achieve optimal gas mileage.
So far so good. But here's where the first issue comes in: that four banger gets its power to the wheels (front wheel drive is standard but Honda Canada's sample came with the optional all-wheel drive system) through a continuously variable transmission and if you've read my stuff for a while you'll know I hate most of these whiny beasts. With a few exceptions, they're loud and annoying and, since they don't shift gears (there are no gears), they change the driving experience substantially, and not for the better.
That's what we have here, in Harvey. Strangely, the Accord Touring has a CVT as well, but I didn't hate it nearly as much. Of course the Accord is bigger and more robust and undoubtedly has more sound insulation, which may account for the difference.
You can opt for a six speed manual transmission with the front drive HR-V that, if it's like the other such trannies (transmissions, not "sexual identities") I've driven in Hondas, is a peach.
Harvey's suspension is straightforward, fully independent up front with a torsion-beam bum, and Honda says it features adaptive reactive dampers to maximize rear seat and cargo space. It's tuned very nicely, too, offering lovely handling and a ride that leans toward sporty without being a bladder buster.
Honda has also stuck in the rear "magic seat" concept from the Fit, which folds completely into the floor to open up more interior room.
The seats up front are comfortable, the driving position is great, and the instrument panel is laid out clearly and is legible and efficient.  That's the good news. The bad news is that, in typical recent Honda tradition, the company eschews real knobs and buttons and instead sticks on touch sensitive panels that look really nice but are a pain in the posterior to use while driving - and it's even worse if you're wearing gloves. So it is that the radio and HVAC controls are far more annoying than they need be - but, hey, it's uniquely Honda! Did none of their designers and/or engineers actually try to use this stuff while the vehicle is in motion?
Fortunately, there are real controls on the steering wheel and they work fine, but they don't help the front seat passenger much.
Then there's the damn lawyers' screen. Time was when you had to press the "okay" (or whatever its label is/was) virtual button to get past the "you'll burn in hell if you don't pay attention" display on the LCD, but carmakers figured out before too long that this was a really good way to PO the people who produce their profits, so the displays started moving past the lawyers' screen automatically after a few seconds.  The HR-V, alas, doesn't do that and if you don't click on the damn acknowledgement the screen goes to a clock display and you're shut out of its other functions until you do state your submission. In 2016!
There are plenty of storage bins inside Harvey, but most are quite small and that could limit their usefulness.  
I have more complaints, but I'll save them for the next section (the Accord) because they're also on display there and don't have a lot to do with either of the vehicles' actual performance.
Suffice it to say that Harvey, Honda's new HR-V, is a fine example of the "minute ute" species and I expect fully that it'll do well in this niche. If you can get around the annoying Hondaisms, it'll undoubtedly serve you well.
Harvey starts at $20,690 CAD for the base LX trim level and you can add features and capabilities up to $29,990 for the EX-L Navi.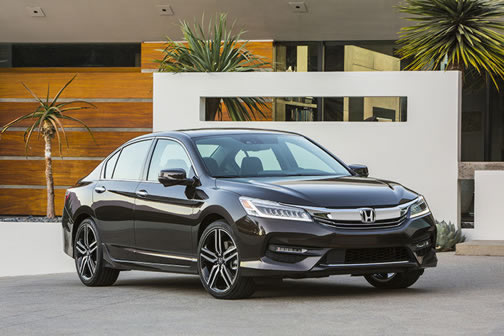 The gospel Accord-ing to Honda…
Meanwhile, the current generation of Honda's great Accord sedan soldiers on in style, a great car that, like Harvey, the Civic and other current Hondas, is marred by a series of Hondaisms that seem determined to test customers' loyalty.
For 2016, both the Accord sedan and the coupe have had their already lovely styling tweaked, a new "display audio" touchscreen interface added, and you can now get it stuffed with annoying safety features such as collision warning (it flashes "BRAKE!!!" onto the instrument panel if it thinks you're approaching someone's - or some other vehicle's - rear end too quickly), adaptive cruise control, lane departure, etc.
Click on the image to open a slideshow.
The upside of these safety things is that you can shut them off and they'll stay off when you fire up the vehicle again.
You can also get front and rear parking sensors, which is nice, as well as wireless cell phone charging, Apple and Android car interfaces, and more.
Accord sedans start at just shy of $25,000 CAD, but Honda Canada's sample was of the Touring variety, with the four cylinder engine (you can get a V6 if you prefer) and tipped the fiscal scale at $32,990, sans options. That's competitive in the niche.
Honda says the Accord's 2016 face lift includes sportier, more sophisticated styling at both ends, with a more sharply creased and busier bumper fascia and "available" (optional) LED fog lights. The sedan features a new aluminum hood and its bum gets restyled LED tail lights and a more aggressive bumper fascia. The Touring model also features handsome, 19 inch wheels, a new side-sill garnish and rear deck spoiler.  
Inside, the 2016 Accord gets new seat fabric and new instrument panel garnish, depending on the trim level, and the Touring model (sedan and coupe) also gets larger front brakes. There's also a new "Straight Driving Assist" feature Honda says helps "reduce the driver's workload when driving on a crowned or canted road surface by providing an automatic counter-steering force." Just what we need - even less reason to pay attention.
Honda's sample Touring model had the standard four cylinder engine, which puts out a decent 185/181 horses/torque. The six is even better, with 278/252 horses/torque, but I had no issues with the four banger, whether merging with traffic or passing slower vehicles. It's a fine engine. I also loved the car's taut independent suspension (multi-link buttocks with struts up front) which is smooth but not at the expense of feeling the road. It's a very nice car to drive - and comfortable enough that passengers should also be quite happy.
The Accord has always been very nice to drive, even with the darn CVT Honda has inflicted on it. But as mentioned ad nauseam above and in other recent Honda columns I've done, it's saddled with annoying things. There's the lack of a real volume knob on the audio system, Honda's "LaneWatch" system (a camera on the right hand outside mirror that fires up when you activate the right hand turn signal) and more. These combine to take a really nice car and make it into a really nice car that drives you nuts. I wonder if Honda has been taking lessons from BMW.
I may be a voice barking in the wilderness when it comes to the LaneWatch system because I hate it - fortunately, you can shut it off via a button on the signal light/headlight stalk. To me, the video image firing up on the central LCD (the Accord has two stacked screens now, for some reason) catches my attention (which it's undoubtedly meant to do) and draws my eyes away from whole world outside, forcing me to focus just on the right hand side of the car. I don't like that (by the time the system fires up I've already checked the mirrors), but most people I've shown the system to think it's great. Go figure.
Even more annoying are the Honda Sensing technologies, including Collision Mitigation Braking System with Forward Collision Warning (that "BRAKE!!!" thing; at least you can set its sensitivity), Road Departure Mitigation with Lane Keeping Assist and Adaptive Cruise Control. This stuff is available as a standalone option on LX, Sport (Sedan) and EX (Coupe) trims and, alas, is standard on higher trim levels equipped with automatic transmissions.
Not annoying nannies include the Multi-Angle rear-view camera and Expanded View Driver's Mirror (a convex section to help you see objects that might be in your blind spot - a simple solution that makes me wonder why they had to install the damn camera on the other outside mirror). These are now standard on Accords and, for the first time on Touring trim models, the new automatic high-beam headlight function that automatically switches to low beams when the car detects an oncoming vehicle.
I had a heckuva time with the Bluetooth and voice control. The pairing process would be easy if I had an iOS device, "according" to a friend and associate whose phone is of that persuasion. Alas, I have Android and when it comes time to pair with the Accord I'd go through the normal process (which appears straightforward), only to have the car refuse to find my phone. When it failed, it gave me another method for pairing, which worked perfectly right off the bat.
So why not offer that method first - or just make the darn system work right the first time? How hard can it be when seemingly every other carmaker has it figured out?
This was an issue with both Harvey and the Accordian (what a great name for a rock band!), as well as the new Civic and a few other Honda products I reviewed in the not too distant past. At least they're consistent!
On the upside, Honda's voice recognition has come a long way - from being completely useless to being mostly useful.
It might not seem like it from all my whining but, technoquibbles notwithstanding, I really like this Accord and if you get past the stuff that rubs me the wrong way you'll find yourself with an excellent car that has earned its place at or near the top of this segment. Competitors include the Toyota Camry, Kia Optima, Hyundai Sonata, Nissan Altima, Volkswagen Passat, etc.
Copyright 2016 Jim Bray
TechnoFile.com