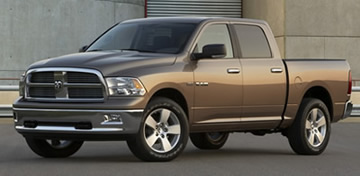 Dodge Ram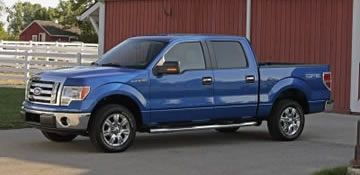 Ford F-150
Ford F-150 Vs. Dodge Ram – Head to Head Haulers
By Jim Bray
March 13, 2009
Big and brawny, with plenty of towing and hauling capability, the latest generations of full size pickup trucks are the most capable and sophisticated yet.
But what are they like to drive?
That's the question I asked when going into back-to-back weeks with the 2009 Dodge Ram and Ford F-150, two of the most popular examples of the big beasties.
It's tough working out a head-to-head comparison that's completely fair to both vehicles, what with the wide variety of engine choices, vehicle configurations and options lists, so I tried to keep that in mind when comparing the two trucks.
I must also give full disclosure: I'm not a truck guy. My idea of a truck is something like the Honda Ridgeline, which is kind of an "El Camino for the new millennium", for people who don't need a heavy duty pickup. But full size pickups are a big part of the market and fill a useful niche for many people, to which I say "more power to you", no pun intended (well, maybe).
Since I'm a truck twit, rather than get bogged down with hauling and towing and 4x4ing and stuff like that, I'll focus on the things that I understand, like drive quality, amenities, etc.
The Dodge came first, the Ram 1500 Crew Cab Laramie with the big 5.7 liter Hemi engine with variable valve timing and the multi-displacement feature that can shut down cylinders where you're cruising so you can pass at least one gas station. The Hemi cranks out a very healthy 390 hp @ 5600 rpm and 407 lb-ft of torque @ 4000 rpm and was my favorite of the two engines for its incredible oomph. Need power? It's there at your right foot, RIGHT NOW!
Not that the Ford's any slouch. My test F-150 4x4 Lariat Supercrew boasted the 5.4 liter V8 rated at 310 horses @ 5000 rpm and 365 lb-ft of torque @ 3500 rpm. I had the gas version, but the E85 version cranks out an extra 10 horses and 25 lb-ft, though at the cost of raising popcorn prices at movie theaters.
Ford says the new F-150 gets up to 12 per cent better fuel economy than the old V8 model, while delivering "class-leading towing capacity". That said, neither one of these vehicles are going to pass by as many gas stations as a Toyota Pious, nor should you expect them to.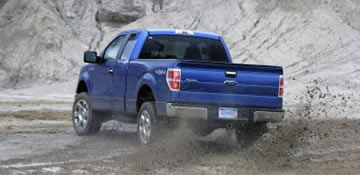 Ford F-150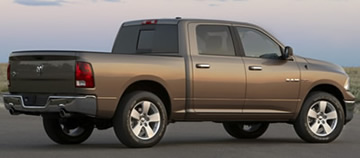 Dodge Ram
The Ford comes with a six speed automatic transmission; the Ram's is only a five speed, but it adds a pretend manual mode my Ford test unit didn't have. I was surprised to find I preferred the Ram's tranny, for its smoothness and for the fact that I could find the gears more easily thanks to its better laid out and labeled selector.
Both trucks' brakes are power-assisted discs with ABS all around. I was happy with the pedal feel and stopping power on both vehicles, so call that a draw. Ditto for the steering feel.
The Ram features a five-link-coil rear suspension that I preferred to the Ford's leaf springs. The difference is that the Ford feels more truck-like (surprise!), shuddering over frost heaves and bumps as if it's giving you a butt massage. The Dodge drives more like a gigantic SUV than a pickup truck, which appealed to me.
I had the dickens of a time parking these trucks, even when driving forward into angle parking stalls. Though I'm confident owners will get used to such things quickly, I had trouble judging where the front end ended, usually leaving too much room ahead, which left the trucks' buttocks exposed in a way acceptable in a Las Vegas revue, but which didn't enhance my credibility as a driver.
Backing up was better, since both vehicles had rear parking assist. The Ford's included a rear view camera, but the Dodge's audible sensors worked just fine.
I must mention the nifty RamBox weatherproof, drainable, lockable storage bins in the side rails of the Ram's bed, a wonderful little touch that lets you store tools, food, contraband or whatever.  The Ford didn't have this feature, though it had nifty little retractable steps on either side of the bed that made climbing in or getting at stuff much easier than the Dodge.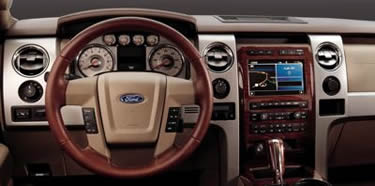 Ford F-150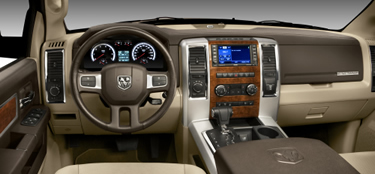 Dodge Ram
Climbing into the Ram's cab was a major operation for someone of my height, or lack of. I'd have to stow my stuff in the back seat so I could reach up to the handle inside the driver's door and haul myself aboard. My sample F-150 had a running board/step thingy (you can add such a thing to the Ram, too) that made entering the big cab much easier.
Once inside, both vehicles are very nice places to be, with my testers sporting leather interiors full of high tech goodies and gadgets.
The Ram featured a nifty heated steering wheel.  Since it was bitterly cold when I had the truck, I was happy to activate it via its center stack-mounted button. I didn't leave it on long enough to discover if it's self-cancelling: I figured it had been on long enough when smoke started curling up from the palms of my hands.
On the other hand, the main heater seemed to work only sporadically, which was really annoying considering the cold. This could have been due to something simple like a stuck thermostat, but it wasn't endearing.
The Ram's leather front seats are heated and ventilated, and both are power-operated.  The rear bench is large and comfortable. The driving position was just about perfect for a Hobbit helming an aircraft carrier, and the seats are very comfortable.
Ditto for the F-150, though its seating position was a tad more comfortable. I say "seating position" and not "driving position" because of an oversight that really rubbed me the wrong way: no footrest! There's no place to put your left foot other than flat on the floor, which I found very annoying, especially when I wanted to brace myself in corners.
When you press the button controlling the seat heater in the Ram, there's a second of delay before the indicator light catches up, so until I got used to it I'd think it hadn't worked and press it again, at which time I'd discover that I'd shut it off instead of merely turning it down. I didn't have this problem in the Ford.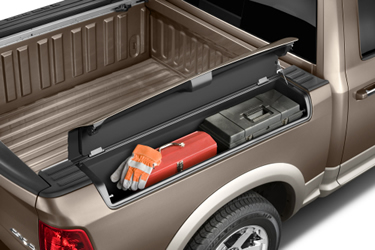 Dodge Ram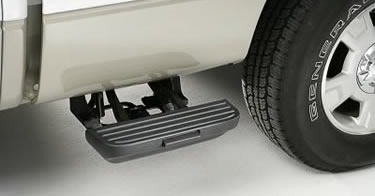 Ford F-150
The Ford has big convex mirrors below the outside main ones, which was good for avoiding blind spots. Advantage Ford for visibility and seat heater controls.
Both test vehicles had higher end audio systems, Dodge's from Alpine and Ford's from Sony. And they both have touch screens to operate the abundance of audio options. Alas, you have to press them quite hard, especially the Dodge's, so perhaps they should be called "poke screens" rather than "touch screens".
The Dodge's system included AM/FM stereo with a CD/MP3/DVD disc player, hard disk drive and front auxiliary audio input. It's a 7.1 surround system (though the surround wasn't obvious when I played surround DVD-A discs) with a subwoofer. The sound quality is pretty good; there's plenty of power but the speakers were a tad muddy-sounding.
The system also had Bluetooth for hands-free phoning and it worked well. I liked the voice prompt setup, which is very fast: "queryBEEP" rather than "query….BEEP". It made "conversing" with the system almost like dealing with a human. Better than with some humans…
Ford offers the Sync system, which works well. It included the usual radio bands (and both trucks came with SIRIUS Satellite radio enabled) as well as disc and digital file playback including DVD-Audio. The Ford exhibited the same problem on DVD-A playback as Lexus does, however, in that it stripped some of the music from the surround version of The Who's Tommy. Unlike Lexus, though, you can access the disc's video screen (only when you're stopped and the tranny's in "Park") and that let me switch to the stereo track, which the F-150 played with no problems.
Audio quality of the F-150's system is good, but I thought the Ram was better, even with its weak speakers.
I'd give the Dodge Ram the ease of use edge so far as the touch screen interfaces are concerned. It wasn't a big difference, but some of the Ford's "buttons" are rather small and force you to concentrate more on the screen than you want to when you're driving.
I'd also give it an edge for phone audio quality via Bluetooth; it may be a difference in where the mic is mounted, but my phone sounded fainter through the Ford.
How's this for nit picky: every time you change radio stations the Ford Sync system announces the station name, which I found annoying (though it's good for helping keep your eyes on the road!). And the Ford stores the satellite radio station number in the presets, while the Dodge stores the station name, which I prefer.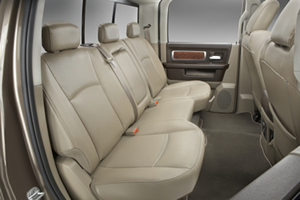 Dodge Ram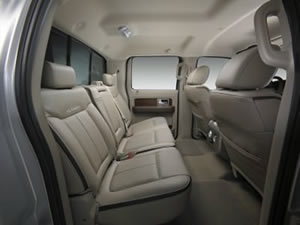 Ford F-150
So which vehicle takes my "Best Truck for Truckaphobics" award?
Going into this, I expected that I'd prefer the Ford, if only because I tend to favor Ford vehicles to Chrysler's. But after I living with each for a week, I liked the Dodge Ram better. From the Hemi to the interfaces to the interior layout to the ride quality, it edged the Ford F-150 as my truck of choice if I were looking to live with such a vehicle.
Copyright 2009 Jim Bray
TechnoFile.com